Go for it, you lovely rhododendrons!
Aargh! The semi-official start to Week Three - September is springing past with such speed! I'm now keeping a colourful-flower-eye on the Moosey rhododendrons. Will they enjoy the coming flowering season? Go for it, you lovely rhododendrons!
Purple Wallflower
Wednesday September 14th
It's all very exciting at this time of year - if one can see beyond the weeding, burning, raking, clearing paths, laying mulch and burning rubbish tasks. There is so much new life in the garden! Freshly mown lawns and trimmed edges make the borders look beautiful.
Finding inspiration in one's own garden - is this too self-centred and arrogant an attitude? And how to get a balance? Smiley pride and giggly joy versus garden maintenance, repetitive tasks, manual (womanual?) labour, sore hands and tired knees...
Capturing the Moment...
I've been trying to do some terribly thoughtful time-lapse photography on a Moosey rhododendron - trying to capture the deep colours when the bud is tightly packed, and the slow unfurling of the flower form, the colours lightening. Ha! How difficult should this task be?
So far I have taken two pictures a week apart which are exactly the same. This morning I went outside for the third - blast! The flower is now completely open, blousy, looking nothing like its original. Have I missed something? Do rhododendron flowers break out of their buds and lie flat overnight?
Nice new things which are blooming, or flowering, or budding - or simply growing and minding their own business, undeterred by amateur time-lapse photographers - will now be listed.
List of Nice New Things
Fresh new peony foliage!
The Bergenias - flower stalks gaining height daily.
Forget-me-nots - just the humble weedy ones, beautiful specks of baby blue, pastel pink, and white.
Brave orange tulips - ready for their flowers to be blown apart by the wind.
The Camellias - lots more colours now.
The Wallflowers! Let's hear it for the Wallflowers!
Buds breaking on the Silver Weeping Pear tree.
Right. Puppy and I are off to walk in the mist. He won't mind - he will turn dark orange and white in the wet, and his ear fur will be beautifully crimped. Super-stylish!
Later...
No gardening - but I ended up meeting my gardening friend in the Botanic Gardens. They were in big, big blossom! Beautiful big Magnolia trees, with purple and white flowers, full of twisty branches - and daffodil carpets stretching forever through the grass. My goodness, I'd naively forgotten how much bigger the Botanic Gardens are than my own! Please don't laugh - a head-gardener is always the centre of her own gardening universe!
Waiting in the Wind
Thursday September 15th
Today is again misty and damp, so I am going to keep things simple. I will only prune Hazelnut trees, and plant the climbing roses on Archway Number Thirteen. Eek! Hope this isn't a bad-luck rose arch and falls to pieces - or becomes an aphid mustering station, right in the middle of the orchard! Anyway, two brave Celine Forrestiers are waiting patiently - I've read that this rose is extremely fragrant, and I'm so looking forward to sampling its scent! Right. I'm off. Puppy can exercise himself by chasing the shrieking plover birds and any jet planes flying overhead - aim high, Rusty! I know how much you miss the old rooster...
Saturday 17th September
Yesterday was - interesting. Stupidly I let a few problems at work get through my defences. Then I arrived home, leapt out of the car, let puppy out of his dog-motel and did a ceremonial 360 degree slow sweep of my gardens. How beautiful everything looked! The yellow daffodils over the water race, the big cherry tree in blossom, little blue forget-me-nots at my feet, a happy bouncing puppy...
I am such a lucky person, and this is the most beautiful spring I can remember. Enough sentimental stuff. It's time to do some pruning - I wonder how many Hazelnut trees there are to go? 300? 400? Hmm...
Lunchtime...
Oops. According to my paper plan, I have put the wrong climbing roses on one of the four archways already installed. This is a problem? And every time I prune a new row of trees I see suckers in the next-door row which I thought I'd finished with. So I have retired for lunch, some reading, and some happy reflecting.
Colourful Garden Mulch and Blue Hyacinth
The hoses are on - I've watered the glass-house plants (my freshly potted sedums look great). Spring - yippee! There are dark blue Brunnera flowers under the Apple tree, and the purple honesty is now at its very best. The brave, big red rhododendron in the dry shade under the Wattles is covered with flowers, though its leaves are a little droopy (must give it some water). Where shall I sit with my book and my cup of tea? In the shade by the water, I think...
Later...
I have done the edges over the water race, keeping up with the droning mower. I have picked fresh daffodils for the house. I have pruned another 50 trees and planted two more climbing roses. Slowly but surely the rose arches are being welded and put in place. I have started to think - how to spend my Birthday Nursery Money credit? Maybe on native New Zealand plants for the proposed tough survivors garden around the water tank? The London Moosey Team say I have to purchase at least one conifer. Well, I could go all contrary on them and only buy conifers. Hmm... a conifer garden...
Snow to Sea Level!
Ridiculous weather news - after the lovely, balmy, sunny high of twenty degrees (Celsius) today, apparently tomorrow there is a big southerly front coming with snow to sea level. Ridiculous! I don't believe it.
Big Pink Rhododendron
And budding plant news - the Willow Tree has gone green! And roses everywhere have beautiful fresh green and red foliage. The peony stalks seem to double in height every day. The flowers on the big pink rhododendron in Middle Garden are open. A white Camellia in the Wattle Woods is starting to flower - absolutely beautiful. Everything is beautiful. Please no snow!
Tuesday 20th September
There certainly was no snow - on Sunday, that is! I pruned Hazelnut trees and burnt a pile of rubbish. The snow started floating gently down about 6 am Monday morning. Off I went to work in the snow. I came home later that morning in much more snow. Wet snow. Puppy and I zoomed around trying to knock the snow off badly bending tree limbs (the Pittosporums just don't cope). Two things happened - firstly puppy tried to get the stick (naturally). Secondly, when snow is knocked off shrubs and trees at close quarters, then much of that snow falls on the person knocking.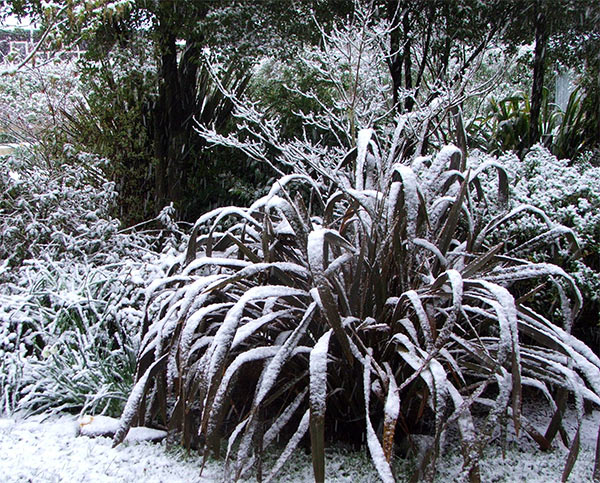 Flaxes in the Snow
Cats and Dogs in the Snow
Poor little Mugsy the cat - she got 'stuck' (that is, mentally frozen!) underneath the house decking - she is very afraid of stepping in anything wet and white. Stumpy and Jerome the two greys just went about their normal business (that is, trying to stay inside the house, near the fridge - just in case). Hurray for Tiger, the only cat to enjoy this new snowy experience! She had a most energetic day chasing blobs of snow falling from the house roof.
I spent the rest of the day watching from within, and worrying about tree damage. A later check showed this not to be major - there are pieces of Wattle tree down, and side gum branches, but nothing too large. The flaxes get knocked flat, though - I tried to clear the snow out of their middles.
Normal Gardening is Resumed...
Now today I am ready for action - more snow? Hopefully not! I have a thermos of hot water for cups of tea (in case the power goes off again). My gumboots have dried out, and I have sorted out more seeds to sow in the glass-house. No excuses!
Later...
There's not so much damage at all! I've been around the garden 'rescuing' snow-drowned tussock grasses and flaxes. Tomorrow we are all going on a train journey through the Southern Alps to the West Coast and back. It is the pretending-one-is-a-real-tourist trick, without actually having to spend very much money!