Poor aphids...
I love my garden with its flowers, colours, friendly animals, buzzing insects, tweeting birds, and general rustic country charm. I am very lucky - unlike the aphids on my recently sprayed roses.
Rosemary by the Stone Wall
Thursday 26th October
Quickly, before October ends - I must get out there gardening! I've had two days off - the first was rainy and lazy, but yesterday I went walking in the bracing fresh air (i.e. cold wind) on the Port Hills overlooking Lyttleton Harbour. There is a small patch of gorgeous native bush tucked in underneath some bluffs - a beautiful contrast to the bright yellow flowering gorse (aargh!) and broom (another aargh!) that dominate the hills in late spring. A brilliant day out!
Pink Gardening Shoes
Plans...
Today I have lots of personal plans - a bike ride with Rusty the patient dog, swimming, and - most important for retired ladies of semi-leisure - the changing of the library books. I have more weed suppressing newspaper to lay - the Septic Tank Garden gets the treatment today.
And tell me how this happens. Every day in the glass-house I've been checking, to see if any seeds are ready to be pricked out, and so on.
I take two days off, and lo! Ten pottles of seeds have suddenly decided to shoot up, and are now as tall as fingers. Hmm...
Hypothesis Testing in the Garden
There will also be some Maths students arriving - eek! This is university level statistics, and the trouble is, I don't 'do' hypothesis testing very well. But the hypothesis that I need to get my garden in top shape before the end of October is a sound one, and needs no testing. The sun is shining, the birds are twittering, and I have my lovely animals to feed. I'll try to finish lots of little things today - to ease my way back into top gardening gear. Hat, sunblock, gloves, pink shoes - let the Head Gardener through!
Later...
I've spread my piles of newspaper, topped with rotting lucerne hay. The Septic Tank Garden is oddly fragrant. I've been watering and weeding and thinking about how the easy, little things in life are so precious. For example, I have enough water for my garden. I can go biking with my dog, and enjoy clean air and empty country roads. I can still read the writing on my plant labels. Many gardeners aren't so lucky.
My New Viburnum Label
My Maths session was informative and intelligent - the students taught me how to do hypothesis tests, while Stumpy the cat lolled all over their lecture notes. Then they met Haru the lamb, who was super-friendly, and Fred the pet sheep put on a show. 'Hello Fred' I'd shout towards the front paddock. 'Blahhhhhhhhhhh' went Fred, on cue. What brainy animals!
I think, however, I may have overestimated the intelligence of my chooks. Chooks are one dimensional, and the phrase 'bird brain' is very apt. Last week I bought my hens a beautiful green self-filling water trough and installed it in their run. This morning I filled their old plastic bowl and all chooks drank deeply for ages, water dribbling down their feathery chests. Birds - wake up! You've got a new, super clean water container! There is no need to be thirsty! By the way, thanks for the eggs, girls...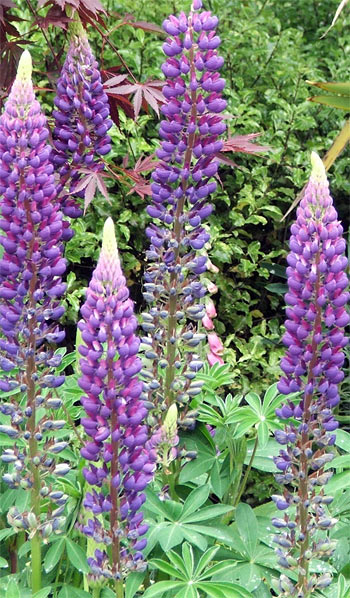 Blue Lupins
More Flowers in Bloom
More and more roses are blooming - my namesake, Mary rose, now has several early flowers, and all the rugosas behind the glass-house are covered in colour. My new roses look rather squat and green in comparison. And big bearded irises have popped up - bright blues and purples so far. The lupins are flowering. The peonies will open their buds soon - I have several new ones to enjoy. Hee hee - I think it will soon be summer!
Friday 27th October
Another eek! It's already the afternoon and I've just arrived back from swimming. I have another Maths student at 3 pm - this is the 'silly season', when panicking students (and parents!) prepare for November's exams. Two hours is plenty of time to get my seedlings pricked out, shift a few hoses, and plant a couple of yellow Flower Carpet roses...
Garden Club Fashion
I have bought a two dollar floaty skirt for the Garden Club trip to Akaroa. Goodness, this is a serious outing - we go on a bus and stay overnight. Will my two dollar country casual wardrobe be good enough? Hee hee. Right. Let's make something out of today, before the intricacies of high school calculus take precedence. Hebes are very mathematical shrubs, by the way...
Saturday 28th October
Sixty silver beet seedlings and twenty four more lettuce seedlings are pricked out. But there has been far too much drifting (and too much Maths) this week. Today I need garden accomplishments, and a well documented list to focus me.
Last List for October
Driveway Garden

Tree suckers to remove, filler perennials (Scabious and Heuchera) to plant along the edge, Yellow Flower Carpet roses in middle, variegated honesty seedlings to scoop up and put into pots for autumn.

Welcome Garden

Weeds to remove, enlargement back to the fence-line, installation of the Welcome sign.

Frisbee Lawn Border

Grass edges to trim, garden to weed and water, gum tree rubbish to rake up.

Septic Tank Garden

More mulch.

Pond Paddock and Gardens

Grass seed to be covered and watered, old honesty plants to come out.
There. The list is done. I'll play that old trick - until absolutely all items are completed, no more burbling in the journal, no matter how cute the cat behaviour is, how brainy the lamb is, or how humorous the hens are... If I behave I could possibly buy more new plants for the Driveway Garden. My huge Cecile Brunner rose came down in the winter snow storm, and the huge Clematis Montana came down shortly afterwards. There is new space... Enough!
Cornus Bract
Four in the Afternoon...
It's a bit early in the day, but I have just run out of energy. I'm allowed to write a quick report, and then I'll go back outside to collect the eggs and shift the hoses. I'm afraid it's been one of those gardening days where one sees more than one ends up doing, if that makes any sense. Anyway, I've finished three things on the list, and I've watered the glass-house seedlings. Some days the weeds really annoy me - this is one of those days. So on all my path travels I've been forever lunging and bending, getting nowhere.
Looking on the Bright Side...
+5

+5 But let's look on the bright side. Fluff-Fluff has been ridiculous, rolling in the planting holes - he's totally dusty. Jerome has provided sedate cat-company, keeping her old eye on things while snoozing in the salvias. My chooks love me (cooked rice, pumpkin seeds and apple pieces were much appreciated). My dog is learning a new command - 'back', so he goes second after me across bridges, down garden paths, and in house doors. This should ensure that the Head Gardener isn't ever tripped up by a barging dog, ending up inelegantly in the water race.
English Roses :

I'll always have room for more David Austin English roses.
And let's look further! I have space for a couple more roses. I have a trailerful of compost ready for spreading tomorrow. And I have lovely gardening friends all around the world. Garden gloom is as natural as garden joy, and we all experience both. And looking even further - New Zealand is in the semi-final of the cricket world competition. Ha! Yippee!
Sunday 29th October
Good morning. Early morning mind-gardening has turned to the less creative side - I've been mentally spreading compost for half an hour. How silly! So I'm up, with hot cup of tea, ready for practical action. Good morning to the Brewster the Moosey Rooster - I can hear you!
Plans for the Pelargoniums
Today I absolutely promise not to get gloomy. There needs to be much cosmetic gardening done - paths raked, edges trimmed, plastic pots picked up, and so on - thus creating the illusion of a well-tended garden, easy on the eye, relaxing to sit in. All the glass-house pots can come over to the house, and all the variegated pelargoniums can be planted somewhere. Groups of five, groups of five!
Three boring tasks which must be completed today: the weeding of the water race bank, the planting of vegetable batch number two (lettuces, lettuces, and more lettuces) in the vege garden, and the weeding of the Welcome Garden. This garden creates the worst impression, since it it's the first seen by a mythical visitor. It needs to be quickly, ruthlessly finished. Some pelargoniums would doubtless survive in here, and brighten the driveway edge.
Agnes the Rugosa
The early roses are beautiful - rugosas covered in flowers lean against the glass-house, and there are fragrant wafts whenever I walk past Fruhlingsgold and Clair Matin. And why do I like the Iceberg rose family? Burgundy, Brilliant Pink, White, and my new standards Blushing Pink? Because they are green and healthy now, but will all flower much later.
Right. All decisions have been made. It's time for action.
Late Afternoon...
I am a legend. The Welcome Garden is a little more welcoming. The Big Gum tree is now ringed with pots - pelargoniums, pineapple lilies, and assorted succulents. The Island Bed is weeded. And I have had some charming garden visitors - we glided around the garden followed by a well-behaved dog and by little Mugsy the cat. My friend noticed the changes in the garden - results of the snow storm, which forced me to clean out the borders, and my mid-winter's flax-axing mania. She was very encouraging.
The Back Lawn :

Spring is the best time for taking photographs of the Moosey lawns.
Some of the house lawns have been mown again, and I've had to 'help' - otherwise I get a patch of long wafting grass wherever, for example, a plastic bucket is inadvertently left on the lawn. I've attacked (sorry, but it's the only appropriate word) half of the water race, chopping a new grass edge and weeding energetically. I've shifted the hoses, and fed the chooks. It's like sparrow central in their run - I am feeding the whole feathered neighbourhood. Oh well! It's a great day for it!
Monday 30th October
It's raining. I've just fed Haru the lamb, with Fred right alongside, staring deeply into my eyes and baa-ing in his booming baritone. Crikey! Fred is a strange pet sheep, a woolly wine barrel on legs. And such an intense communicator - I feel quite touched!
I may not do much garden work today, since southerly winds are swirling the rain around. And tomorrow I am off on a bus with the Garden Club ladies to Akaroa. Should I wear my striped jeans? And perhaps pack something woolly? Today's temperatures have put me off wearing the floaty skirt.