Summer freedom...
I love these days of summer freedom - perhaps being a random gardener is a good thing. Being a wise and sensible gardener would be nice as well!
Beige Puss in the Erica
Sunday 5th February
What should I do first today in the garden? Hmm... I have slept in, and am feeling rather more dozy than a wise and sensible gardener should. The first cup of tea should help, then we are going to the local market for a quick wake-up visit. Who knows - I may return with armfuls of plants and bucketfuls of garden energy!
Oops. Now it is raining. Good for my garden, not so good for visiting the market, and I didn't have any spare money anyway for new David Austin roses (yummy!) or organic vegetables (equally yummy!). And speaking of vegetables, my tomatoes are starting to ripen properly, my carrots and spring onions are brilliant, and several leathery hard-nosed lettuces are still pickable. My Jersey Benney mail order potatoes (thank you Rebekah) have been brilliant, and I checked - pumpkin leaves do look quite similar to Ligularias! And there are some baby pumpkins.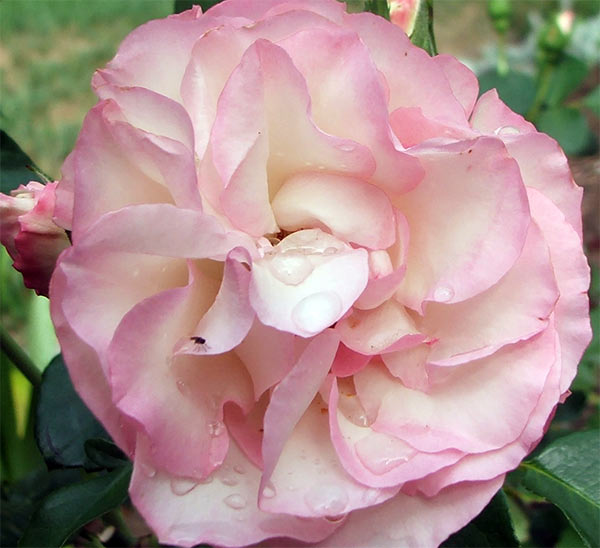 Raspberry Ice Rose
In fact, sliding off onto yet another gardening tangent, I am enjoying very much the subtle self-seeding ability of my common garden Ligularias. They have colonised the small square garden between the pergola and the compost heap (which is full of potatoes), and I love their bold orange daisy flowers. The elegant version with purple leaves and the womanly name (Marie something?) is doing just as well in the rose garden by the water race, and is welcome to produce purple-leafed seedlings, if she's able. Perhaps a wee clump of parsley would help?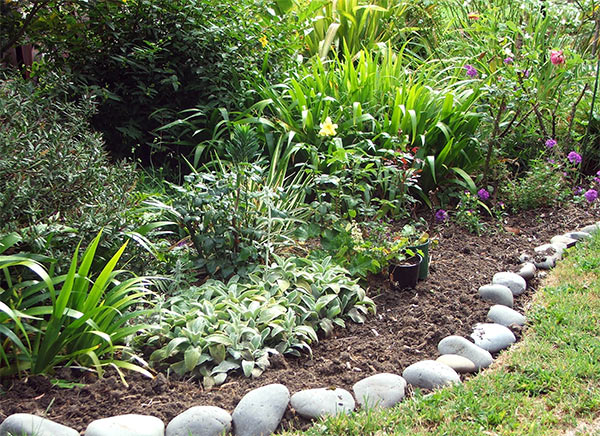 Garden Waiting For New Plants!
Right. The rain has stopped, so we are off to the market. Those ten dollar David Austins (complete with labels!) always appeal, and I have newly dug garden areas in need of new perennials and grasses. I could also buy a pair of candy-striped gumboots, or a tray of cabbage seedlings, or some organic beans. I will ask the lawn mower man for a suitable sized cash float...
Lunchtime...
We are back from the market with a Tess of the D'Urbervilles rose, which I am now going to plant in the new Birthday Rose Garden. What a generous mother I am - every new plant (usually a rose or a peony) planted in here is an out-of-season birthday present to my distant daughter, to whom this garden 'belongs'. Hee hee. Stephen (who prides himself on being a non-gardener) has foolishly asked if I need the dead Hebes down the front chopped down. Yes, yes - I have wanted them chopped down for years! Seizing the initiative, I am about to make him a list of jobs. The rain seems to have stopped, and my lunchtime coffee seems to have been drunk. I am off outside in my plain but stylish blue gumboots - there is much to do.
Tree Climbing Practice
Monday 6th February
Rusty's dog-diet has been less than successful this fortnight - he has weighed in at 25.3 kgs (a loss of 0.2 kgs). I suspect the marmite-on-toast-eating Mooseys who are living here at the moment. Rusty is extremely good at giving toast-eaters 'the look' - his soulful brown eyes gazing adoringly and confusing the strongest minded, not a bit pushy, definitely not begging...
Yesterday afternoon I did much - I finished off clearing, raking and weeding the Rubbish Dumping Route. Why haven't I thought of this before? It's not just a faraway piece of driveway, to be ignored by foot. I trimmed some of the trees in the very corner of the Frisbee Lawn which bounds the drive, with two climbing kittens squeaking and zooming up, and up - and up some more - as I sawed off the lower branches.
Garden Rubbish Strategy
I have three main dumping places for non-compostable rubbish (see, I am a responsible garden cleaner-upper), which are not necessarily 'out of sight, out of mind', but need to look well organised. Then when the fire ban is lifted everything which is dry gets dragged to the burning heap by the water. If anyone thinks I am too much of a burning queen, think gum tree leaves, and bark, and branches - taking ten years to decompose...
Today is a public holiday, so I thought we might 'do something'. These can be ominous words for non-gardening partners - they could mean a visit to a nursery in the country or to a friend's garden with shovels and trailer. Today I think I'd like to visit nature's garden, and go for a walk in the mountains (beech forest, soft underfoot, with the dog and a picnic). I could even take some photographs to practice my Grand World Garden Reporting. New Zealand bush is wonderful to walk in - sometimes it's very silent (in other words, not many birds). Dracophyllum Flat, here were come!