Older-lady gardeners and chainsaws?
February is the month where I remember about the dahlias, wonder about the tomatoes, and despair of the house lawns. I also become anti-eucalyptus-gum-tree (apologies to any closet Australians) and wonder if an older-lady gardener can learn to use the chainsaw...
Rusty Checking the Skies for Intruders
Thursday February 2nd
Right. It's nearly the end of the first cup of tea (good morning to Stumpy the Grey - I couldn't type half as well without you sitting and smooching). By this time in the morning, and before I wobble down the road with Rusty (on the bicycle), I usually have mentally prepared myself for a certain style of gardening day. It may be random or timetabled - I might fancy working in one particular garden area or zooming around on a wheelbarrow circuit. Well today feels rather like yesterday, and I seem to have no garden imagination what-so-ever. Meticulous readers will even notice no journal entry for yesterday, which was a beautiful, warm, peaceful summer's day, just perfect for gardening. Oops. I didn't even bother to water the decking pots!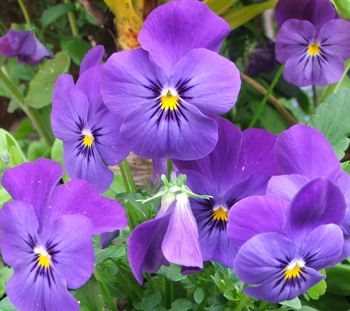 Pretty Blues
Not Good Enough!
This is simply not good enough. My lethargy cannot be the result of garden loneliness. I have cats and the dog, plus my Manly Garden Help who can spread a trailer load of compost in half an hour. Sometimes (for example this morning) my garden expands into an area just too big to contemplate, and I shrink (figuratively speaking, that is) into a little gardener who can't even keep her pansy pots watered.
Enough! I blame the soft comforts and boundary walls of the house. Waking up to peep out of windows rather than feeling the fresh breeze on my sleepy morning face. This wouldn't happen if I set up camp outside in a tent. Perhaps a second cup of tea would be less drastic - my family might find a camping mother difficult to cope with. The cats would like it, bringing in the trophies of the midnight hunt for praise form the Big Cat Mother...
A Decking Pot Survivor - Hakonechloa
Hmm...After Lunch...
Since I seemed to be in such a cantankerous mood, I decided on some gardening penance - I would completely cut down the ill-placed and invasive monster Clematis Montana strangling my Pond Archway roses (hello, you poor things - white Sparrieshoop and Bantry Bay). Well, I have half-succeeded, having cut down the strangling vines between the ground and the height of my head. I will ask the Manly Garden Helper to remove the top layer from a surviving, distressed Pittosporum.
Oops! Clematis Climbing the Hedge
Brave Plants...
My goodness - I found a Thalictrum bravely flowering (oops - it fell victim to my nipping frenzy, in the wrong place at the wrong time), and an extremely tall, spindly red Cordyline. Amazing how a Clematis Montana, wrongly positioned, can take over. Most of the rose canes were dead from lack of sun and air - no wonder the Pond Paddock Archway doesn't ever get very rosy!
Now I have to go in to work, briefly, which means a serious fingernail scrub and soak. Thankfully I have at least started February off with one thoughtful, sensible gardening achievement.
Friday 3rd February
I had a silly gardening thought during my bicycle ride with Rusty. It's like those 'Choose-Your-Own-Adventure' books, where the reader gets to choose the path of the story. For example, you are confronted with the Terrible Stairs Monster. Do you:
a) leap over it, and continue upstairs to get your gardening magazine? or
b) stop, turn back (you can read another time), and sweep the patio? or
c) get out the vacuum cleaner to scare it silly?
If you choose a), please turn to page 54...
Pink Flower Carpet Roses
Hee hee - I'm just warming up to this idea. And yes, there is a Stairs Monster (exactly the third stair from the bottom) - ask Tiger the big kitten-cat, who spends hours each day leaping upon 'it' from above and below, getting some really big air...
Gardening Choices...
You see, a random gardener makes choices everyday - whether to ignore the mess and wheel resolutely past to one's destination, or whether to stop, down tools, and weed/clean up right there. Random readers might like a 'Choose-Your-Own-Gardening-Day' page, where the choices would be simple clicks - pouff! a new page! If you make the wrong decision - for example, not stopping to water the droopy Eucomis in its abandoned pot - then terrible things could happen - for example, it dies? Hmm... I am beginning to see that this idea might have somewhat limited appeal.
Rosemary :

Rosemary is a tough shrub, and survives our lack of water.
I think I'd better return outside, just in case I'm tempted to write a Gardening-With-Choices article. And, by the way, in the most random of February gardening flourishes, I have spent the morning enlarging the wee garden around Rusty's dog motel, digging, weeding, and arranging some foliage pots and stones. This was a totally random choice - I thought of it as I was wandering past to shift a hose. Now my hands and clothes smell of Rosemary (a large bush survives somehow in the soil underneath Rusty's big gum tree). What a lovely shrub! I think I should plant more Rosemaries - is that how one writes it?
Much Later...
Boring, but necessary - I've trundled back and forth to my dump on the fence-line with six more barrowfuls of leaves and stuff. I did some more clearing in the Stables garden en route - getting it ready for the application of soil-enriching compost. I found two clumps of gladioli flowering madly - odd, I don't remember this happening last year. In fact, I'm not sure I knew these bulbs were still there! Oh well, I've picked them for inside the house - what beautiful colours! Now it's nearly tea time, I'm tired, and it's slightly raining. Please rain properly!
Saturday 4th February
Right. I am writing this journal after three big hours of constant weeding and clearing the narrow border underneath the rose Mermaid. I am remarkably scratch-free, though my hands are rough and sore. There are still a few rogue raspberry suckers to pull out, and the invasive perennial which I removed with gusto some months ago has semi-returned - I expected this.
Daisies Underneath the Mermaid Rose
Two on-going garden problems affect my morale rather seriously. They are as follows:
Garden Problems
The Lawns

Look, it's quite simple. When the Moosey lawns are freshly mown they create the illusion that the whole garden is neat and cared-for, well-designed, and in great health. Weeds in the borders don't appear as intrusive, and mess seems to fade away!

The Route to the Rubbish Heaps

This one is tricky. If one is plodding along with the wheelbarrow full of garden mess, and one's route to the dumping place passes a garden which itself is a mess, then one can be overwhelmed with the enormity of garden commitments, and is likely to sneak inside to sulk, or drink beer in the middle of the afternoon and fall asleep, or moan in ones journal... And that's a rather long sentence!
The solutions are obvious. One should always squint into the distance when one's lawns are messy - and never, ever wear one's spectacles in the garden. And why not clear all the garden mess starting from the fence-line dumping place? That way one's wheelbarrow journeys would always be pleasant and positive.
Mowing the Lawns :

It is important to show an interest in the lawn mowing....
Good idea - I am going back outside to try this out. I will scrape the weeds off the driveway between the Stables and the fence, and maybe organise some hot weather pots here. And I can hear the lawn mower! Yippee! What about quality control? Supervision? Encouragement? What do I do if he only intends to mow one or two of the grass areas? Sigh? Smile? Hint? Hmm... I like absolutely all the lawns freshly mown at once, with absolutely all the edges trimmed. Here goes...
Much Later...
I worked until five o'clock. I'm tired, but the garden is looking good again! I had kitten company, and often had to stop and laugh at their tree climbing antics. Zoom they'd go, up a tree trunk. Aargh! Too high - stop! Reverse! Jump (with half twist) back to the ground! Then zoom! Back up! I love these little kittens!