In better shape than usual...
It's already the second week of February, and I think the garden is in better shape than usual, for this scruffy time of year. The rubbish piles on the fence-line are certainly bigger!
Tuesday 7th February - Garden Plans
Today the Manly Garden Helper is due at 10 am. I will ask him to get a new load of compost - that is if the wind isn't too strong, as there's not much point in composting the grass verges en route. This load can go on the Stables garden, which is cleared of weeds and turning rather nicely into a feature grasses garden. Then I will ask him to gently unwrap the Clematis Montana from the driveway's weeping flowering cherry tree. Sorry, Clematis with your wonderful spring flowers, but you are over-exuberant, you strangle things, they wither - and die...
The Magnolia Stellata in Middle Garden has definitely died. Strange - after being normal for seven years, and flowering nicely in early spring, this sad thing happens. Why die? Because of a drier than normal spring? Or was last summer's strangling by the Golden Hop just too much to bear? I'd like a replacement, though I will plant it elsewhere.
Working by the Water Race
Today I am going to continue weed the water race bank - I spent a happy hour late yesterday slicing and trying to pull out clover weeds, without losing too much soil. I am gradually covering up all the weed-mat on the Dog-Path with stones.
Then I want to clear the gardens by Duck Lawn (which is as green as green - odd). From here I can enjoy the distant summer colours of the phloxes, daylilies and roses in the pergola garden. Ha! It's that lovely combination of pink, cherry, and burnt orange, with fruit salad coloured nasturtiums in the foreground. Then I have two rhododendrons to shift, should I feel like some strong shovelling. And lots of edges to trim (better done when the lawns have dried out, later in the day).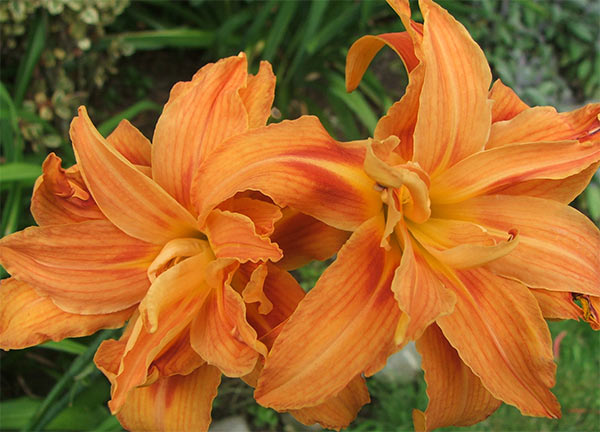 Double Daylilies
Most Important News - The First List!
I have written the very first list for my Scary Grand World Garden Tour. It is a modest list of fashionless clothing I intend to take, and includes the words 'skirt' and 'stylish orange shoes' (oops - belonging to daughter, must check). A bold idea, indeed, for a gardener who doesn't actually own a skirt. Most items are blue (apart from daughter's shoes, oops), which should create a co-ordinated look. See how easy this is going to be! My garden friend Liza has been busy checking out that famous man Piet Oudolf, a garden designer who I associate with grasses, and I hope to visit his garden and nursery in Holland. See, I am planning and organising this properly - with a little help from my friends!
Much Later...
I have had a great day, but oddly all I've done is the water race weeding. It's taken ages! Rusty has been standing in the water with me, and I had kitten company. This proved to be rather scary, as Beige Puss wobbled in the waterside tussocks, and Fluff-Fluff half fell in the water. Change his name to Scruff-Scruff! He then spent the whole of the afternoon washing the mud off his lower body and tail.
Thursday 9th February
Oops. Yesterday it rained all day - no gardening, no bicycling with Rusty! Today I have to go in to work. Perhaps it would like to rain all day today as well!
Tiger the Cat - Vote For Meeeeeeeeeee!
Most Valuable Pet Competition - My Vote-For-Tiger Campaign
I am tired of the Moosey dogs getting all the MVP votes and staying firmly stuck in first and second place. This makes a competition very boring. I am far too honest to fiddle the points, so I have started a 'Vote For Tiger The Cat' campaign. I will vote for her every day, as will all my work colleagues, and anyone else who is sick of dogs capturing the popular vote and lording it over the poor down-trodden felines!
Nature's irrigation is great for the garden, carpeted with newly laid compost, and for the new rose Tess of the D'Urbervilles planted in the Birthday Rose Garden. If only I'd shifted the two misplaced rhododendrons when I said I would! I have been working so hard this year - doing an average of about four gardening hours per day. So two days of inactivity shouldn't matter. I could always write a list of new theme-named roses (famous painters?), or do some mud-weeding...
Orange Shoe Disclaimer
Daughter's orange shoes have been removed from the first World Garden Touring Clothes List, after a slight dispute of ownership. The Moosey management is not responsible for any stretching or scuffing of the shoes during consumer trials - the head gardener tested them out at her work, where their stylish youthfulness alarmed and confused all her work friends. A dull old-lady navy pair with cushioned soles is suggested as being much more appropriate for the Moosey touring image...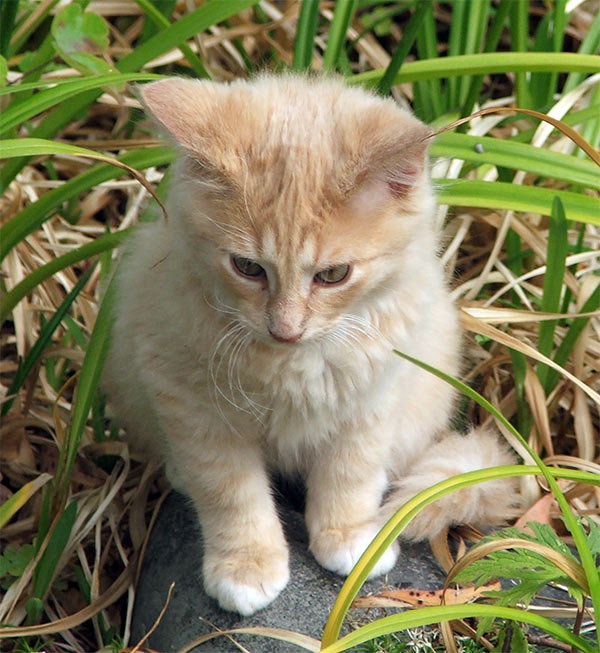 Fluff-Fluff the Fearless at 11 Weeks
Friday 10th February
Oops again. Meaning that no gardening was done again today. But the kittens and I have just been for a long dusk walk, around the gardens, through the Hazelnut Orchard, and back through the rose arches. Thirteen - no, twenty six more oopses - I have much work to do tomorrow morning! The roses are ready for tying in, and a little weeding is required. Gloire de Dijon has amazingly beautiful flowers, as does Etoile de Holland. These are just two of the new climbing roses that I need to visit more and appreciate more.
And the irrigation pipes which criss-cross the rough path through the archways need digging in. What a lovely orchard this will be, when the grass has been tractor-mown (hint - it's rather long for the kittens, causing much giant leaping and acrobatic bouncing), all my roses are under control, and all the Hazelnut tree suckers are trimmed off. There is a day's gentle work out here.
Beige Puss in the Driveway
Saturday 11th February
Can't stop to write much! Am terribly inspired by the idea of working in the orchard. Am even going to take first pot of tea out there. Ha!
Later, Mid-Afternoon
My hands are so sore from pulling out clover weeds. I have sliced at the weeds with my shovel, poked at them with my hand digger, and raked at them with my hand raker. But, in the end, the final touch in the weed-removal business involves the use of the hand. Which is now sore, and occupying prime spot in the Moosey apres-gardening mind awareness. What a moaning minnie!
Rose Archways :

My rose archways form an avenue in the orchard.
To be positive, I have cleared eight of the thirteen rose archways, both sides and in-between, of serious weeds. I have also dead-headed roses which require it, and tied in all long, spreading canes. Now I have retired inside somewhat prematurely, defeated by hot sun, tenacious weeds, and the haphazard weeding programme of the Head Orchardist (who seems to have missed out whole rows, and who leaves the trimmed suckers lying on the ground). In-between the rows of Hazelnut trees the paddock grass is messy and long, too. In a semi-sulk I did not bury any of the irrigation pipes, deciding that this was not in my job description.
I am cross with my hands. Why are they spoiling the end of a hard working gardening day? Even when I hold the outside broom to sweep the patio they feel a bit achy. I suspect that overuse of secateurs hasn't helped - there seems to be an awful lot of vegetation which needs trimming at the moment. I made the mistake of wheeling a load of rubbish to my fence-line dumping place and stopping en route to create and pick up stray trimmings. It took almost an hour to reach my destination as salvia clippings, rose dead-heads, old flax leaves, bits of Willow tree, and so on were balanced on top of my archway rose prunings. The more I have done, the more I've seen which needs doing - it's been one of those days.