Lots of new plants...
My Welcome Garden looks better - it has lots of new plants, including warm red flaxes, a trio of red Ake Akes, lots of glossy green Hebes, and some chunky Pittosporums. I think we both deserve a huge terracotta pot.
Hello Percy!
Thursday 2nd August
Today I dug a smaller, balancing garden bed to the Welcome Garden, and bought three Scabrosa roses to plant along this sunny side of the driveway. But alarmingly I've strayed from the immediate garden which needs planting, and gone off into the real rough stuff.
Co-Ordinated Cat Company
My cat-and-dog company was extremely colour co-ordinated. Along with Rusty the caramel and white collie dog, I had cats B-Puss (white with caramel ears and tail-stripes), Fluff-Fluff (caramel) and little Percy (dark caramel). B-Puss was full of bravado - climbing up the gum trees as high as he could, showing off. Anxious moments (for me) as he backed slowly down - B is a wee bit clumsy.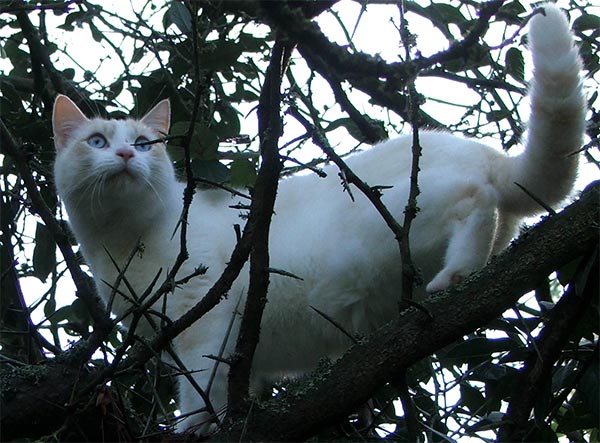 B-Puss up a winter tree
This garden area has never before been cleared - it has huge mounds of mess, dead branches, clumps of grass, pine needles, gum leaves... So far I've uncovered a nice Senecio, a Teucrium, an olive green Olearia, and several self sown Pittosporums. There are remains of some Cortaderias, quite messy but nice and big.
This may be a really silly idea with which to start the month of August. In my mind's eye I can see some tough old roses, maybe rugosas, joining the few shrubs. Am I garden-hallucinating?
Brown Corokia
Tough Shrubs
My feeling is this - that if some tough shrubs are surviving in here, then it seems a pity that they're surrounded by rubbish and weeds. Surely some tough shrub roses would be OK as well?
I'm not totally off track, either. My latest Fine Gardening magazine had some rather strict instructions about Welcome Gardens, written specially for me.
Friday 3rd August
I am off to spend another afternoon planting and re-organised. I've found a place near the rose nursery which sells half oak wine barrels - one of these would be more rustic and less pretentious than a voluptuous Italianate pot for my Welcome Garden. I could lay pine cones at its feet - and it would be a good excuse to - ahem - visit the rose nursery yet again.
OK. Knock that thought on the head. I am only allowed to buy more after all new roses on the property are planted. Properly and thoughtfully.
And remember I was trying to prune all roses last month. Well, the climbers in the Hazelnut Orchard have been conveniently forgotten - as have the roses in the Dog-Path Garden, and the standard Blushing Icebergs. I think I'd better get going immediately.
How Was Your Trip?
I met a couple of old acquaintances yesterday, separately. We smiled and hugged and they both said something like 'I hear you've been away on a world trip - how was it?' I drew breath to reply, but I was too slow - did I know they'd both been away too? One to a wedding and one to visit someone else, and - oh, I'd find this really funny... There followed a story from one about the toilets at Edinburgh Station, and the other had gone on a canal boat in England during the floods, and...
Memories of London - the London Eye
I would have loved to tell them about London, and Inverewe Garden, and about the Isle of Skye - places that I still think about quite a lot. But I just did some good-listener nodding, and kept my stories to myself. Aren't people funny? Hmm... Don't answer that! Blessed, however, are the bloggers, for they at least are not boring out loud!
Enough procrastination. Hopefully when I return I will have a host of satisfied rose customers, planted, staked if necessary, and pruned. Where is my dog? He loves the orchard gardening sessions.
Dusk...
Well, I've worked for four hours, and only six roses remain to be planted. They are the two burgundy ground cover roses, which I forgot about, and which I have seen THE perfect place for, by the water, a Dancing Pink bush rose which I had vague Island Bed ideas about, and the three Scabrosas opposite the Welcome Garden.
Flower Carpet Roses :

I find the series of roses called Flower Carpet very easy to grow. They also flower later in the season.
There's more rose maintenance still to do - two standard roses need shifting out of the laundry garden, and the deep pink Flower Carpet rose by the house has totally broken its wine barrel. I'll need a replacement. But how good am I? I pruned the pergola roses, and the back fence roses, and half the archway climbers in the orchard. And I picked up and burnt all my mess. And I didn't spend any money!
Saturday 4th August
It's drizzling, so we are off to look at pots for the Welcome Garden. Tall and slender? Short and dumpy? Frilly and smooth? A wine barrel might be too - rotund and squat?
Now it's dark, and there is strong rain - this is very, very good for all the roses I planted yesterday! But as for the purchase of a pot - nothing. I found one I liked, but it looked like a fat sewer pipe and cost nearly three hundred dollars. I bought a wine barrel anyway, to replace the broken one by the house. I will move one of my groovy artistic round pots into the Welcome Garden, to see what I think. I'm not sure how rustic my garden actually is...