Hundreds of mixed daffodils...
I've just planted about five hundred mixed daffodils - some up the driveway, most along the road-side fence. Oh boy - my back is stiff from bending, and there's dust all over me and my clothes. Five hundred more to go...
Thursday 8th May
Three nice (hopefully!) people tooted at me as they drove past. Rusty the dog sat with me, though he almost chased a horse float and the neighbour's van, stopping just in time! I felt terribly community-minded, rather over-virtuous, considering the small scale of my gesture.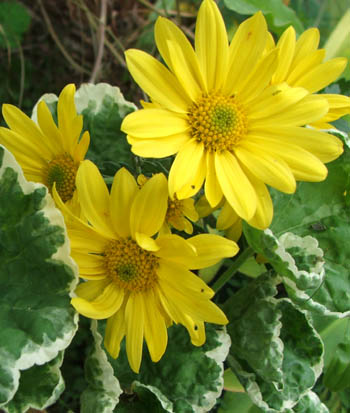 Yellow Mums
But it's nice planting flower bulbs where others will see and enjoy them. Outreach gardening - some of my friends are involved in huge community gardening projects and I should use their inspiration to do better.
Five Hundred to Go
I only have five hundred bulbs left to plant (the daffodil farm is over-generous in counting in thousands) and maybe thirty metres of front fence to go. And two Ake Akes to plant in the new shrubbery, and half a trailer of manure and sawdust to spread. Tomorrow cold rain is forecast, so the more garden work I can finish today the better.
Inside and Outside
One's own world inside the garden can seem so selfish when large scale things go wrong outside (there's been huge typhoon devastation in Myanmar). For example, I am the frustrated owner of a temperamental waterwheel which won't go properly. Rather than poke at it with the rake, mutter, and get into a sad, bad mood, I should be thankful. The water it generates is purely for the filling of an ornamental pond, and not needed for health and food crops!
Sorry I'm in such an odd mood. I'm worrying about using too much petrol, and sourcing 'happy hens' and 'perky pigs' for the food larder - but I'm cheating and using double standards all the time. Walk and cycle, become a vegetarian, and don't say anything until I've got something to say - there's the answer!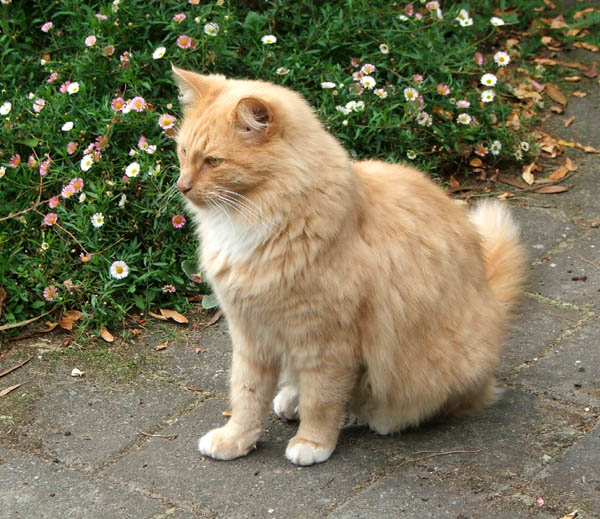 Fluff-Fluff the Cat
I'd better go back outside to my bulb planting before this superficial thoughtfulness develops into something turgid and autumn turns into winter...
Dusk...
Nothing like a two hour cycle ride with the dog to blow away all philosophical cobwebs! My chooks (and assorted neighbourhood birds) love me because I've given them a huge basin of wheat. My cats love me because I've fed them fresh pet meat, no preservatives, and I've lit their log-burner for evening warmth...
Collecting River Stones
I Love my Dog
Rusty the dog is - rather tired (there are much more colourful ways of saying it) and he loves me because I've been telling him for two hours that he's a good dog... If that makes any sense. I love him because he is great to do outdoor things with. Like cycling, and walking, and gardening, and going to the river. He's a good listener, and unless he spies a rabbit or a duck to chase is extremely loyal.
I love my animals and all my family and friends. I love the flowers and shrubs and trees in my garden. I love the autumn season, though the vibrant flame colours of the deciduous trees have suddenly gone. Their leaves are dead now, falling fast. I love being able to love all these things.
And I love being able to cycle for two hours without wobbling, grumping, or getting into personal mischief. Yippee!
Friday 9th May
Just how tough am I? You see, it's drizzling lightly, and it's quite cold, and I've been putting off going outside. But I have things to do, and my dog is very bored. If I dress for mud and rain, and have all comforts ready for the end of the gardening session - clean apres-gardening clothes, hot coffee ready to make, and log-burner ready to light... I'll do it! I'll even stand in that cold, cold water race and deal to that silly, stuck waterwheel. I'll burn a load of rubbish if I get too cold...
An Hour and a Half Later...
Things got a bit over-excited in that last paragraph. I just worked in the new Shrubbery, spreading six bags of horse manure and seven barrowfuls of sawdust-horse mixture on. I planted some little pockets of daffodil bulbs, weeded, then stood back and tried to admire my work. It was rather too dark to be sure, but I think the shrubbery has great potential. I even think I've left enough space for shrub-growth.
Stump and Foliage
I like everything about the Shrubbery - the shape, the path, the little friendship courtyard, the rustic garden seats, and the stone wall. I like the view of it from the house.
Mothers Day Soon
It's Mothers Day this weekend, and judging from the spam topics it's not just in New Zealand. How nice - this very web-site, the mark one version, was originally a Mothers Day present to me from older son. It's certainly been the gift that goes on giving - and giving, and giving some more. Look at all the friends he's 'given' me! Amazing. And all the fun...
Chook Egg
I will suggest to my adult children that, since I am still their mother, they might like to contribute towards my shed, if that's not too greedy. I might try for a contribution from Non-Gardening Partner, too. Though I am not his mother, I do cook for him and buy him clothes. And I organise him in the weekends. Hope he's forgotten about paying for the thousand daffodil bulbs...
A Chooky Question
Finally a semi-rhetorical question - do other owners of chooks deliberately do really fat peelings of their vegetables, and then par-boil them in huge pots - throwing in all the pumpkin seeds as well? Or are the Moosey chooks especially blessed? Lucky hens!
Saturday 10th May
I've been happy and busy working in the Dog-Path Garden, spreading horse-manure, shifting roses around, planting daffodils, weeding, and (oops) enlarging the curvature of the garden. It's a while since I had a good gardening session in here, so I'm really enjoying myself. The Koru sculpture, surrounded by Rosemary (still flowering) and touched by green ferns, is inspiring. I'm thinking of rotating the statue slightly, so it's visible from the garden seat under the Pittosporum. Good idea!
Autumn in the Dog-Path Garden
This is a quick check-in, written while I still have some mental energy left. I've left all my tools (and my crackling cricket radio) in the grass. The Dog-Path Garden is a peaceful and beautiful place, and I must remember to 'visit' more often.
News Flash! Quote from Non-Gardening Partner
Ha! Allow me to quote from NGP, who is lolling on the sofa trying to ignore my hints about Mothers Day sheds. 'I'm not building you a bl**dy shed but you can have a gazebo sometime'.
'I'm not building you a bl**dy shed but you can have a gazebo sometime.'

-A promise from Non-Gardening Partner
Ha! A gazebo! Now there's a garden feature that I'd semi-forgotten about. Apologies for the expletive, but this quote has to be dead accurate. Right. I'm going back to the Dog-Path Garden, possible site of the NGP-Approved gazebo. Back soon, when no doubt I'll be dog-tired, hee hee.
Dusk...
Right. It was good to go back for another hour. I've cleaned up the newly dug edges, pruned a Buddleia, trimmed the Scrophularia perennials and the flaxes, and tipped out another three barrowfuls of horse-and-sawdust. Then I wandered along to the Willow Tree Garden, thinking I'd just pull a few weeds out before retiring inside.
'The magic of gardening dulls a little when one knows exactly what tomorrow morning's first job is.'

-Moosey Words of Wisdom.
Oh dear. I need to do more than 'pull' - I need a serious plan of the weed-suppressing newspaper-and-mulch variety. The magic of gardening dulls a little when one knows exactly what tomorrow morning's first job is!
I'm heartened by NGP's gazebo utterance, though. The friend where we got our horse-manure this morning had a pointy, white, trellised one in her garden, and NGP couldn't resist peering at the construction details. Foolishly he then claimed it would be very easy to build.