Happy Mothers Day to meeeee!
Happy Mothers Day to meeeee - and to all other mothers out there, both species and hybrids, in New Zealand and elsewhere, in late spring or late autumn, of the gardening and non-gardening variety.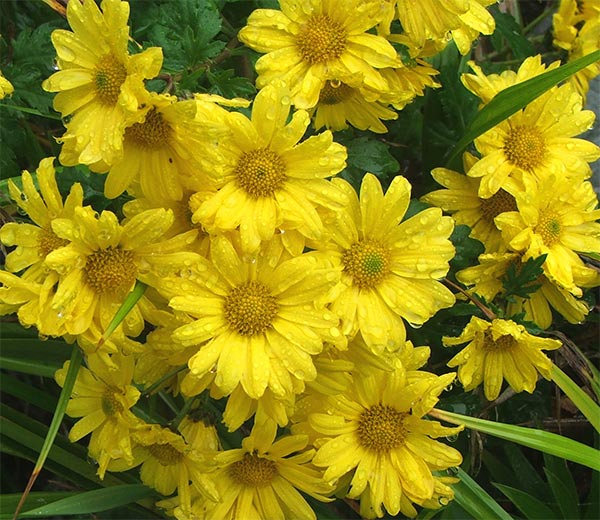 Happy Mums Day - Chrysanthemuns
Sunday 11th May
Right. I've woken up with rose-shifting plans on my mind. The Willow Tree Garden is going to get a serious Mothers Day make-over. First, some background analysis, before I make a checklist for the area.
Positives - the roses in summer and the giant Gunnera. The rhododendrons and daffodils are beautiful in spring. My beautiful rusty red tree peony and the foliage plants around the willow stump.
Negatives - I don't linger in this garden at all. When I wander past I'm not captivated by anything, or drawn in to look further. I enjoy looking at it from a distance, from over the water race, but there's no easy bridge access to entice a lazy looker. Garden seats have been placed on a tiny oval lawn to enjoy the burbling stream water and the views, but I rarely sit in them.
Blushing Pink Iceberg :

I love the different coloured Iceberg roses - Blushing Pink Iceberg is soft and pretty, a real 'girlie' rose.
There's a trio of standard roses (Blushing Pink Icebergs) in the wrong place (not enough sun) whose flowers point the wrong way (i.e. towards what little sun they get, and away from anyone walking past). The little path into the Willow stump has no purpose, and only gets used when it's being weeded. Pretty hopeless reason for being a path!
An informal line of overgrown Escallonias marked the original border edge - they were intended as a hedge. Escallonias sell at my local nursery for three dollars, and if I intend them to be a hedge I need to keep them trimmed.
Rugosa Rose
Then one area of the Willow Tree garden contains a mess of mainly roses and weeds. Rethink - is this a place for spare perennials? Are there too many roses? Not enough roses? I know it's nearly winter, but there's a total lack of definition and shape in this garden all in all seasons. Perhaps the path should wiggle through here, too.
My List
1. Shift the standard roses.

They flower facing the sun, so make sure they can be seen.

2. Shift the path.

Perhaps wiggle it through to the blue garden seats. Or it could fork!

3. Do something to the old hedge.

Chop it right down first. Then maybe dig it out, maybe let it sprout.

4. Organise a bridge to reach the area more easily.

Talk through plans with Non-Gardening Partner.

5. Start smothering the soil in the rose area with newspaper and mulch.

Perhaps rescue self-sown pansies first. Too fussy?
Right. I'm thermally clad, and dangerously energetic (in the mind, at least). I'm sure the solutions to my dissatisfaction will be staring me in the face...
Much, Much Later...
All done! A most satisfactory list completed, on a great gardening Mothers Day involving six hours of nipping, scooping, leaning, bending, grabbing, standing back to check viewpoints... shifting roses, blue geraniums, bulbs and path edging stones... And weeding. But the hub of my garden happiness is darling, wonderful NGP. Great news - he will build me a new bridge, with surface decking laid over two five meter lengths of wooden power poles.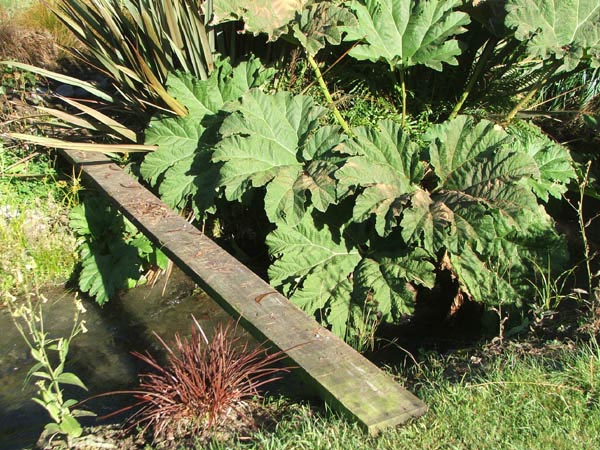 Plank over the Water
To get the flowing routes just right, the hedge-trimming plank was placed over the water in the proposed bridge's position. Then I totally re-routed the Willow Tree Path. It now has a fork in it - one branch leads to the bridge, the other will push through to the seats on the lawn.
NGP Busy in the Garden :

Ha! A picture tribute both to NGP and to the hedge-trimming plank which is currently laid across the water.
NGP is an amazing bloke. It will be no trouble to build the bridge, and he thinks I'm 'easily pleased'. Wow! My ideas for sheds and over-water gazebos have obviously alarmed him, so that any less complicated construction seems like chicken-feed.
And his waterwheel is rotating again. When I took my hens some wheat for dinner I gave it a nonchalant poke. Five minutes later it was still happily sloshing round and round. It's sentient, I reckon, and likes to tease older-lady gardeners.
A Great Mothers Day
What a great day! My ginger gardening cats played in the dirt, the sun shone, and nothing of me got too sore. My (adult) children have just rung me up - yippee! The garden now looks so much better, the path has a purpose, and I'm getting a new bridge. I promise to visit the Willow Tree Garden every day.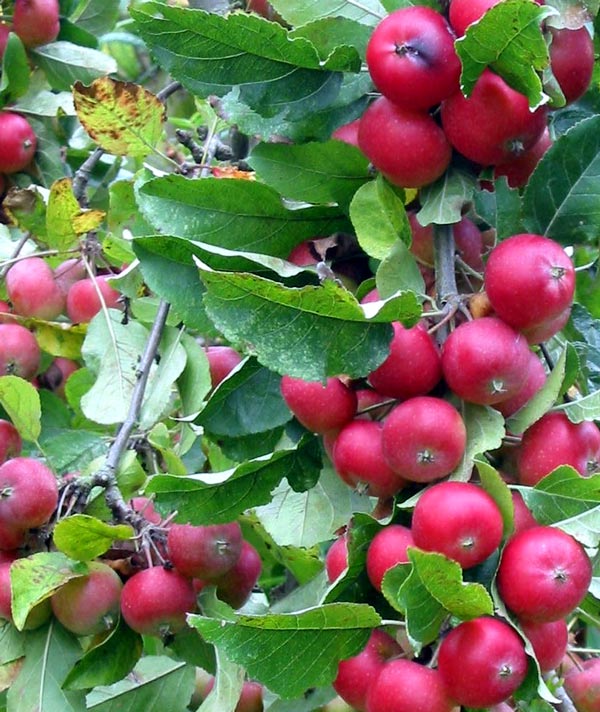 Crab-Apples
Monday 12th May
Brr... Slightly too cold this early morning for gardening. Good morning to the Moosey animals - Percy, purring on my lap, facing the door just in case anything scary arrives. Rusty the dog, scratching rudely at another door - he wants outside desperately, to check the remains in the cats' food bowls. Stumpy the old deaf grey cat, howling fortissimo.
Sorry, Percy, but you have to move - I'm off gymming and swimming. Brilliant gardeners who achieve amazing things in one weekend need to keep in shape! When I get home - who knows? I could get some more river stones for the new Willow Tree Garden path. It would be nice to have the path finished, ready for the new bridge.
Mid-Afternoon...
I did take my dog to the river - what a peaceful place, the perfect playground for dogs. But for lone women it's a little isolated. I never completely relax, and am always on the listen-out for any other cars - a sad but wise woman-thing.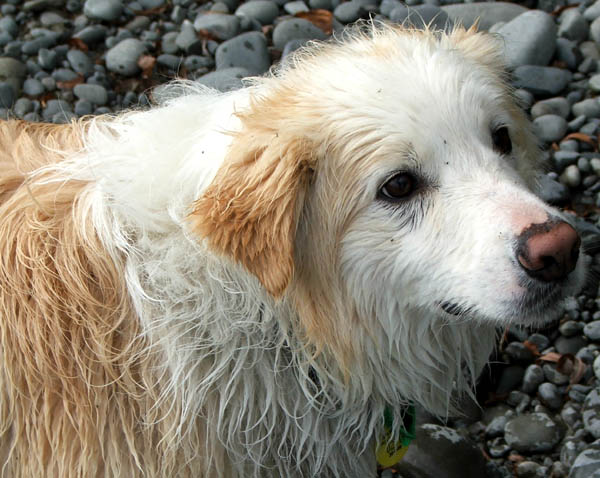 My Dog Loves the River
Three hours of good, gentle gardening. I've pushed the path through underneath the willow stump and out around a blue flowering rhododendron, pulling out handfuls of Iris confusa. There's just a fairly stubborn Aralia to dig out of the way, and then my new network of paths is complete. Rusty the dog has already consumer tested the route. I've collected a large bucketful of younger iris plants - they look beautiful in all seasons except summer, and maybe the new Shrubbery could welcome a small patch.
The Best Bach?
Now I'm inside warming up, listening to Bach's solo violin sonatas. I wonder if these are the best Bach of all? Or maybe the solo 'cello ones are - here I show bias, being a lapsed ex-viola player whose younger fingers have tried bravely to play these. Aargh!
I've also been reading my gardening magazine (Fine Gardening) and am terribly inspired to buy (another aargh!) just about all the new flower and plant releases pictured therein. I've met some beautiful new dahlia cultivars, some variegated basil, beautiful rugosa rose hybrid strangers, and a geranium called Rosanne which heaps of the writers have on their top five perennials list... Flower envy, I guess. And I've got quite a few weeks - months, actually - to wait...