Serious rain! RAIN!
Hmm... I may be away from the garden for some time. But don't worry - it's just that three days of winter rain are forecast. Serious rain! RAIN! Cats-and-dogs rain! Aargh!
Thursday 24th July
I've slowly learnt to interpret these winter weather reports. There's 'drizzle' and 'scattered or occasional showers'. These inconveniences can be fully or partially ignored, depending on how tough and rugged the gardener is feeling. Then there's 'showers'. Now that means that one gets really wet, and muddy, the nose will run, and the hands will get quite cold.
Red Flax and Conifer
Then there's real rain. Noise on the roof, puddles in the driveway, gutters gurgling, chooks hunkered down inside their hen house, kitty-litter box in the kitchen for the comfort of the senior cats... Real rain even puts a gardener off wandering around plant nurseries - it's for checking the gutters and semi-sulking indoors.
Statue :

I don't have any statues in my garden - yet!
Today, after the gym, my friend and I are off to a garden wholesaler of statuary and stone garden seats - two semi-frustrated gardeners with umbrellas, heavy-duty Gore-tex parkas, and wallets. My friend seeks a curved stone bench, I am her support crew (vaguely looking for a large outdoor bust of Beethoven).
Later, Lunchtime...
Hmm... I forgot how horrible it is driving in serious rain, and how shiny (and wet) the roads are. We've postponed our trip. As soon as I've made a few garden plans, and written a few lists, I'll attack (not quite the right word) my new Bach Partita. Nice - I can see the Shrubbery's stone wall through the piano lid. And I promise not to eat any of Non-Gardening Partner's chocolate mousse birthday cake.
Garden Evaluation
Sometimes it's good to be forced inside, mentally evaluating the garden. For example, I'm now very pleased with my network of gardens (and paths) over the water race. They flow together, without all looking the same, unified by their shining (and well-trimmed) flaxes. I like my new garden rules for these areas. No Gunnera between the Willow stump and the Car Bridge, Verbascums between Middle Bridge and the Plank only, No roses or daylilies on the south sides of the borders, and so on.
Some of the Water Race Gardens
Now All I Need...
I only need two things to make my garden life complete. A garden shed by the pond, around which I can carefully plant and landscape, and the waterwheel going again. Oops. I've thought of another - criss-cross ornamental handrails on Willow Bridge. And I do have a birthday coming up in six weeks time. Then there are all the things I did want but have given up on. Like the second pond...
Winter Firewood :

The Moosey Garden seems to have an oversupply of firewood this year.
I'm excited that July (real winter, log burner going all day) is nearly over. But it's still raining, though my personal weather guru NGP (Non-Gardening Partner) thinks it might turn into 'sun showers' tomorrow. At least this time we are too low for snow (further west the road passes are snowed in).
Friday 25th July
Today I spread five bags of horse manure onto the Dog-Path Garden, and weeded the very first rose archway. The fancy clematis is planted, and I've mulched around the Summer Wine and Meg climbing roses. All that took me about two hours, late in the afternoon, with the sun (yes!) behind the trees. As I explained to Rusty the dog on our walk at dusk - a day with small garden accomplishments is still a day well spent. Just as a small dog-walk, down to the water race bridge and back, can still be heaps of fun.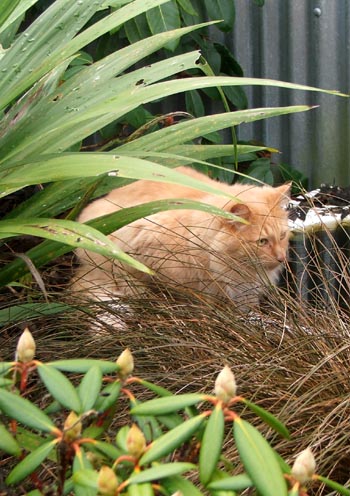 DO NOT Trust This Cat!
Saturday 26th July
Not-so-subtle changes are afoot (apaw?) in the Moosey cat family. Fluff-Fluff, whom I've always thought of as a gentle giant, has come out of the cat-closet. He now spends all day chasing and rumbling with the other cats, both in the garden and the house. He's really sneaky, lurking hidden underneath flax bushes or furniture to leap out and crush his prey.
Moosey Cats - Be Vigilant!
I don't really like this new (hopefully winter-only personality) - FF, my fortissimo cat, turned into a Furious Fur-Fighter. Moosey cats - be vigilant at all times! Percy, my other ginger gardening cat, smooching on my lap - promise me that you won't turn into a monster.
I've fed the hens and walked the dog. I'm ready for the garden, but it's (eek) only one degree Celsius - the garden isn't quite ready for me! What's on the list for today? Finish the last list, I reckon! Plant the deciduous Azaleas, use up the soft bark mulch on the archway roses (weed them first), then take load of firewood to Younger Son. Then pick up trailer load of rotted horse manure. And start the big rotted hay mulch. Aargh! Lots and lots to do - I'll be walking a marathon with my wheelbarrow. But I can do it - I'm tough...