Nice!
Nice - it's a fine winter weekend with sunshine to enjoy. I have more garden paths to organise, as well as Non-Gardening Partner. Let me see - what can he do in the garden today?
Three Red Cordylines
Saturday 12th July
Throughout the night the noisiest, gustiest winds blew and blew. I fell happily asleep playing the 'Where I'm Not' mind-game. It goes like this - the wind is scary, but I'm not - in a tent on a mountain, crowded in a tourist bus somewhere, in a yacht somewhere on the ocean, and so on...
Today I must do a general damages inspection, before I launch myself into the Hen House Garden. I can hear horribly loud crowing noises, far too close for comfort - perhaps last night's wind has blown my rooster towards the house. Aargh!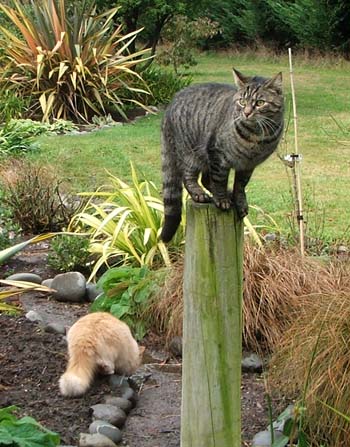 Cats in the Garden
My plans are flexible. I need trailer-loads of stones, rotted compost, and mulch for the new path surfaces - all at once? There is to be serious weeding and re-pathing of the Hen House Garden near the water race. And a Pittosporum stump blocking the new Dog-Path Garden path will be sawn down at ground level. NGP will probably escape into the Hazelnut Orchard, but I'll lure him out with food (hee hee).
Cat Company
I'll take Histeria, Percy, and Fluff-Fluff with me for cat company. Maybe I can finish all my gardens over the water race today - that will be exciting! C'mon, Moosey - get going!
Late Afternoon...
Yes! Success - beyond my wildest gardening dreams. I've cleared the Hen House Garden path. I had to dig out a large glowing tussock grass and a fountain grass - they popped straight in over the other side of the path. I trimmed back the Lemonwood Pittosporum blocking the path's route, and dug out and replanted lots of Liriope. Then I weeded the interior garden madly, pulling out heaps of clover, plus gorse and broom seedlings.
But I've done so much more. I've also recreated much of the old waterside path in Middle Garden, turning hard left at Middle Bridge, past the ferns and the double orange daylilies, doing a flamboyantly wide wiggle around an upright Phormium, and ending at the second clump of Gunnera. I will definitely organise a seat in here - it will be solo, hidden, and inspirational. My cats will be able to find me, but people will find it difficult.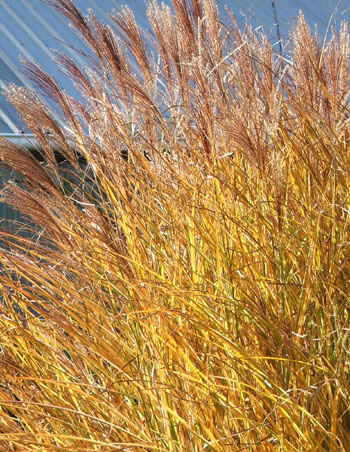 Ornamental Grass in Winter Sun
A Good Man
NGP has done my chain sawing - what a good man! He had to spend the morning dealing to a large dead gum tree which had crashed down over the boundary fence line. We now have enough firewood to keep our house warm forever.
Relaxing with a hot cup of tea, there are pressing things to think about. Like the All Blacks rugby match tonight, and can I be bothered making a steak pie for tea, and the fact that a neighbour has described Rusty as the 'Brad Pitt of dogs'. Oops - not sure that either a castrated dog or Brad Pitt really deserves this...
Sunday 13th July
What shall I do first? After such a great day yesterday I feel like lolling on the couch, reliving the moments of triumph - choices (trim the tree or shift the path?) followed by sensible, workable decisions, the wonders of head-down muddy-knees weeding... And I've already done an hour's pre-breakfast Bach (piano playing).
Methinks it's river stone collection time. Would Non-Gardening Partner like to do this, before he continues his lonely pruning session in the orchard? I've just had a good idea - I could keep him company, pruning and tying in the archway climbing roses. And think about the following: am I going to move Easleas' Golden Rambler, more suitable to covering a rugby stadium than a cute little archway? Aargh! Bad choice of words (and rose) - we won't mention the rugby...
River Stones
Much Later, Dusk...
Oh boy. I'm about to start raving. For I have worked soooo hard, with amazingly marvellous results, and I am feeling soooo proud, and lucky, and full of soooo many superlatives and silly spellings...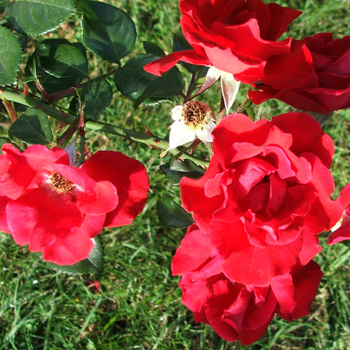 Parkdirektor Riggers Rose
Rose Pruning
Firstly, rose pruning. I did most of the archway roses, though I'm very much a novice pruner. For example, any canes pointing the wrong way got the complete chop - surely this is sensible! Phyllis Bide got a light trim with the hedge clippers, while Easleas Golden Rambler lives to ramble another season.
Parkdirektor Riggers was the hardest rose to work out. He has such a stiff shape, and is covered in brilliant red rose hips. Don't know if it's right or wrong, but I cut them all off.

+5Rooster (for once friendly) and the hens poked around at my feet, checking the prunings for any insect life. I can't tie knots wearing my rose-pruning gloves, so I'm going to tie all the roses up with plastic tree-lock.
Path Making
Secondly, path making. I've continued the path to the rustic park bench underneath the Pittosporum, making an oval shaped garden. Now this sitting feature can be approached from more than one direction, the path enticing a wanderer into the greenery to explore further.
'Rustic is not necessarily robust.'

-Moosey Words of Wisdom.
Unfortunately, plus-size garden visitors will not be able to trust the park bench - it might not be properly supportive, and a weight restriction sign would destroy any romantic ambience. Rustic is not necessarily robust!
Stone Walling?
Thirdly, stones. I've edged the new path with stones, I've built up the retaining walls in the Dog-Path Garden with stones. I've filled all the stone gaps on existing border edges with stones.
I've even burnt my rubbish heap, collected up all my tools, washed the smoke out of my hair, and made that splendid steak pie.