Hello December!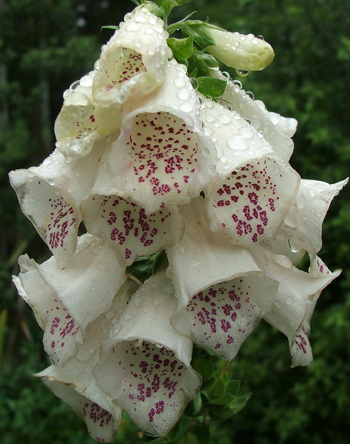 Raindrops on Foxgloves
Hello December - you've started off rather damp and drizzly. However this is more a gardener's problem than a garden problem. Natural irrigation is always welcome in summer. I've had the big whooshy irrigation running as well, and consequently there are foxglove and lupin flowers at precarious angles, and lots of weaker rose stems have their flowers in the dirt. It's raindrops on roses time for the camera!
Tuesday 1st December
I seem to have hit (or rather nudged) the beginning of December in a rather drippy mood, so here's the plan. First I change into lightweight waterproof clothing and I find my gumboots (easy). Then I vacuum the downstairs carpets (not in gumboots, of course). After this piece of reverse psychology I give myself a choice - working inside? Or outside? Hee hee - the result should be obvious.
Outside I then have two immediate choices - weeding the back of the Shrubbery, or weeding behind the pond. Thinly disguised variants of the same thing, maybe, but the pond garden gnomes (clean and well-washed, red hats shining) will probably win me over with their company and visual interest. I've already done a 'reccie' around these gardens with my camera, followed by two skittering ginger cats. I'm sure Fluff-Fluff and Percy would rather I was outside than vacuuming up their fur. I've seen large clumps of spent forget-me-nots (more!) and some lovely yellow dandelion flowers - and the pond Gunnera is beginning to unfurl. Late, but great!
Shy Blackberry Nip Rose
But still I'm lingering, tapping away, head in money-budget clouds (the worst kind). How many new old-fashioned roses can I afford to buy? What can I do without this Christmas? It's a pity that I don't buy alcohol or go to housie or anything like that - then I could give it up and thus find my rose money. A rather spurious argument...
Lunchtime...
I've weeded for two hours, ruining a black thermal merino top which got absolutely covered in sticky biddi-bids. I still feel a bit ponderous, though. And I've thought of yet another thing to buy myself - a video recorder, so I can make decent video clips of the garden. Ha! More money! Perhaps a lottery ticket? Hmm... I need to de-mood myself. I'll grab my dog and take him for a brisk walk.
Raindrops on Hostas
Much Later...
I've discussed my finances with Rusty the dog, played the piano for two hours, and watched a bit of TV. Do I feel better? Not totally, but I remind myself I am still alive - consequently I really don't have a problem. And a few old-fashioned roses shouldn't precipitate this sort of sulk.
Lovely White Iceberg Roses
Blast my bank balance, I say. And go December, month of gourmet lunches, carol singing concerts, and rose purchases. Naturally my dog agrees, as a good dog should.
Wednesday 2nd December
I'm sorry about money-grumping yesterday - I'm over it, after an encouraging talk with Non-Gardening Partner. He says I am not a spendthrift at all, and agrees that I work hard in my garden.
Now, looking on to today - I love it when rain is raining on my garden. I really do. But there's been a lot of fat rain, and lots of flower blooms have flopped down with the wetness. The kitchen benches are covered with vases full of rescued pink and white peonies and roses.
New Moosey Cat
A 'new' cat (shiny and black, called Kaya) has sneaked in under the radar - she's been living in the Sleep-Out with Son of Moosey. It's time she was officially welcomed, and there will soon be photographs of her posing in the garden. My house cats have naturally been a bit unfriendly - all except big ginger Percy. If all cats were like Percy (Mr. Mellow Yellow) there would be peace and harmony in the feline world. He is a great big smooch.
Kaya the Black Cat
So I'm not going hiking on the peninsula - instead I will swim, read, play the piano, pick more wet flowers, and count my many blessings (rather than my dollars, hee hee). I will not, however, be going shopping...
Lunchtime...
Oops. I just called into the charity shop - in case there were any garden gnomes. There weren't, but I bought a - padded pet cube? A cat cubby hole? I'm not sure what to call it but it cost me three dollars. The cube is now surrounded by fascinated cats. Tiger has been standing in the circular 'door' (half-in, half out) for about five minutes. Too scared to commit, eh Tiger? No problems for Histeria the tabby, a cat with high self-esteem - she jumped onto the top (it semi-collapsed) and then popped straight inside.
Tiger the Cat Sunbathing
It's still drizzling, so my plan is to do some virtual weeding and planting on the website. Is gardening too much of an obsession? No way! I love being able to be real and virtual. If I get bored I've found a semi-local rose catalogue to read in which species and old fashioned roses are listed. I'm surprised to find the rose Adam is one such - I rescued an Adam from a supermarket, shifted him twice, and he's been spindly and sulky... I'm very surprised that he's so old - built in 1833. Wow!