The rose balance in my garden...
Ha! It's the weekend, and nearly two whole weeks of December have scooted by. The rose balance in my garden is subtly changing, with more and more new roses flowering. For every modern hybrid I should soon have a species planted somewhere. I'm working on that!
Percy on the Balcony
Saturday 12th December
Today the wind will be annoying (hot and dry) but I have to do some serious watering. I owe it to my enlarged vegetable garden, full of robust rows of peas, lettuces, beans, and potatoes (and fairly pathetic tomato plants). The little Lavender edge-hedge is pretty, but for the first time in gardening history I didn't put the plants close enough together. Not to worry.
More stern words to myself - all bags of horse manure MUST be removed from near house patios and spread on the Shrubbery extension, with a cover of rotted hay. And what's the point of chastising Non-Gardening Partner for missing a bit of the house lawn when mowing, when the lawn edges haven't been properly trimmed? Quality control works both ways...
Flowering Phormium
And suddenly there's Christmas - aargh! What would my garden like for Christmas? More gnomes? More roses? Hmm... It's the season when acquaintances ask 'And what are you doing for Christmas?' in a golden syrup voice. My answer of 'Oh - I'm going to do the garden' doesn't go down so well. People want to know cute things about daughters and babies, not hear about planting the new Grevilias and dead-heading the roses.
New Unknown Rose
Go Google!
I've just saved a new rose, The Garland, from being planted in totally the wrong place, next to a sedate, modest Hybrid Musk called Autumn Delight. A last minute Google search tells me The Garland is a vigorous spreading climber, and is OLD. Do I believe the label, which says it's a Hybrid Musk, and will grow to 1.5 meters? I don't think so. See - it's not always me who makes the big mistakes...
The hoses are on. Good stuff. Today the Roseraie de l'Hay rugosas get planted in the Driveway Garden, and I reckon The Garland can try out the big tree in there. Yippee! Summer roses...
Late Lunchtime...
I have seven roses left to plant. The hot wind is howling, my little hose is spraying water everywhere, and Minimus and Fluff-Fluff (the smallest and the largest cats, respectively) are gardening with me. I've been scattering honesty seeds (of the white and purple variegated-leaf variety) and chopped-up blue lupin seedheads. The cricket commentary crackles on the radio. It's a lovely summer's day. I am very, very lucky. I hope my roses survive.
Even Later...
Hee hee. After much encouraging (in other words, nagging) Non-Gardening Partner has agreed to turn on the big whooshy irrigation. I worry about the new plants, but this way they all get a jolly good soaking. And tomorrow we are off to pick up some more! I'm getting a double white Lilac, a Wintersweet, pots of terracotta-orange and dark royal blue irises, and three more roses - Agnes the rugosa, May Queen the rambler, and a bicolour species rose.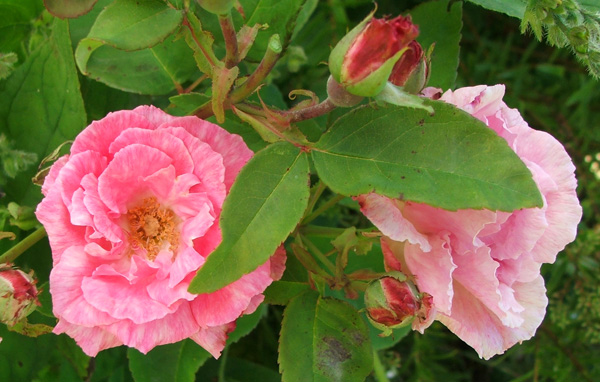 Zephirine Drouhin Rose
Then I will stop spending money on the garden. Famous last words.
Family Footnote
A great family event occurred today - yippee! A brand new baby! I have joined the ranks of Grandmother gardeners.
Sunday 13th December
Today I have some technological issues to confront. I have to learn to use my GPS - in case I get lost in the garden? And practice using my new 'Handycam' while the garden still looks beautiful. And start making the Moosey 2010 garden calendars using a completely new publishing programme. Eek! My ability is to be tested.
Seagull Rambler :

In a few summer's time there will be beautiful clusters of tiny white rose flowers - in all my big trees...
But first - I've been snoozing in bed trying to imagine suitable trees 'festooned' (if that's the word) with the following Rambling roses: Kiftsgate, Rambling Rector, and The Garland. Seagull is organised, at the back of the pond. All these are white roses, flowering at the moment (summer), and all look very similar.
Oh dear. The more I think the less confident I get. I will have to be severe and train them to go up, up, and away. Not over, over, and across...
Later, Mid-Afternoon...
Oh dear. I just don't know what to do. So I've weeded a barrowful of forget-me-nots out of the Stables Garden, planted The Garland rose by its designated tree (the variegated elm) and I'm still in a bit of a tizz. What to do? The reason for the mental collapse is my mass purchase of more roses - I have twelve more (mainly Rugosas), plus the other bits and pieces. So much for planning to get just three! I've watered them all, and come inside to settle down with coffee and cricket.
Ridiculously Random...
One starts getting ridiculously random, visualising rugoas here, there, and everywhere. For example, Rusty the dog's small Lavender garden almost got 'rosed'. So I need a clear-headed plan. Writing things down is the only way I can curb any silliness. Here goes.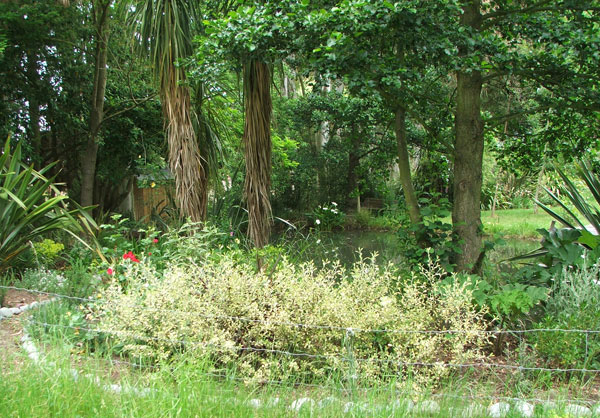 The Back of The Pond
Three gardens and three only can share the rugosas - the new Driveway Garden, the Shrubbery, and the garden behind the pond. May Queen looks so pretty - she can go along a sheep fence behind the pond. The Rector can ramble up a tree in the Wilderness, where rose misbehaviour will be tolerated (and even encouraged). Kiftsgate can scramble up the big tree in the Driveway Garden - he will be visible from the house in a few summer's time, and it is one of the tallest, sturdiest trees on the whole property.
Lilac Sensation :

My other two lilacs are a beauty called 'Sensation' and a little droopy pink one. The new lilac is a double white.
The Lilac goes in the Island Bed near my other two Lilacs. Is that silly? Whatever. The new Irises go in the Frisbee Border - it's the perfect spot, hot and dry, out in the open. And finally, the Wintersweet needs to go somewhere where it can feature (and delight the nose) in mid-winter. I must prove to Non-Gardening Partner that I am a sensible gardener. I will work hard, and do things properly, to the best of my ability. A glass of red wine and a barbecue with salads, happy pig sausages, and steaks will finish the day off nicely.