Proud new owner of 26 old-fashioned roses...
Right. As the proud new owner of 26 mainly old-fashioned roses I have been preparing the ground, so to speak. A nice compromise with Non-Gardening Partner has been reached - I can plant thorny things on the 'other side' of the sheep fence in the ram paddock. But the fence will not be moved. If the sheep are in there for any length of time he will put up something temporary, otherwise I am to hope that they won't eat the thorns. That seems totally suitable!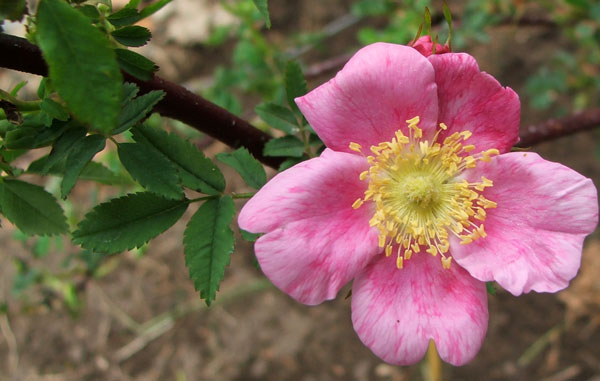 Rosa Woodsii Fendlerii
Sunday 6th December
This morning three of the 'tamer' rugosas have been lovingly planted in the Shrubbery itself. I'm about to dig out several Pittosporums by the fence to create more room. The fence can get one of the ramblers (best not to be Kiftsgate, which my rose book says grows to ten meters).
Rugosa Rose Fimbriata
Later...
Well, well, well. I have done probably a third of the new dig, moved stones to form the new boundary, filled the gap with horse manure, dug out two Pittosporums, and discovered a beautiful variegated Cornus struggling in another garden (I've dug it out and watered it in a bucket). I'm really pleased with my plans - perhaps the Rector can ramble along the fence...
Lucky Cat
Lucky for Minimus the catlet, I remembered to 'collect' her from the garden just as a thunderstorm started late afternoon. She'd been keeping me company in my digging, and won't move unless told.
Monday 7th December
I am an extremely lucky person (I really am) to be a gardener and have such a great family and friends - and animals who share my garden. One small thought - when should I actually stop expanding and learn to look properly after the garden I've got?
Seagull Rambling Rose
I love my new roses with a nervousness I wasn't expecting to feel. It's like reading all the right books and suddenly having a brand new baby turn up - in the back of a trailer? Aargh! They are, after all, only roses.
Cornelia Rose and Lupins
Advice from My Rose Book
The big rose book talks of long arching canes (these need space) and the Rambling Rector needing a tree to climb up and into - not a low sheep fence. Phrases like 'an extremely old rose' - that's for Omar Khayham - have a certain gravity. Aargh!
Right. A cup of hot coffee, an hour's digging, then I'm off to pick up (ouch) the free Agaves. Agaves in online plant auctions are oddly represented - people either list them at a hundred dollars each (another ouch) or find an idiot gardener (me) to come and take them away for nothing. Weird.
Much, Much Later...
I bought a patio vegetable garden - cherry tomatoes, spring onions and carrots in fancy planter bags with handles, plus three tubs of mint and parsley, and several bags of compost and potting mix. Naturally they've all gone onto the patio. I've planted more of the 'new' old roses along the fence-line in the Shrubbery.
Pittosporums have been replanted at the inner edge of the garden underneath the gum trees. Abraham Darby has fitted in near the rustic seats, and, showing a distinct lack of imagination, the new Corylus is planted next to my existing one. But hey! There was a gap!
My First Agave :

My very first Agaves only arrived a few weeks ago. I've put them into pots.
Yippee! I am now the proud owner of three large Agaves, five middle-sized ones and about fifteen toddlers. All these delightful things - cacti? Succulents? are going to live around the water tank in the Orchard paddock. Hee hee - they are the perfect colour match for the dull green of the tank.
Anyway, I'm going back out there now with a glass of wine to sit and soak up the new rose settings. Nice. Singing: The Days of wine and old roses...