Impeccable timing...
Good morning March. Your autumnal timing is impeccable, though the last four days of February have been warm enough to be called summer. Oh well - welcome anyway. Please be a thoughtful month, and make my messy garden look beautiful again.
Monday March 1st
The seasons are not four separate chunks, but rather a continuum, and words like 'early-mid-summer' would better describe seasons in the garden. In my vegetable garden, for example, it's definitely mid-late-mid-summer, and the tomatoes and courgettes are only just cropping. Some of my trees think it's mid-early-mid-autumn. I'm collecting seeds (blue pansies, blue and purple cornflowers) like a good early-autumn gardener should.
Late Summer Yellow Daisy
This morning there's the smoothest of puffy winds and gum leaves are raining down from the big Eucalyptus tree on the house lawn. In theory this is a beautiful sight, though gum leaf drop is terribly infinite - one could rake the grass every day and still there'd be more. Poplar trees along the roadsides are dropping their yellow leaves, too - but they're deciduous. Gum trees are ever-dull ever-greens...
Well, I'm not going to take any notice of it being a new month. I'm going to keep doing 'same old' things. The personal plan for today is as follows: go for a moderato swim, buy groceries prestissimo, and then continue wobbling, molto expressivo, along the gardening continuum. And play some piano, dolce, for an hour during my lunch break!
Blushing Pink Iceberg Rose
Much Later...
I've spent two hours gardening gently, and I think I've had fun. Rusty the dog certainly has. Now Rusty is not a particularly 'diggy' dog, but today in the Stumpy (AKA Willow Tree) Garden something underneath an old tree stump took his fancy (and his nose). He dug and grunted and dug and sniffed and dug and grunted some more, watched by me and my cat-gardening friend Minimus. He was a digging machine!
What on earth was down there? We don't have moles, or groundhogs, and no rabbit in its right mind would dare burrow in my garden... Perhaps Rusty is a million dollar truffle digger. Hmm...
Clary Sage :

Clary Sage is an interesting perennial - great for a larger garden.
Anyway, we are inside for a late lunch, Rusty smells of fresh earth, and I smell like a pungent tomcat (I've been collecting Clary sage seeds). This autumn I will do some serious seed sowing in the glass-house. Usually I leave it until spring and then plants are really slow to get going. This could be the reason I never, ever have decent sweet peas...
Tuesday 2nd March
I want my garden borders to look beautiful, so I need the lawns which surround them to look calm and green. Humph. Not so - my lawns are totally covered with gum leaves. Of course I could be raking and piling all the leaves up somewhere, but then I'd be double handling them, and that does not appeal! I should wait a few more days? I should defiantly burn them today? Blast. I need to seize the raking moment...
A Responsible Burner...
Just to present myself as a responsible burner, there is no fire ban at the moment, but the ground is fairly dry. Just last weekend a local chap was burning his garden rubbish, popped inside for a cup of tea for five minutes, and returned to find his hedge happily on fire. One tiny spark, and a random puff of wind...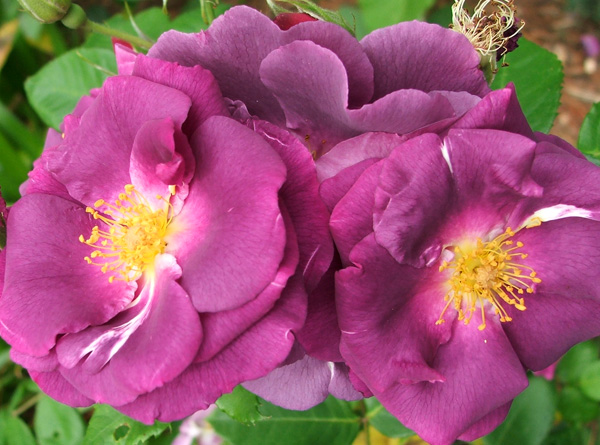 Rhapsody in Blue Roses
The roses - wow! This second blooming flush is taken very pretty seriously by some - like the standard Blushing Pink Icebergs by the Stumpy Garden path, and the Rhapsody in Blues further down. So prepare for lots of beautiful rose photographs and gushing comments. Long may this last - and it makes a great change from gardening gloom.
Much Mulch Waiting...
Right. I'm off swimming and then - who knows? There's much mulch waiting to be wheeled over to the new garden. But mulch is patient... And gardeners must take the time to enjoy their gardens - to sit on seats in the shade, read, gaze around, dream, slurp hot coffee...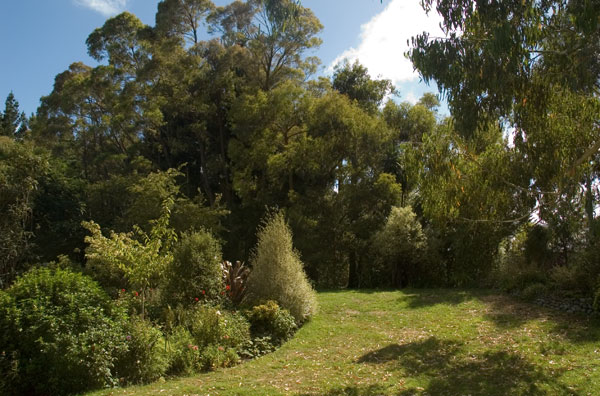 Sunny House Lawn
Yippee. I'm back, and I have done some good, visible work. And all that moaning about gum leaves - well, I've got over myself, so to speak, and I've been raking them up and tipping them by the fence-line. And I remind myself that I have designated rubbish dumping areas. Gardeners with little town-house gardens must struggle whenever they trim a shrub.
Ornamental Oxalis
I have some exciting small news - my ornamental Oxalis (in a pot) is flowering! Son Of Moosey has taken some photographs of it with his fancy Christmas camera, which I am going to learn how to use. Wow - thank you, Nikon, what a difference!
Ornamental Oxalis
And to balance things rather nicely, I've just dug out a few nasty, undesirable oxalis plants, and thrown them soil and all in the rubbish bin. Some came into the garden fifteen years ago with Agapanthus from my friend's garden. Aargh! Every year on the edge of the Septic Tank Garden I find a few plants - some bulbs escaped from my gardening shirt pocket some years ago, and I am paying the price.
And (lucky me) I remembered in time that I had bags of horse manure in the back of my car. They've been spread on the new garden, covered with two barrowfuls of hedge-trimming mulch. I've earned a coffee break - over by the pond, I think, with my book and some healthy snacks. Nice. I'm a much happier gardener - it really doesn't take much...