Rubbish!
Sedum Frosty Morn
I am burning rubbish all weekend. Not only the stuff piled up underneath the fence, but the Wattle tree seed pods and gum leaves which are carpeting many of my paths. I'd like to thank the Cordylines and Eucalyptus trees (and the Wattles) for making this celebration of fire and smoke such a roaring success...
Saturday 6th March
Today I've raked up about twelve barrowfuls of mess, mainly from the Wattle Woods paths. I've also burnt two whole trailer loads. And now I'm clean, and tired, and for once I don't really feel like writing much. There isn't much one can write, after burning for five hours. At least today I didn't have the old man from down the road appearing to check on my smoke. However, he had a close shave with his bonfire getting out of control just the other week (the fire brigade had to turn out and help). For me, this nosy-neighbourliness is totally welcome.
White Seats and Daisies
There are some beautiful perennials flowering at the moment - the Echinacea along the water race edge, yellow Heleniums, and a prolific patch of white Japanese Anemones along the side of the house. The white Shasta daisies are still in flower (that makes at least four weeks), though several clumps have flopped over. Too bad!
Late Daylilies
Several of my daylily clumps have a few late flowers (like that lazy bloomer Stella D'Oro). Every day I dead-head another fifty dahlias - there'd be little colour in some of the gardens if I didn't grow these plants. And less if I didn't bother to dead-head them...
Non-Gardening Partner took me to the first great pre-Easter nursery sale this morning, and I didn't buy anything! I hope he was impressed. Ten dollar bargain bin pittosporums (for example) were just a little too expensive. But then we called into the local Daffodil Farm, and I definitely want to buy new bulbs there. I am on a Zero Plants Budget for 2010, though, so either I argue that bulbs aren't plants, or I grovel to NPG and get him to pay for the new daffodils.
Sunday 7th March
Aargh! It's the second day in my big burn-up weekend. Humph...
Lady Kaya the Black Cat
Sometimes I wonder about having a multiple cat family. If each cat was the only one, they might have a much happier life. Yesterday Fluff-Fluff rudely chased Lady Kaya (the black cat) away from 'her' garage. I felt so guilty. Then Lilli-Puss my reclusive grey arrived upstairs after dark in smooch-mode. I shut the bathroom door to stop young Minimus coming in (she chases Lilli away). After an hour of extreme purring and bed-snuggling Lilli went out. So I immediately felt guilty and worried.
Kitten in the Olearia Hedge
Where was Minimus?
Just before midnight the Head Gardener was scrambling around the Olearia hedge in her pyjamas, trying to dodge the whooshing garden irrigation, looking for a cute little grey cat. I worry too much? It's like feeling terribly responsible for the happiness of a house-load of teenagers. Aargh!
Later...
Not only am I hard working, but I am versatile, mentally flexible, and totally sensible. For I have done absolutely no burning today. The orchard paddock and the back hedge are tinder dry, and today's wind has been a little too puffy to be safe.
So I've resisted the burning urge, and instead have gardened properly in the Glass-House Garden, weeding and trimming things. After lunch I enlarged the new garden behind the Shrubbery, laid more paths, spread more horse manure, and planted two inaugural shrubs (Choisya ternatas). Hopefully these are just the first of many.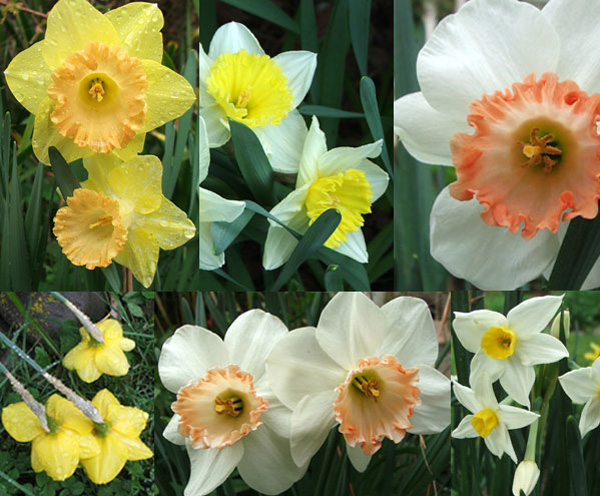 Daffodils in the Moosey Garden - 2
The Moosey website is proudly taking part in a Daffodil Blogarama organised by my friend Daffodil Planter in the USA, where of course the flowering season is starting. My reward for a good gardening day has been to buy some daffodil bulbs. Nice! I have 500 landscaping grade mixed bulbs (to continue the road-side fence planting), fifty Golden Perfections, and another fifty Yellow Cheerfulnesses. Those plurals look funny but make sense. I've gone for yellow and fragrant.