Muddy Dreams?
I've been on an investigative mission in the kitchen drawers. Some years ago I bought three rose standards for the Island Bed, and recorded their names as Blackberry Nip, Dancing Pink, and Muddy Dreams. 'Muddy Dreams' the name of a rose? In my extremely muddy dreams! Now I wish to check my facts.
Tuesday 18th May
These labels should have been stashed in the top kitchen drawer. Hmm... But it appears that somewhere in the garden I have a pretty fluffy pink Camellia called Nonie Haydon and a conifer called Libocedrus plumosa. And somewhere else in my kitchen there must be a plastic bag full of plant labels...
Autumn Leaves - Dogwood and Elm
Today I would have been trudging in the rain around the back of a high country mountain, making for a Department of Conservation hut, wondering if there was any dry wood... But I am warm and dry in the Moosey House - and I don't feel like trudging anywhere! This rain is great news for the fire ban, which is lifted at midnight, and for the new plants I've squashed in the garden (mainly Phormiums and Agapanthus). So as soon as I've had breakfast, and reminded myself I'm toasty warm at home, not shivering in a mountain hut, I might wander around the garden and make some sort of list. I could stay home tomorrow and start burning...
Oops - Garden Shed Arrives Soon
The new, much anticipated Garden Shed arrives later this week, and I need to chop down a Pittosporum and three struggling Silver Birches to make room for it. I'm a bit nervous about this - will Non-gardening Partner stop 'humphing' and actually help me build it? Please?
Kaya the Black Cat
Later...
Rusty the dog and I have been for a drizzle walk. Before tackling the road, we strode down to the hay-barn, accompanied by ginger cat Percy, and I noticed (for the first time - how unobservant am I?) he has a pale, almost white tip on the end of his tail. Bizarre cat-ID situations went through my mind - 'Oh no, he's not my cat. My cat has no white markings'. I was much reminded of young Smoocher who used to love doing this particular garden walk. I widh that Kaya the black cat would come for garden walks with me.
Wednesday 19th May
It's still a bit drizzly, but I am going into the mountains, just for the day, with my walking group. I could be staying home burning all my rubbish! Hurray for the safe and sensible lifting of the fire ban, and may the Moosey skies (not those of the neighbours') be filled with not too much smoke pretty soon. All the burning has to be burnt, by the way - it's mainly gum tree bark, leaves and prunings from shrubs etc.
Later...
I've has a wonderful day walking up a back country river valley. The new boots (and the old legs) worked a treat. We saw lots of Matagouri and Manuka, and a weedy Ranunculus easily identified by my learned friend. It looked rather pretty out there growing by the stream - not so pretty in my garden, lurking in the Jelly Bean Border.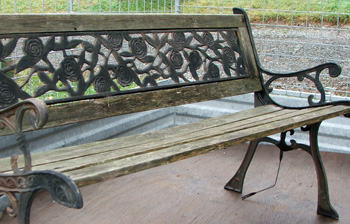 New Wobbly Garden Bench
A Burning Day...
Please let there be not too much drizzle tomorrow, because I want to be burning all day. Finally the fire ban is lifted and one rather nonchalantly feels the anti-climax. My heaps of gum leaves are soaked through, and in a spiritual sense I feel extremely disconnected to bonfires. I don't enjoy burning - I just get red-faced and pretty cross.
Thursday 20th May
First I change my library books, and then I set my burning heap alight. And then, if I can get it going, I rake and wheel loads and loads and loads and loads of rubbish from all four corners of the garden. Journal Warning... I could well be in the foulest of moods when I return.
Later, Mid-Afternoon...
I've been burning by the water race for three hours - it took a while for things to get going. My dog has been barking at fantails, and a large rat has been sitting on top of the pergola watching me. My goodness I keep good company in the garden...
The Water Race - Autumn 2010
Apart from the smoke, it's been a beautiful autumn's day - and three quarters of a successful day, for I've also solved my rose name problem. That standard rose in the Island Bed is not 'Muddy Dreams' but 'Moody Dream' (which sounds just as gloomy, in a way). Close, but no cigar... (a silly phrase for a non-smoking, non-manly gardener to use). My plan now is to return for a final bonfire session, get thoroughly brassed off, then have a shower and wash my hair. That usually helps!
My First Gnome :

My very first garden gnome lead a very solitary life until September 2009. Perhaps you'd like to read more?
Aah - little things make life feel lovely. I haven't had any fresh coffee for a couple of days. But I found some, just now, in the pantry, and it tastes like the best coffee in the whole world! My hair smells quite nice. And there's a garden gnome on the online auction site, a brother (a clone?) of my old original gnome. How exciting...