Humph...
Histeria the Tabby Cat
Humph. I do not make a very good cold-weather non-gardener. It's now four days since I've been able to go outside - only four days, and my dog and I are both getting gardening-withdrawal symptoms.
Thursday 27th May
Mind you, the offer is there to put on thermals and get muddy planting my Agapanthus. But the rain continues to pelt down, and the wind has turned southerly (from Antarctica). There's snow on the mountain passes, and patchy flooding on the plains, though my garden's puddles have drained away somewhat.
How do those who are forced to be cold climate non-gardeners for months cope? Aargh! I guess by reading magazines, visiting summer internet gardens, and writing lists... But their dogs must get really bored. Just ask Rusty the red Border collie - it's boring enough being a gardening dog at times, without being a non-gardening dog...
But Rusty and I have been going for short, wet garden walks. The ground is really spongy, and there are many sodden fallen autumn leaves.
Autumn Gingerness!
There is much gingerness in the autumn trees this year. The driveway is beautifully framed with such colours, and there's a ginger leaf-carpet on the garden borders. Again my inability to catch the essence of autumn colour is really frustrating. My words are dribbly and my photographs are cold and blue...
Tajdog - 2003 :

Tajdog was an old dog in 2003 - he only had one more year of his country life to live.
Today I'm busy pottering around doing web-gardening - popping a few more colourful pictures into the 2003 journal pages. After quickly reading through my 2003 ramblings, I realise that I hardly talked at all about the cats and the dog of the time.
Taj-Dog was obviously not a terribly memorable gardening dog, and I can't even find photographs of the cats. I am so much more in touch with my animal family these days!
Cat Alert
Please do not vote for Tiger the tortoiseshell in the Most Valuable Pet Competition. She has disgraced herself again - again! - regarding the indelicate matter of nature breaks in the rain. So I have thrown her outside and shut all the doors. Let her get her paws really wet!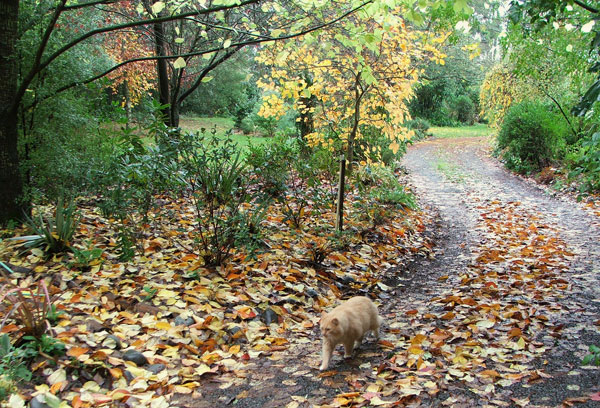 Fluff-Fluff the Good Autumn Cat
Friday 28th May
Brr... It's cold, wet, and windy, five degrees Celsius, and raining on and off. So I'm still a non-gardener, doing inside things, surrounded by dozing cats. Rusty, Lilli-Puss and I have been outside for an orchard walk. I saw lots of hazelnuts on the ground - looks like this year will be the first 'proper' harvest. This makes five non-gardening days in a row.
Saturday 29th May
Will this be the sixth non-gardening day in a row? Might the Head Non-Gardener decide to throw in the - towel? - and get a new hobby? Aargh! It doesn't bear thinking about. However, this general wetness tells me something - a safely paved path to the woodshed would be a huge improvement over the squelchy grass route. And most of my regular natural paths could do with a new covering of soft bark mulch...
Calendulas Flowering
'As long as the Head Gardener wakes up each morning with one new gardening plan there is hope.'

-Moosey Words of Wisdom.
As long as the Head Gardener wakes up each morning with one new gardening plan there is hope... And as long as there is one brave Calendula flowering, bright yellow, there is colour... And it's not really raining.
So why I am still sitting inside thinking about Brahms (piano-composer hero of the moment), the TV couch, and my latest detective novel? This simply will not do. THIS SIMPLY WILL NOT DO! Repetition, using upper case letters, for emphasis.
THIS SIMPLY WILL NOT DO!!!
As the above, but bolder, and in its own paragraph, with three exclamation marks for total emphasis...
Plant Me! Plant Me!
One Hour Later...
But one hour in the rain is really good. One hour is always better than 'none' hour and I've kept myself really warm by being busy. The Agapanthus plants are finally planted, in the corner of the Frisbee garden just opposite the Stables.
Ash from my burning heap has been shovelled out and wheeled onto various gardens - wet and heavy work, but now I can start all over again and burn. But not today, since it's steadily drizzling. After 125mm (5 inches!) of rain in five days even my piles of gum tree rubbish will be too wet to burn.
Thanks, Little Minimus
+10Sincere thanks to little Minimus for being brilliant rainy day cat company. Funny, though - gardeners get so much muddier than cats... I guess that's because they're bigger and clumsier.
Well, it's time for coffee and - Brahms, I think. The subtleties of the third violin sonata are eluding Non-Gardening Partner (complaining that he doesn't get any nice tunes). This is a natural musical reaction when two lapsed half-decent musicians take a thoroughbred Allegro movement at the slow clip-clop pace of a draughthorse.
Two Rules of 'Should'
A garden should get better the more one gardens. And music should get better the more one practices...