Rain all week?
It is supposed to rain all week - that means I can get lots of piano practice done, and keep some energy in reserve for the arrival of the new garden shed. There will be no mountain hiking, either...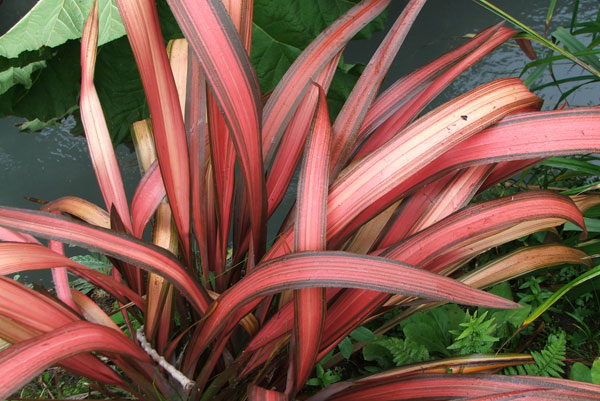 Red Phormium Leaves
Monday 24th May
Hee hee. I'm off to track down a garden gnome (Norman) who is lost in the post. It's been raining steadily for over twelve hours, and still my burning heap is gurgling a plume of smoke. It's far too wet to be gardening today, though I could plant the last batch of Agapanthus...
Lilli-Puss
Good Morning to the Cats
Good morning to ginger Percy, who loves me to bits when I start wearing merino tops in the house. Cats are a brilliant endorsement for the cuddly properties of merino wool. Hopefully Lilli-Puss is snug in her cat-bed in the Stables, and the other lazy house cats won't disgrace themselves while I'm out on my gnome search. Back soonish.
Fifteen Minutes Later...
I'm back very soonish - the rain is pelting down and the roads are a bit skiddy with surface water, so I turned around and came home. And from a phone conversation with the courier I regret to say that Norman the gnome is well and truly lost in post. Oh well - he just wasn't meant to join the Moosey Garden Gnome Team (he was rather fat and out of shape)... Anyway, I'm going to do web-gardening all day.
Tuesday 25th May
It's still raining. Now I wish I'd planted my last Agapanthus (still could, still could). I am back from swimming, and I feel incredibly clean. The log burner is going, the cats are fireside, and Rusty the dog is jammed into his armchair. Another wet day in autumn paradise...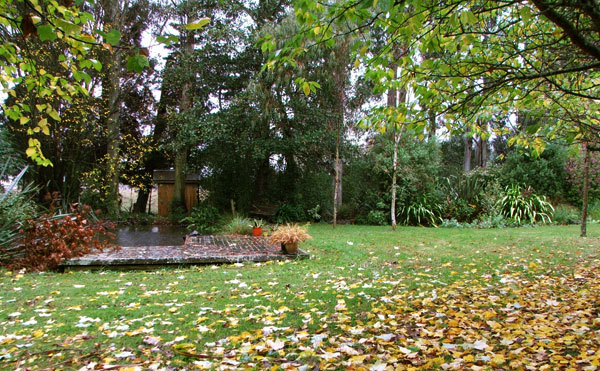 Pond Paddock - Site of New Garden Shed
Did I mention I am the most wonderful mother in the whole world? Son (the younger, but quite old) of Moosey has promised to help with the erection of my garden shed (the kitset arrives in two weeks time), so I am cooking him a scrumptious wet-weather lunch. And I have hung up his laundry. Amazing...
Moosey Journal 2004
I've been sprucing up the 2004 Moosey Journal, finding some extra (and deeply authentic) photographs for the pages, just in case someone reads that far back and gets bored...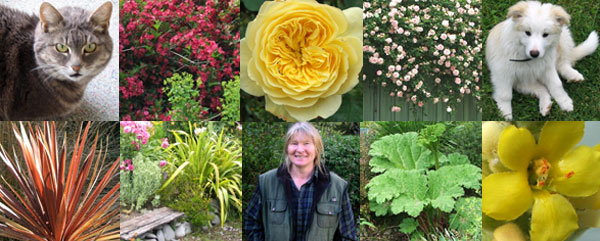 The Best of 2004
And the saddest thing? Some of my 2004 garden photographs show the garden and its plants looking rather better than today. Two little things - 'overcrowding' and 'undernurturing' spring to mind...
Time for some piano playing (which was also better in 2004, but that's another story). The rain slurps down steadily, the guttering and spouting seem to be working well, and occasionally a drenched cat appears out of nowhere to sit on my lap - thanks, Histeria the tabby!
Wednesday 26th May - Breaking News
I hope that the word 'breaking' isn't prophetic. Finally, Norman the gnome, lost in the post for three weeks, has turned up. I'm picking him up this afternoon. I'm sorry that I said he was too fat. Hope this won't spoil our relationship...
Puddles in the Driveway
Eek! It's still raining, and we've now had neatly three inches (about 70mm) in three days, which is 10% of the annual rainfall. Blessed are free-draining soils and gardens built on ancient braided river beds. And blessed are houses whose spouting gets cleaned out by their resident Non-Gardening Partners when big rain is forecast.