Too windy to garden?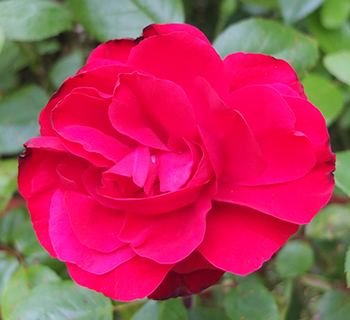 Dublin Bay Rose
I dislike gardening in big wind. All that energy and noise, crashing into my serene thoughts, and those gusts of aggressive air threatening to blow me (or a nearby tree) over. But I'm so far behind in my general spring gardening tasks that I'm out there today. Intrepid me? Or simply silly?
Friday 18th October
The hot air is whooshing around and the few pine trees still standing along the side driveway are creaking and squeaking alarmingly. I'm working underneath on the small strip of newly exposed land, putting up log barriers and barrowing in mulch and manure. Rows of daffodils are now planted here to die off slowly (which is what daffodils like to do).
I've also been watering my dog's Lavender Garden, which I've also weeded and filled with orange Calendulas. Rusty will like these - after all, he's a sort of pale orange colour himself. I've been bringing buckets of water from the water race to splosh on his recycled miniature roses. Then off I go to uplift another pot whose daffodils have finished flowering.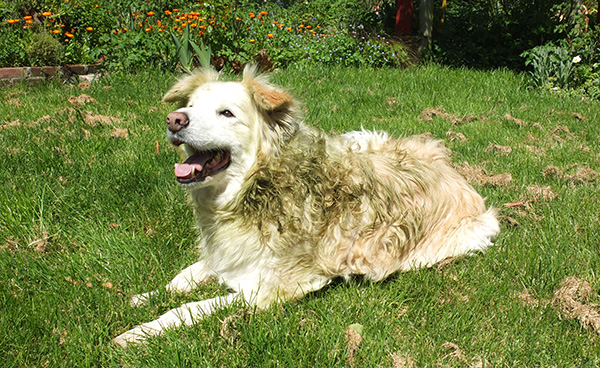 Rusty, Disgraceful Dog
Did I say Rusty is pale orange? Oh no, he's not. After spending dog happy hour in the far sheep paddock he is now olive green. This will take ages to fix - he's recoloured his chest, chin, face, and both sides of his body with sheep-poos. Aargh! Stinky dog! Out comes the pet shampoo.
Sunday 20th October
It's been a hard-working weekend, with yet more cleaning-up. When will this end? When I decide that there's no more to be done. I'm working my way down the side driveway, throwing loads of organic matter in the holes, pulling out more submerged tree branches, collecting up pine cones.
Rusty the Dog is Clean Again
Non-Gardening Partner has chain-sawed up more of the pine branches into firewood logs, with my expert help, of course. Everywhere in my garden piles of logs are drying in the sun. Friends have been here, too, cutting up firewood for themselves while helping the clean-up.
Pale Yellow Irises
Monday 21st October
Another hot dry wind is blowing. My first objective is the Frisbee Lawn Border. Late yesterday the new mower (pulled behind the tractor) did its first cut, smooth and low. I have to trim all the edges. I'll also rake up the clippings, and all this vegetation can go over to the new garden plots along the side driveway. I'm putting things in little rows, like a well-drilled allotment.
Morning Tea...
All the irises in pots (which never ever flower, such is the over-richness of their potting mix) are now planted in two rows in the Allotment (which is what I'm calling this new garden area). Irises in the garden are starting to flower, too, though some years are better than others.
I've taken a short break from the raking and weeding to notice, enjoy, wander up to, and photograph the pink rhododendrons. One is flowering underneath the spectacular white flowering Dogwood in the Island Bed - pretty marshmallow colours in my October garden.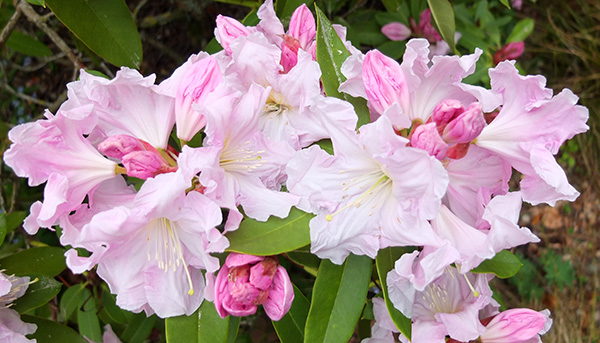 Pink Driveway Rhododendron
More of the first rugosas are flowering now - another beautiful Agnes shrub by the water, and the Roseraie de l'Hays in the Driveway Garden. Also some of my smaller Azaleas are blooming, low down on the garden's edge. The prettiest is a pink and cream called John Llewellyn (I think)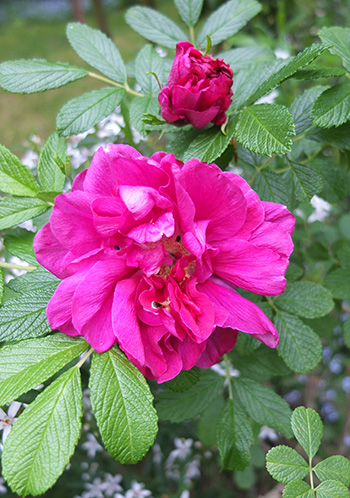 Roseraie de l Hay
Much Later...
Hee hee. When one is the CEO, the major (only) shareholder, the caretaker, and the tea-lady of one's own company one can make so-called executive decisions without fear of dissention.
Decision One
1. I've stopped for the day.
It's just too windy and noisy to keep gardening safely. Anyway, the grass I'm raking up blows off my wheelbarrow. And I can't hear the gardening Ipod. How on earth do the little birdies get on in the big winds?
Decision Two
2. I've ditched the latest jigsaw.
A challenging 2000 piece it may be, but a nondescript German gorge where everything is out of focus and two thirds is same-colour sky is just a waste of time. Far more fun to do a quicker 1000 piece British garden, entitled (rather oddly) 'Morning in the flowery passage'.
I've had a good, long day anyway. I've been bucketing water on the roses behind the pond, while the hose soaks the nearby Choisya shrubs. I've sawn down two alarmingly hanging branches above the pond path. There is new growth on the roses that were cut down by the falling pine tree. I've planted Omphalodes, Cerinthe, and blue Cornflowers alongside the path to the cottage.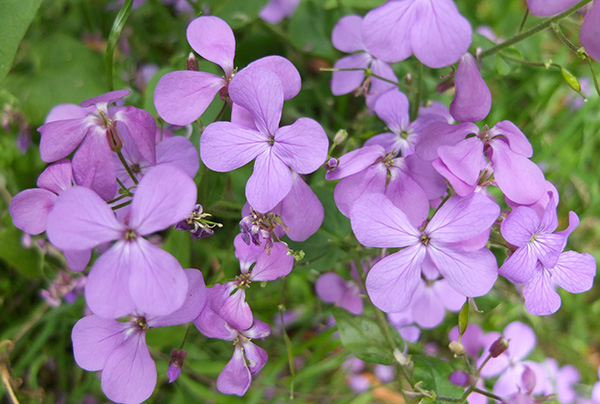 Honesty Corfu Blue is Still Flowering
I've also done lots of weeding, pulling out a little pest which I call the October weed, whose mature seeds fly off when touched. I've always thought its common name was 'parachute weed'. Upon Googling this I was presented with pages and pages of an illegal, dodgy nature. Please do not attempt to do likewise.
Squashed or Impaled?
There's a good reason not to be outside in big wind. The straggler pine trees left standing on our boundary are now very exposed, ripe for a fall. I would either get squashed by the main trunk or impaled in the earth by one of the angled branches. Aargh! Some choice!