Being good means...
John Clare Rose
Today I will spring into my garden. I will leave no weed unpulled. I will look around and enjoy the beauty. I will be creative, planting flowers in gaps. I will be functional, sweeping and raking and trimming and weeding. Oh yes. Today I WILL BE GOOD.
Friday 11th October
But being good also means noticing things, and enjoying the garden - walking around, watching the bees buzzing over the flowers, talking to the dog, cuddling the cats - those sorts of good things. Just as important...
Much, Much Later...
Yes, yes, I did all those and more. The Alkanet has started to be annoying, so I've been digging it out. I know I'm leaving some root behind, but at least it clears the air around the roses of vegetative clutter. I spent a couple of hours working on the seeds and seedlings.
But oh boy! I have seen many, many weeds today. They must have all been growing silently while I was preoccupied cleaning up the tree mess. A tiny voice inside me is whispering 'It's not fair'...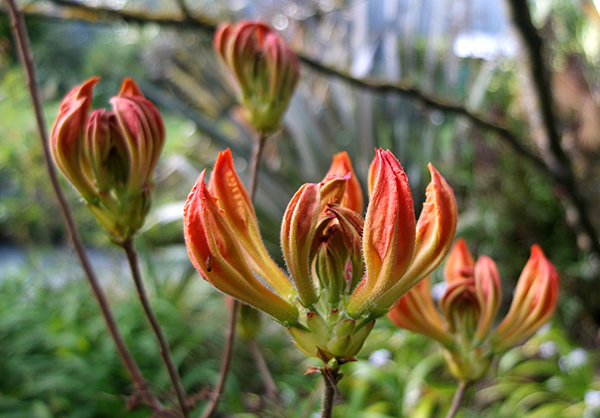 Deciduous Azaleas Ready to Bloom
The more weeds I pull out the less I leave behind. Ha! A Gardening truth, which at the end of a busy day lacks the impact it should have. Because after a big day out I can see many more weeds than ever. Tricks of tired eyes, which even big Fluff-Fluff the wisest gardening cat cannot explain...
Pink Cherry Blossom
Saturday 12th October
You know - for a gardener, being good is rather easy - it simply means being busy. It's been another busy day. I cleaned up the Wattle Woods paths, carting loads of small broken branches to the bonfire. Then Non-Gardening Partner cranked up the chain-saw and together we sawed up three huge piles of wood branches. Then the skies went dark grey, so NFP (so well trained) leapt onto the lawn mower, while I started organising the new firewood. Zoom went the mower, it got darker and darker, and pretty soon I was chased inside by a noisy thunderstorm and blobby rain. I refuse to garden in thunder and/or blobby rain.
Now I need to encourage big Fluff-Fluff out of the garage (his place of refuge in stormy times) and make sure young Minimus isn't too wet. Then I'm going to pour myself a glass of wine and flop in front of the jigsaw.
My garden is looking rather beautiful, and more and more roses are starting to flower. I have a lot of new recycled ones planted this year. I have no idea what colours, and they'll likely be retro hybrid teas. Oh dear - maybe my garden will turn bright orange! Love those Calendulas, though.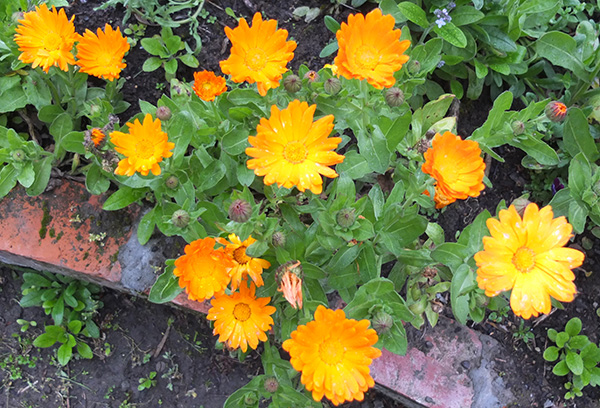 Orange Calendulas
Ideas...
My vegetable garden is now too small, thanks to the gorgeous Herb Spiral which takes up its middle, and a curved border which has been taken over by roses and perennials. So I'm going to create a potato patch by the fence-line, near the Agapanthus Garden (where the fallen trees have created light and sun). My vegetable garden will contain lettuces, beans, carrots, parsnips, courgettes, and spinach. Tomatoes can go in pots on the patio. All organised, if not planted. That happens over the next fortnight.
The Gunnera is Growing
Actually I've had another good idea which involves putting up a trellis fence along the Agapanthus Garden itself. I'm thinking roses, Non-Gardening Partner is thinking construction and money...
Sunday 13th October
Right. First a healthy breakfast - no rushing, but no lingering. Then it just might be possible to fire up the bonfire before the predicted nor-west winds arrive. Thus I can clean up the Stumpy (AKA Willow Tree) Garden lawn mess for the lawn mower. Also it's time for a general spraying of the roses, for which no wind is required. I'm kind of chasing the weather, so no lingering - fair enough?
Aargh! I'm still sitting here having another cup of tea, and I've thought of at least four more things I need to do ASAP. A list, perhaps?
Paint new gnomes.
Plant out lettuces and spinach.
Pull out more Alkanet.
Clean up side of Stables, burn rubbish, start stacking firewood.
Hmm... Slurp, slurp...
Eight Hours of Hard Work Later...
This is the second eight hour gardening day in my life. It's up there with scoring a hundred and taking a hatrick in a cricket test. Except I am not gardening in Bangladesh in forty degrees (Celsius) of heat. I'd be lucky to leave the hotel without swooning.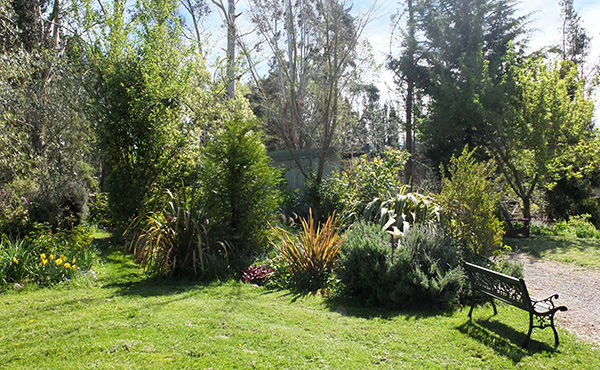 Early Morning in the Stables Garden
Unfortunately for the morale it was a clean-up day. But that's perfectly OK. In fact, item four on the list describes things nicely. I am now an expert on stacking a collection of motley firewood logs of all shapes and sizes. There are just two rules - put the fat ones on the bottom, and think of the pyramids. The wind didn't arrive until late in the afternoon, so I managed to burn all the firewood rubbish.
Lilli-Puss
Cat Smooching...
Late in the day I sat with Lilli-Puss on the garden bench underneath the Cercis Forest Pansy. Blossom! The most unusual colour, a steely blue-pink, and popping seemingly out of the stems of the tree as well as the ends.
Purry Lilli wriggled excitedly, her claws (well-sharpened by 'playing' on next-door's fallen trees) engaging with my tired legs. Ouch, ouch, ouch!
She's an odd cat. With a tummy full of food she overflows with genuine love for cat-mother (me), and gets in one of her spectacular super-smoochy moods. Love you Lilli - if only you would come and live in the house with us...
It's been a grand, hard-working weekend, and I have been so good. No, wait, more emphasis needed : SOOOOOOOOOOOOOOOO GOOD!!!!!!!!!! Sorry for shouting...
Cercis Forest Pansy Blossom
+10Oh, I almost forgot. Lilli-Puss deserves lots of bonus Most Valuable Pet (MVP) points for recognising that I have been an extremely good gardener, and reinforcing my belief in my own abilities. Hee hee...