What would a visitor think?
So what would a visitor think if they walked through my Wattle Woods? Hmm... Here's the path. Hang on a minute - is this the path? Hey, where did that path go? Aargh! Lost! How do I get out of here?
Where is the Wattle Woods Path?
I'd rather they could wander in a happy dream, admiring the beautiful foliage. So that's my first task for today. It is time that I thought of my hypothetical visitor and started sorting out the routes through the deepest, darkest places of my garden. All I need is my wheelbarrow, my rake, a cat for company, and maybe an hour at the most. Back soon.
Tuesday 29th October, Three Hours Later...
Well, now would you like to wander through the Wattle Woods? Look at all the lovely green Agapanthus - a wonderful foliage plant for dry shade. Such beautiful Phormiums, too, and don't you adore the variegated Pittosporum leaves.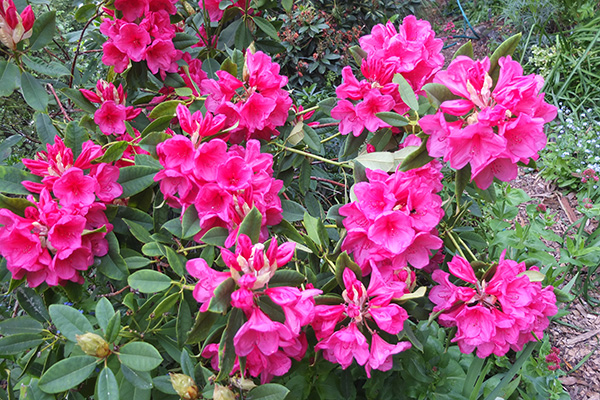 Pink Rhododendron in Wattle Woods
And what a pretty little path, winding its way past the vibrant pink rhododendron and the edging of Renga Renga. Oops - mind the hoses! The Wattle Woods is being watered. And those cute little curved bridges - wow! They look like they were made by a true craftsman...
Minimus, Cat de Jour
I've got my bonfire going, and I'm burning more dead Wattle and Gum tree branches. And I've raked up grass clippings, pulled out yet more forget-me-nots, and trimmed some lawn edges. Young Minimus has been the cat de jour, while Rusty the dog has been slumped in the shade snoozing - poor company, really. He's roused himself to bark at some distant dogs and has chased off three aeroplanes.
Isn't it daft? I've been gardening for hours, I've just come inside for a short break, and all I want to do is write about the garden. Downton Abbey sits unwatched, my new jigsaw is still in its box, and my book is unread.
Dusk...
I am super-proud of my late, last gardening session. I raked the grass clippings off the whole of the back house lawn. I trimmed all of the back house lawn's edges. I kept wanting to stop but I didn't. The sun sank lower and lower. Non-Gardening Partner came home from work. I kept on going. And going.
Wednesday 30th October
Today feels nice. The air is still, full of busy buzzing and happy chirping noises. Aha! There's no wind! First thing I'm doing is the watering. Hoses on in the Wattle Woods, and I'll fill the watering can from the pond to water the cottage's garden. What colour will the new recycled roses planted in here be? Sooooo exciting...
This is a beautiful garden time of the year. More roses and aquilegias are now flowering. The coral peonies are bursting out of their buds. And I think (ooh goodie, touch wood, as long as it isn't attached to a tree that wants to fall down) a few Alliums have survived in the perennials garden. Put it this way - I've seen three suspicious blobs in the middle of the greenery, and I'm not going in there to jinx them.
Later, Lunchtime...
Aargh! It's a great day - for taking photographs (overcast), for gardening (not too hot), for the bonfire (no wind), for reading on a garden seat (everything looks beautiful), for relaxing inside with the jigsaw (deserved after hard manual labour), for having a leisurely lunch on the table by the pond and writing up my journal there. Aargh! One woman cannot do all of these things.
Moonlight Shrub Roses
I'm compromising. This breathless scribble, last spring's Fine Gardening magazine (because it's spring here), a cold drink, and a ciabatta with banana. A dog biscuit for my barking mad dog (very concerned by someone's car? house? alarm wailing in the distance). And a match for the bonfire, full of dry stuff from the Wattle Woods. It can gurgle without me. Byeeeeee.
My great day has ended wonderfully well. I dumped loads of rubbish on the bonfire, I planted pink Lavatera annuals and lovely rich red Heuchera perennials, I shifted my hoses, I watered the new recycled rhododendrons, I cleaned out the little wriggling stream, trimmed overhanging Phormiums, and unjammed the river pumps. I took lots of photographs, did some edges, and pulled out more forget-me-nots. I even sprayed the Othello rose by the house for rust. How dare he get rusty!
The Edge of the Wattle Woods
Late this afternoon it got really country-noisy. A couple of pheasants were honking in the front paddock. Then the bellbirds started whistling at Rusty the dog from high in the Wattle trees. He barked madly at them, and charged up and down the paths. And he kept to the paths, too - they work! What a well-behaved gardening dog...