A dog day...
Escher and Ben
The end of my May month, with possibly the end of the warmish weather, has been varied and delightfully mad. That's M for mountain (a hiking day yesterday), A for Agapanthus (I've got more to plant), and D for dogs. Today has been a dog day.
Friday 31st May
I've just had lunch with two dog-friends Escher and Ben. Then I took them out for a treat to the nearby dog park. It's an outdoor dog-kindergarten, with all sorts of dogs ready to play and socialise. There are pine trees, pine cones, and wooden seats to have pee-ing contests on. Oops. But we had lots of fun.
Unfortunately I had to leave my own dog Rusty at home - I thought that three dogs would be a bit much for one not-so-little slightly-old lady. Brown dog Escher is a very strong lead-puller, and as for big Ben the Leonberger - well, you can make your own mind up about him. He's Mister Big!
Ben the Leonberger Dog
I'm very pleased with Rusty the Moosey dog. He's much less stiff, with renewed vigour and easier front paw mobility. I'm hoping this is the result of the sprinkle of Glucosamine on his breakfast. But this morning's walk down the road was a bit tense. Big Fluff-Fluff the cat wanted desperately to come too, and cats on the road are an absolute no-no.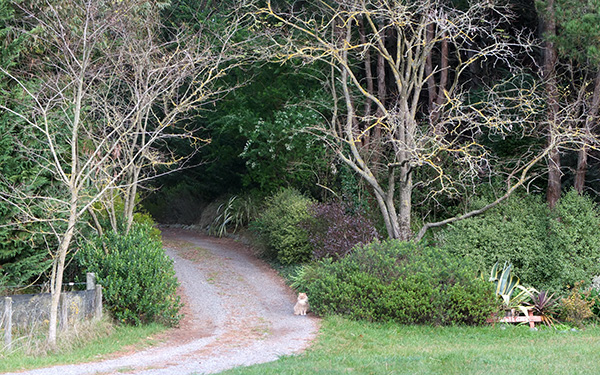 Fluff-Fluff the Cat
Luckily Fluff-Fluff didn't venture past the Welcome Garden, where he sat like a statue, waiting for our return, voicing sad little miaows. Spot the cat in the photograph above!
Back We Go
Enjoyable Dog Walks
Rusty enjoys his dog walks - he has time to zigzag around, sniffing smells and pee-ing on posts. I couldn't think of a better road-walking companion - well, apart from Non-Gardening Partner, who is better behaved in public, hee hee.
On the drive home from all this dog-socialising I loaded up my little green car with Agapanthus. Yippee for yet more of these useful foliage fillers! My friend had kindly dug them out for me, too - all I had to do was drag sackfuls up about the forty-nine steps to the car. 49? Just joking. So guess what I'll be planting tomorrow?
Yesterday...
My legs felt pretty good, considering I'd spent all of yesterday climbing high on the peninsula in the snow. My friends and I had swished our way up Mount Herbert (a proper mountain, at 920m). The snow lay in drifts of varying depths with just the tops of the tussock grasses peeping through.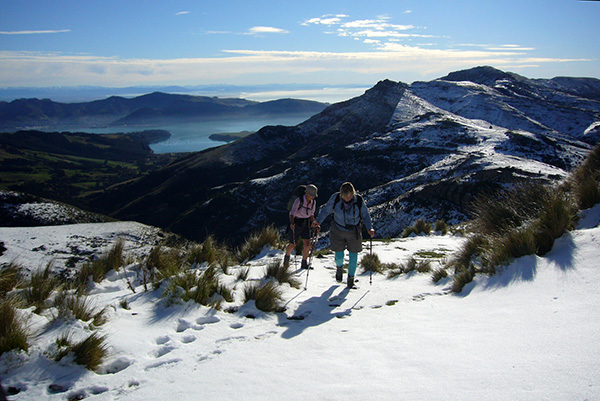 Up Mount Herbert
It made for interesting walking higher up - ten footsteps would stay up on the snow surface, then the eleventh would drop to the knee, with a surprised giggle and the occasional over-balance. Oops! The sun shone down on us, and we felt very blessed. What a beautiful place to be!
Goodbye to Merry Mad May
So endeth my month of May, merry and mad in spite of the shortening days and the approaching winter season. Ha! And such a varied way to end. Goodbye, dear month.
Rusty the Moosey Dog