Out of Love?
Agapanthus Clumps
Alas, my love affair with free clumps of Agapanthus is losing its intensity. I am slowly getting them planted, but I'm disenchanted with the process. Slice a chunk off with the spade, scissor off the dead leaves and chop them into mulch pieces, trim the roots, dig the hole, squash and push... Aargh! It's over!
Saturday 11th May
I'm going to do more 'same old, same old' gardening today. I divide and plant a clump of Agapanthus, then return Wheeling a barrowful of rubbish to the bonfire en route, and so on, and so on, repeating this exercise at least ten times. But first, I need to find my already-smoky gardening clothes and grab a cup of coffee.
A huge dead piece of Wattle tree in the Wattle Woods has fallen, finally, after being wedged high in the tree's upper branches for years. It's too brittle and far too big for me to saw up. I'm envisaging some chain-sawing and I need to find Non-Gardening Partner.
Later...
That's so many hours later that I've completely lost count. Oh, yes, yes, yes - I've planted the pieces from two huge Agapanthus clumps around the pretty rhododendron Spring Dance behind the pond. I've cleared the pond paths and carted away loads and loads of rubbish. And my bonfire lasted about an hour and a half, with the dry mess of branches from the Wattle tree generating much heat.
Just Joey Rose
I'd like to commend Tiger the tortoiseshell, my senior cat. Histeria and Percy have been bringing mice into the house, dropping them at my feet, and then watching nonchalantly as the mice (very much alive) scurry to safety underneath my fridge or a nearby bookcase. Eek! I don't know about you, but I can't kill a live mouse. The hunter-cats lose interest and wander off.
+10 Enter Miss Tiger, She may be known for her fatness and laziness, but she alone will stake out the mouse's hiding place. Sometimes it will take two or three days - and nights. Good for you, Tiger, that's the spirit. Even if you are experiencing the thrill of the hunt vicariously...
Sunday 12th May
My goodness - a balmy twenty two degrees Celsius is forecast for today. That means absolutely no bonfire burning until the sun goes down. I can spend the day being a gentle gardener - I won't have to dance and prance around to keep warm.
Gentle Gardening List
Plant tulips.
Plant Agapanthus.
Plant salvia and lettuce seedlings, place in glasshouse.
As you can see, gentle gardening is rather creative and forward-thinking.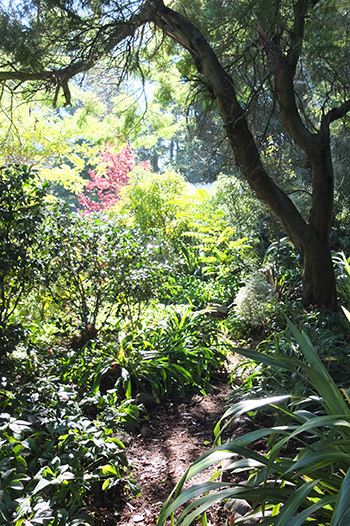 The Wattle Woods
Late Morning...
So far, so good. I've decided it doesn't matter if I plant the new tulips in largish functional plastic pots. Even if the pots are style-free, they can be popped easily into garden spaces when the tulips flower. I just have to do the Agapanthus and I'll have done my planting things list.
I've cleared in the Wattle Woods where that big branch came down, and all the paths are raked and weeded. That annoying little ground cover called creeping Charlie is creeping all over the wood-chip surfaces of my paths, being a jolly nuisance. Young Minimus, in a very chirpy mood for a cat, has been lurking under the big green flax, providing rather low-key cat-company. She is the sweetest, happiest cat, when in her own territory.
Mid-Afternoon...
Now my energy-levels are too low. It's much too early to start the bonfire - I've dumped eight loads of rubbish around it, all ready to go. I'm tired, I've been gardening all day, and my dodgy hip is playing up.
Gentle Gardening?
And so much for the gentle concept - I've been in the Hen House Gardens for the last hour enthusiastically digging out species daylilies and a small insignificant pink perennial geranium. It's not sunny enough for them here. Did I really say 'enthusiastically'? Hmm... And I've shifted the sedums (Autumn Joys) so they're all together in one place. Seems sensible.
Winter Rose - Hellebore
Mustn't Grumble...
And another thing. I am totally sick of dividing and planting Agapanthus. As well as the garden behind the pond I've now looked at two other possible locations, wheeled some over, and then promptly changed my mind. The dratted things! I am resisting the temptation to scatter them in all the garden borders, wherever there's a space.
Oops. I seem to be a bit grumpy - maybe it's my English heritage coming out. 'How am I?' do I hear you ask? My reply: 'Mustn't grumble...'
Later, Dusk...
Fear not! I am not grumpy anymore. I gave myself a good telling-off, then planted some Agapanthus and two species roses in the Hen House Garden. Non-Gardening Partner helped me with the bonfire. Yippee! A task shared is a task minimised, and it actually becomes fun. And NGP is such an expert raker.
To show my thanks I have made him a meaty lasagne for his evening meal (I've hidden the spinach in the red onions and cottage cheese layer). I love it when he helps me in the garden.
Nothing But Blue Skies...
I have seen and experienced some lovely things in the garden today. First of all the blue, blue sky. A big blue sky, and the mildest May temperature (May is late autumn for me). A late Just Joey is blooming, a very dark orange. The greenery in the Wattle Woods has been sparkling in the sunshine, and I've seen the first winter rose (a white Hellebore).
And I've only got five clumps of Agapanthus left. Phew!