Lots of ticks?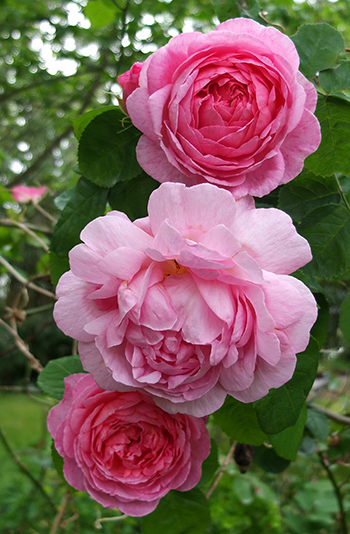 Constance Spry Roses
I'm doing something of everything today, so I can give myself lots of ticks. This will require much self-discipline, staying on task, not panicking, and ignoring any sneaky tickles of boredom. I want a good gardening report...
Sunday 17th November
It's nicely overcast, so the next batch of seedlings has moved outside to start hardening off. The hoses are on, the side house garden is weeded, all the house tulips removed, and petunias planted in their place for summer. I've pricked out more seeds in the glasshouse and potted up daisy cuttings (they're a beautiful small spiky pink). I've planted out black and white Dianthus and white Cosmos.
Already I've worked solidly for four hours, and I intend to do more this afternoon. I've taken photographs, and in the process found many more garden areas which need my attention. It's a wonderful day, the birds are chirping, and the bees are buzzing around. Now it's time for the quickest of lunch breaks with Lilli-Puss and a coffee.
And then - shazoom! Kapow! Circuits with the wheelbarrow, more rubbish cleared up, more forget-me-nots pulled out, and planting holes dug and watered for the Cordylines that are shifting. Cross fingers they're juvenile enough that they won't sulk...
Later...
OK. I get lots of double ticks! Yeay for my hard work! I get just one tiny insignificant cross, for not picking up all the little piles of weeds left lying around. I can do that tomorrow. I've planted three red and one green Cordyline in the Frisbee garden. I've dug out three clumps of Agapanthus, sliced them into smaller pieces, and they're ready to be planted along the path. That's for tomorrow, too.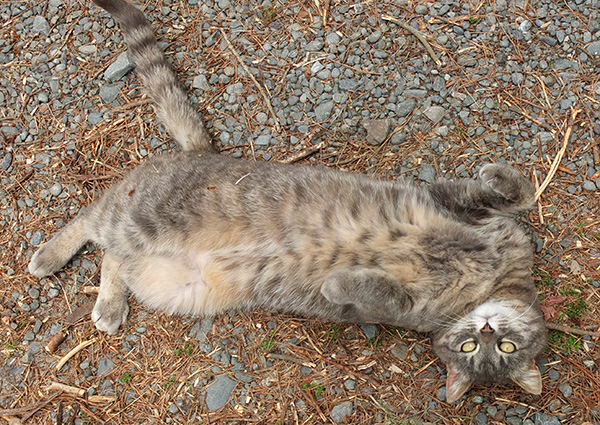 Lilli-Puss Lolling in the Driveway
Now I'm going to peep at my photographs. I've been trying to take some nice garden border pictures. If any are not quite right and need re-taking, that's just too bad. I'm off duty!
Monday 18th November
So far this morning (takes a deep breath) I've done lots of wheelbarrow circuits. A barrowful of flowers has been planted - the new Crambe plants and a carroty look-alike called Bishop's Fern are in a large pot on the pond decking, Candy Stripe Cosmoses (?) are in the new patio garden along with some pansies. I've collected a barrowful of rubbish for the bonfire. I've planted a barrowful of Agapanthus and a lemonwood Pittosporum in the Frisbee Corner Garden, where another barrowful of old forget-me-nots has also been dumped for mulch. I've also collected up three barrowfuls of firewood logs from behind the Stables, and stacked them in the official place.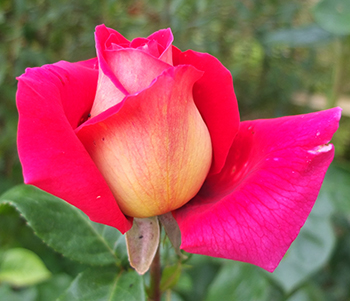 Kronenbourg Rose Bud
More Rose Photos
I've also been zooming around with the camera photographing roses. Some are quite difficult, like Complicata, and I only get one chance at her. The rugosas next-door are huge, too, and impossible to get near. Then there are the various 'new' recycled roses which I'm very pleased with. By happy accident I've planted two soft yellow patio roses next to each other in the cottage's garden.
Blast! I have pages and pages of web-work, particularly adding my latest images to my rose pages. And I'm trying to decipher the names of my deciduous azaleas. My idea of keeping good garden records is dodgy, but... Trying to get it right, I peeped at an on-line nursery Azalea catalogue. Aha! Conflict between their picture and one of my labels. Dorothy Corston, you might not be as bright scarlet red as my photographs claim! Hmm...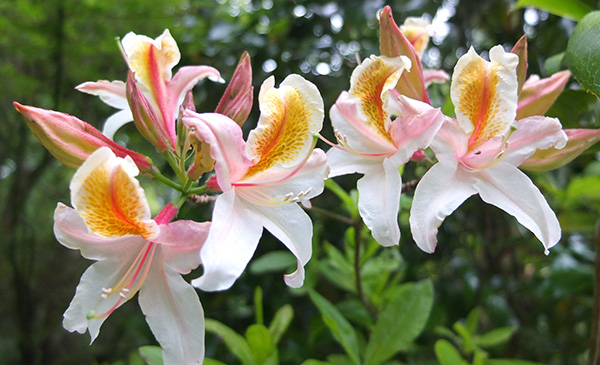 My Original Deciduous Azalea
So I'm going back outside to do real gardening, where Golden Light doesn't give a toss that I've called it Melford Orange. They're deciduous Azaleas, by the way.
Rose in the Apple Tree
Later Again...
It's become super-sunny, so I'm having another short break. I've washed my hair, with the intention of drying it outside as I do my final plodding rounds. I have to pick up all my mess. And shift the hoses again. And maybe dig out some more Agapanthus to shift. And bucket more water on things (like the rhododendron Irene Bain, a survivor of the big wind storm, who is only just flowering).
And for the record - the rambling rose which is supposed to climb up the last remaining fastigate oak in the Stumpy (AKA Willow Tree) Garden is Kew Rambler. I've just tied it back up. Wonder if its tree will be big enough? I never know with roses. Others I've tried to grow into trees have sulked for years and seemingly gone nowhere. Then one year, when I've not been looking, they appear high in the sky in the very top branches (the yellow Banksia did that).
I'm giving myself ten out of ten, by the way. One hundred percent. Full marks. The perfect score. Ha! OK, all you other gardeners out there, beat that! And the winner is...
Moosey! Calm down. Gardening isn't a competition...