Delightfully distracting...
Suddenly the garden is beautifully rosy and flowery. The beautiful colours are delightfully distracting, and I could spend hours floating around taking photographs and gasping in admiration. But what about GM? That's garden maintenance, by the way.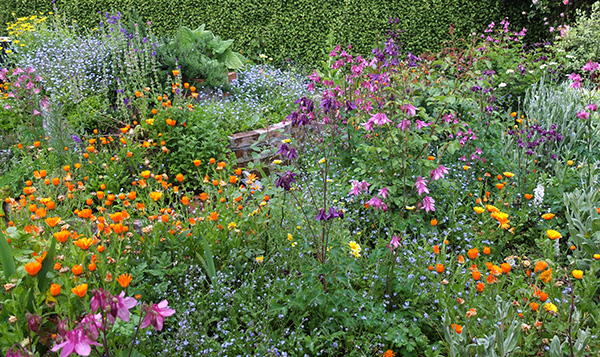 Forget-me-nots, Calendulas, Aquilegias, Daisies
Wednesday 6th November
It's lightly drizzling, but I've still got the hoses on. That's OK. If the day stays cooler and overcast then a good garden soak will be well justified. Today's lucky spot is the Hen House Garden (again), with the third hose on the house patio garden. It's a beautiful time of year for the Hen House Garden which is full of foliage plants and old-style roses. Variegated Maples which outgrow their pots get planted in here, and Agnes is the boss of the roses.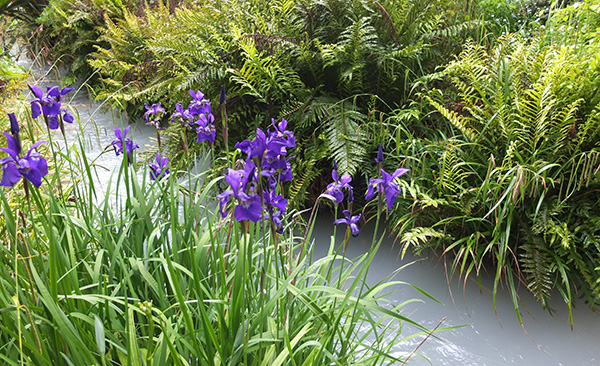 Blue Irises and Ferns
Bluey-purple Japanese irises by the water are flowering near a huge Gunnera plant - oops - which shouldn't be where it is. Like older age, it's sneaked up on me!
Easleas Golden Rambler
Oops - Wet Bottoms
Right. I'm back with the wettest clothes (never wear bell-bottom gardening jeans in a rainy garden) and lots more camera pictures. I've spied the littlest treasures down the drive - a number of variegated white Honesty seedlings, which have survived my mulching, digging, and stomping. They'll flower next season, but I'll scoop up a few and put them into pots just in case. Phew! I thought they were lost forever.
Later...
Goodness! I've just been outside again to shift the hoses. And there, large as life. Alive! Easleas Golden Rambler, flowering very modestly against the house fence. Easleas Golden Rambler! I thought you were lost to me, after I so rudely uprooted you and moved you all those years ago. Wow. You have rambled back into my life. Talk of a red letter day - a golden rose day, no less!
Thursday 7th November
I have squillions of forget-me-nots to pull out. And general weeding, and planting, and trimming. Wow. The number of tasks and the time needed to do them has turned into a geometric progression, with common ratio - about 2.75? Aargh!
No flowery panics - my next few gardening days are going to be disciplined. No Downton Abbey before five o'clock (a bit like sherry, really). No racing off to have sushi for lunch. Just lots of decent gardening sessions, mixtures of maintenance and gooey gazing. I'm aiming for at least six hours in total, two of which I've completed today, so far. I'm writing my journal while still semi-energetic.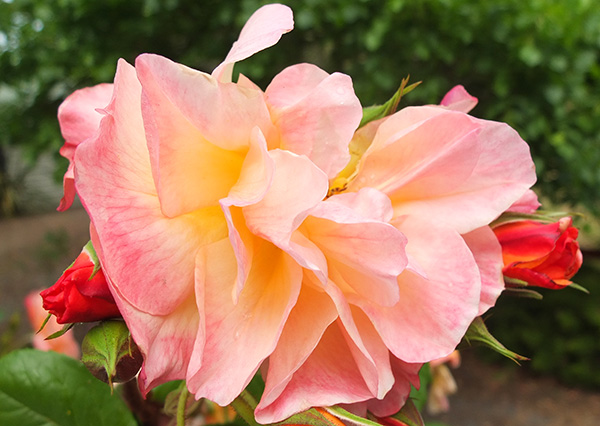 Westerland Rose
I've pricked out some seedlings - annual salvias and blue larkspur. I've started weeding in the Birthday Rose Garden - separating the forget-me-nots from all the less desirables. I've trundled over to the new gardens at the side of the driveway with barrowfuls of forget-me-nots, compost, and ash.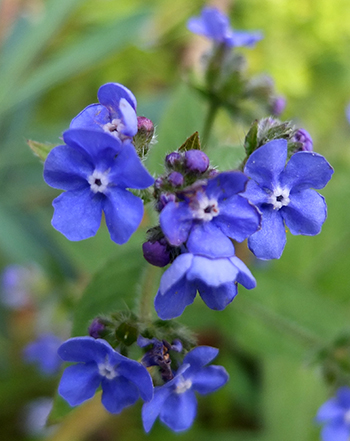 Alkanet Flowers
OK, You Bees...
I've made a start on the Alkanet in the top of the Jelly Bean Border. It's a 'bees and me' compromise.
In very early spring, when not much else is flowering, Alkanet provides wonderful bee food. I have promised the bees that I won't eradicate it (fat chance of doing that anyway, as anyone who's 'grown' Alkanet knows). I'll be ripping out as much as I can in late spring (now). The bees and I can work together in this.
I've now got the hoses on the Shrubbery, parts of which are rather dry. I need the big irrigation working - the pump is back in place, but Non-Gardening Partner has to fix a leak. This could have been done last weekend, but I'd organised him to chain-saw all the remaining piles of tree branches. And so he did, with my help.
Shortly afterwards NGP escaped on his tractor, and was last seen puttering slowly towards the Hazelnut Orchard. He is not silly. Hmm... For all I know he could have been sedately joy-riding between the rows of trees.
There are so many new flowering things every day now - dark irises, more and more roses, lavenders - plus the Philadelphus shrubs (such a beautiful scent). And everything needs water. My arms and shoulders will get really strong carrying all those water buckets around. Ooh, I hope the big irrigation can work soon...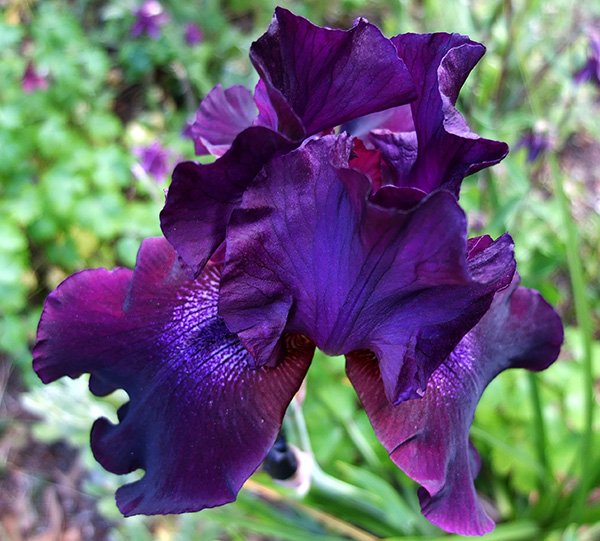 Dark Blue Iris
So here's the plan for my final session. A list? A list. Do at least the following :
Shift hoses twice.
Collect two more barrowfuls of forget-me-nots.
Collect one more barrowfuls of other weeds.
Then rush inside, get clean (including fingernails), brush hair, and watch a replay of the T-20 cricket, because WE WON (finally beating Bangladesh, a so-called cricketing 'minnow'). Cook chicken and pasta for evening meal. Then off to community choir. Tra-la-la. Leave early if tired.
Later...
+10All the garden items are done. But one is never too busy to lie back on the grass for ten minutes, with smoochy light-weight Lilli-Puss lolling over one's tummy, and overweight Rusty the dog trying to sit on top of Lilli. One pats the cat, one fends off the dog, and then finds that one has inadvertently chosen a clump of forget-me-nots for a pillow. Biddibids in the hair! Eek!
So I'm going to do some self-grooming as I watch the cricket. Fluff-Fluff the cat needs biddi-bids removed, too, from his abundant fluffy fur. This is gardener-cat bonding at its best.