Lucky...
Most mornings I wake up, gaze out at the pond, and grin - I feel so lucky to be a gardener. Just occasionally the tiniest drop of desperation sneaks in, and then I decide I am really, really, really, really lucky...
Cerise Dahlias
Tuesday 19th February
How's this for this morning's superior logic: If I collect two wheelbarrows full of weeds before lunch, and then another two in the afternoon, then my garden will definitely have less weeds in it. Or should that be 'fewer'? I'm glad that's been cleared up, hee hee. Actually I have been moderately busy tidying, dead-heading, weeding, raking, trimming, and my fence-lines are full of burnable rubbish, courtesy of that much used wheelbarrow.
Yesterday...
But yesterday! Aargh! Nothing about yesterday felt right. I went out to weed the herb spiral and ended up puzzling about nothing (and doing nothing). Non-earth shattering questions like: Can there be too many self-sown Calendulas flowering in a vegetable garden? Can there also be too many self-sprouted potatoes? What if the potatoes are filling every available gap in the nearby roses and perennials garden? OK, a weed is a plant in the wrong place, but does this apply to cheery orange Calendula daisies and edible potatoes?
Calendulas in the Vegetable Garden
When in doubt, play the piano, rather than pull anything out unnecessarily. But Bartok was a bad choice - far too may random sharps and flats, and my musical auto-pilot had switched itself off. So I decided to sit by the pond underneath the sun umbrella, and read.
Another Bad Choice!
Bad choice again - a cycling book by an energetic old chook (technically a rooster), much more adventurous than I'll ever be. He happily rode on, stopping at groovy cafes, undaunted by hills and aggressive traffic. All I do is cycle down the empty flat country road with my dog. Hmmm...
Percy the Cat
Dahlia and Rose Decisions
But today I'm back! I've collected two wheelbarrowfuls of weeds, and I've made a much needed standard rose decision. Two poor doers have been dug out of the Island Bed, and I'm about to remove some Rhapsody in Blues from the front of the Birthday Rose Garden. They have never, ever performed properly, barely building one or two stems from which to flower. It's as if their graft has died?
And I've made a dahlia decision. If I allow large clumps of dahlias to grow in the middle of the Island Bed, for example, then dead-heading them is compulsory.
Wednesday 20th February
Oh dear. This February has become the Month of the Vet Visit. Cats, and Rusty the dog, are being driven off daily down the country road. Or I am driving down to pick up special diet food and medication. Now it's the turn of my ginger cat Percy - he's not eaten for four days, and looks in a sorry state. What's wrong? I can't find evidence of an abscess, etc.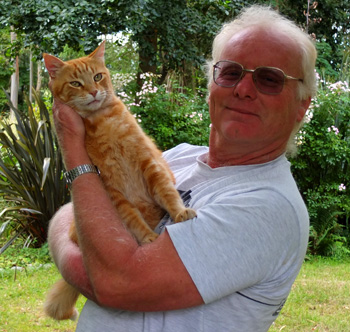 Percy and Non-Gardening Partner
Friday 22nd February
Oh dear. The Month of the Vet continues. Slightly sad things in journals and blogs are sometimes unavoidable. Percy's diagnosis is one of these. He has picked up the Feline Aids virus. Percy is my Three Rs cat - he enjoys Rabbiting, Ratting, and Roaming - and no doubt the last has contributed to his problem. Dear Percy. I hope we can all sort this situation out.
Yesterday I played morning chamber music - Mozart! What is my musical world coming to? Then I waited all afternoon for the vet to ring back with Percy's test results. I'm a bit sad for him, but I understand the implications of his virus. It is not fatal for cats. On Monday, my other six cats go to the vet for blood checks and (if clear) they start their FIV inoculations.
So today's plan is to drive to the vet (about 25 minutes away) in my stinky car. Stinky? Guess who left six bags of fresh horse manure squashed in the back seat overnight? Then I'm digging out the Rhapsody in Blue standard roses. As a compromise they can go in potting mix, their final fate to be decided next spring. See the photograph below? It's taken from my one shrub Rhapsody in Blue. Ha! Those standard roses should be ashamed...
Rhapsody in Blue Roses