Disgruntled...
Seed Packets
I feel a little disgruntled because I haven't finished anything lately. So silly, really. When is anything in a garden finished? It's not like a game of football (sorry, Argentina). I've just watched the final of the World Cup (well done, Germany) while sorting out my seeds - a most exciting moment (the sorting of the seed packets, that is).
Monday 14th July
This year not only do I have a spread-sheet, but I am pre-writing all my labels. 2014's system must not fail! I have a rule, too. Germination does not mean termination. At least 50 percent of germinated seeds must be pricked out - this prevents, for example, mass lactucacide (the heartless killing of excess lettuce seedlings). I'll be starting the early spring ones off in four weeks time. For now they are spread around the kitchen in cute little piles. Oooh - such fun!
Germination does not mean termination. -Moosey words of wisdom.
Gardening maintenance memo to self. It is time to prune the roses. That means all the roses, except the ramblers. But they do not all have to be pruned at once. Roses are not participants in a pruning competition. A little at a time, when the bonfire is already going, would be the best plan. Right. I'm off outside to start my day's work.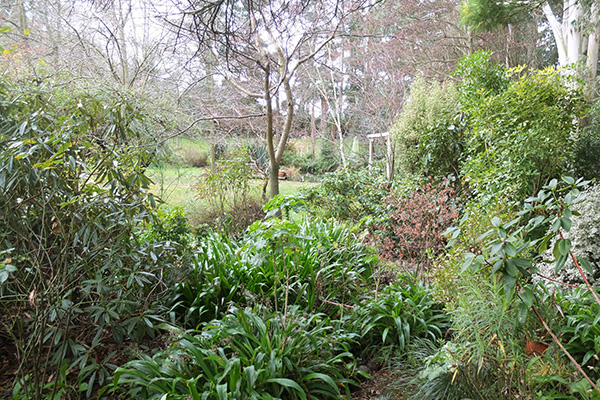 Winter Foliage in the Wattle Woods
Much Later...
I've spread garden mix over the garden by the bonfire, where I see the trilliums are just starting to pop through the soil. I've tried to fence off the compost heap from Rusty the dog's nosey attention. I've collected two more large barrowfuls of gum branches from the Shrubbery. These are all small things, right?
Sally Holmes Roses :

Sally Holmes is such a beautiful single rose.
I've pruned some of the roses, particularly the row of Sally Holmes underneath the garage window, cutting lower than I usually do. I've read somewhere that roses like to be 'hard-pruned' every three or four years. Hope this is OK. I've worked hard, and I've burnt everything. So what if nothing is finished? What's tomorrow for?
I rescued some sprouting tulip bulbs (poor darlings) and planted them underneath the big gum tree. And the glass-house work-bench-tops are sort of cleared in preparation for the great spring seed sowing festival. My spread-sheet has 57 different types of (mainly) annual flower seeds, hee hee. Daughter of Moosey is in charge of all the vegetables and herbs.
Flowers I Grow From Seed
I love my garden very much, and if I ever finished it - well, why on earth would I even bother to get up in the morning?
Tuesday 15th July
Aha! This morning I had a very good reason to get up early with the birds - I have to catch up on my TV Couch-Cycling (le Tour), and better to do it when nobody else is around (they tend to laugh at me). And now I'm off to chamber music, which is timely, as there has been a frost overnight. Gardening would have been a bit unpleasant this morning, since it takes until lunchtime for things to thaw and warm up properly.
Later...
I've been barrowing compost on the garden by the bonfire. Each of the roses in there now has space to breathe, and lots of good things have been distributed over the soil. I planted a small patch of indigo Agastache perennials by the pergola, too. Sweet peas MUST be grown properly up the pergola this coming year.
Leaves, Flowers, and Frost
I don't know why I get so morose regarding unfinished gardening. It's just silly. This afternoon I even tried the Mount Everest analogy on myself. Say there are not enough hours left in which to achieve some task (like emptying the trailer of its compost). Stopping at dusk is like turning back six hours from the summit. One just has to accept it. Yes? Good grief - this isn't high death zone mountaineering, this is old-lady winter gardening.
Dog and Driveway Puddle
So I stopped barrowing compost, and took Rusty the dog for a long walk down the road. We both enjoyed ourselves, and I felt a lot lighter. Dog-walking is a great foil for the disgruntled...
Wednesday 16th July
Today I have been busy taking my friend on a Magical Mystery Tour (swimming, some new op shops, an art exhibition, and a late lunch in the Christchurch Botanical Gardens). I've only just got home and it's very wintry. I think it's snowing half an hour's drive inland. Brr...
Not a good late afternoon to do any gardening. And everything is so wet and muddy after the overnight rain. The driveway desperately needs truckloads of gravel, and one of the drains is badly blocked. Naturally one only remembers this when large puddles form around it.
There can be absolutely no photographs of unfinished garden areas, though. And since that's what my last few days have been about, I've recycled some earlier July pictures (and last year's flowers grown from seeds) to brighten up this page. Enjoy!