Early morning with Percy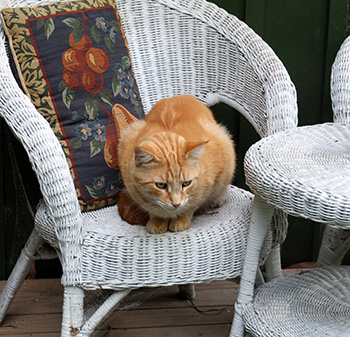 Percy by the Cottage
Early morning in Pond Cottage, daylight slowly trickling in the windows, I started to hand-write a gardening list. Funny how ideas don't flow properly with a blunt pencil. Then ginger cat Percy appeared, and needed affirmation - muddy cat-paw prints all over my piece of paper (and the bed-covers). Love you, Percy!
Tuesday 25th March
Then gentle rain started to fall out of nowhere, and my list suddenly sprouted wings and lifted off. I asked Non-Gardening Partner for a weather report. Aargh! Strong southerly winds and proper rain arriving about lunchtime. So I'm just checking in quickly after a quick and efficient breakfast. On my list I have four gardening items, each of which suddenly looms large and demands priority. Then I have some sewing tasks. Looks like the bonfire will be in operation all morning. There will be miles (kilometres) of wheelbarrow plodding.
The Darkness...
It's extraordinarily dark outside, and were I a more superstitious woman I'd be expecting some portentous event. An eclipse? A planet seriously out of alignment? Nothing looks right. This morning darkness could well dent anyone's confidence, least of all that of a gardener with a four-item list.
The Plan...
Gardening Cat Ginger Percy
Here's the plan. I'll only write down my list when the bad weather forces me inside. I'll give myself scores, then wash my hair, vacuum my house (maybe), and sew some more bunting.
Four Hours Later...
And no break for morning tea! Anyway, Percy the cat, Rusty the dog and I have just had lunch outside on the patio, where it's been getting steadily colder and greyer. We three are inside, and if that cold rain hasn't started after I finish writing I will make myself go back outside. Now let's see - how long can I ramble on about nothing? Don't answer that!
Aha! Thunder! Heavy rain! I'm saved - perfect timing. Nasty thunder, though - it's making the house rattle, bringing back earthquake memories. Aargh! Where are the rest of my cats? Minimus? Hopefully she's sheltering underneath her cottage. I've just rescued Fluff-Fluff from outside - he's soaked, scared, and has gone to ground underneath the couch. Even Rusty the dog is staring up at me for reassurance.
Thought - is it OK for a grubby gardener have a shower with a thunderstorm right overhead? I need to clean up and warm up. Another thought, equally personal - if I keep on forgetting to brush my hair, letting it get all knotty, and then having to brush it extra-vigorously, will it just get thinner and thinner? Or does older-lady hair keep on growing replacements? Hmm...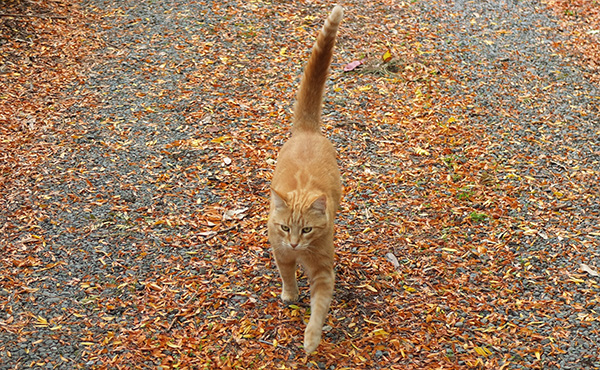 My Ginger Cat Percy
My Score for Today
Here's how I scored on today's list, where a '1' means I was hopeless, a '5' brilliant. On the Patio and Decking I picked up all the gum leaves, carted the leaning cane table away to be burnt, and swept and moved all the rubbish. Still to do : Dig out the old Anemanthele grasses, collect lettuce seedlings. Score : THREE.
The Wattle Woods
In the Wattle Woods I cleared the back path up to the curved bridge, and dragged out loads of gum bark. Everything went over to the bonfire and was burnt. Still to do : Shift Pulmonarias and spotty Ligularias into garden space by little pond, rake the remaining paths. Score : THREE. Could do better.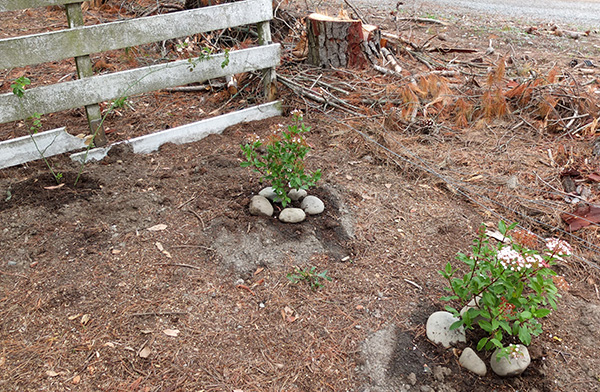 Garden Beginnings
In the Welcome Garden I raked, weeded, spread topsoil around, and properly planted four Viburnums. But I went further than my list and shifted in two garish pink roses (possibly American Pillar) to scramble along the wooden sheep fence. I also planted little pockets of daffodils around their bases. That was really thoughtful, I reckon. Score : FIVE. Top marks!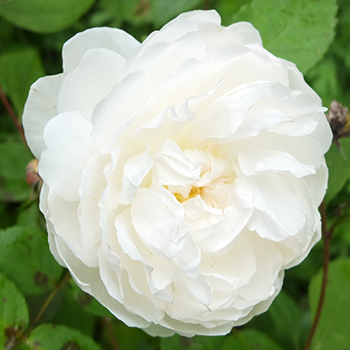 Glamis Castle Rose
A Bit Naughty...
In the Glass-House Garden I bent down for five minutes and pulled out a handful of weeds. But I didn't have my gloves on, and there were a few thistles. So I wandered off to trim some Phormiums instead. A bit naughty. Score : ONE. Not good enough.
I passed, but only just. But I also raked lots of gum leaves off the house lawn, and carted several loads of rubbish over from the far fence-line to the bonfire. Now to sew some more bunting and make some groovy stretch pants for the grandbaby. I have been looking forward to this all day. Fluff-Fluff, cat version of a girl's blouse, the scary noises have gone away. You can come on out now... If Percy isn't worried by the weather, then you certainly shouldn't be.