Christmas Week
OK. Successfully avoiding the cash-crazy shopping malls, I am busy singing carols and getting the garden ready for Christmas. I haven't even been to the local nursery. Think I've bought quite enough new plants for this year, hee hee...
Escher and Buster
Monday 21st December
Sorry, but no gardening today. The temperature - a dry, balmy thirty-six degrees Celsius, thanks to a huge puff of hot air which has blown over the sea from Australia. A bit too hot for me to go outside. So the lounge rooms have been cluttered with gardeners (well, just one gardener to be precise), cats and dogs, and the air-con has been switched on. First time this summer.
Dog and cat antics...
I've just watched Buster playing hide-and-seek with big brown dog Escher - so funny! Buster hides underneath a floor mat, with just the tips of her paws showing. Escher, all a-quiver, stares at the tantalising lump and squeaks with - apprehension? A rug monster? Sooooo scary... Then out pops the body of Buster the tease. Escher does a nose-check. Phew! It was only you! Then she burrows underneath the rug and disappears again, and we start all over. Small things amusing small minds, maybe? Sorry, Escher...
Too Hot for Gardening...
We've been outside briefly. The dogs go swimming in the pond, while I do some sneaky watering. Fluff-Fluff, the fluffiest and therefore the hottest cat to be out, follows us around resolutely Then we come back into the cool house.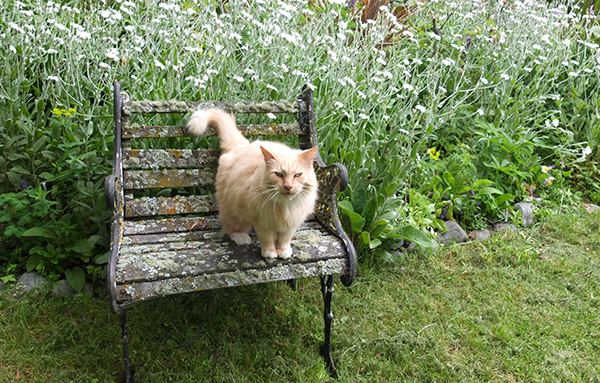 Fluff-Fluff in the Lychnis
Yippee for the Christmas jigsaw - a departure from my usual choice of scenic Switzerland (or Germany). It's one of those cutey-pie watercolours of cats and kittens in a cottage garden, with pretty flowers and terracotta pots that have been knocked over.
What's Flowering Now
The white, pink, and magenta Lychnis.
The daylilies.
The once-flowering Alexander rose - so pretty!
And a rogue rhododendron, a cool waterly blue.
Really, what is this shrub doing blooming so late in the year? Should I check that its flowers have survived this rather hot day? Maybe not...
The Alexander Rose
Wednesday 23rd December
Not so much gardening done, oops. But I did pick up the Christmas ham and the smoked salmon. I shampoo-ed the three dogs, mopped the floors inside, and washed the dog couch throws. I'd like my house to smell nice for Christmas!Then I went out to sing Christmas Carols with my singing friends at a twilight fair. It's the only time I ever wear scarlet red.
Thursday 24th December
It's Christmas Eve, and later this evening I am off to sing more carols. This time it's in a big choir with the Salvation Army Brass Band. I do this every year, and I always get excited about the tubas. Silly, really. I've never wanted to play one. So what should I do in the garden today? I'll put the hoses on and then we'll see. Yippee for a hot summer Christmas.
Merry Christmas for 2015
Have a very happy Christmas, and enjoy the holiday season wherever you are. Summer gardeners - enjoy the heat! Winter gardeners - keep warm!