Nearly spring!
Early Prunus Blossom
It's nearly spring. Thought it might be time to peep at what I was doing this time last year. Just checking, really, to see what I've forgotten I should have been doing. If that makes any grammatical sense at all... Wow! I was absolutely full of gardening energy, confidence - and nonsense!
I'd started zooming off to my friend's inland country garden to help her. Passing on my skills? Bulldozing her into doing things, more like. And I'd made her start a notebook of plant names, garden tasks, and little hints. A bossy, know-it-all friend! Just what every novice new gardener needs...
Friday 28th August
I reckon today must have been 'Naughty Dogs Day'. First my friend's little dog refused to leave the dog park. Then Winnie wouldn't sit for me to clip on her lead, and kept on running away. When we got home Escher's nose led him immediately to the neighbour's offal pit. So I tied him to the wheelbarrow. Then he looked so sad, I took pity. Silly, silly me. One minute of freedom and he'd chased Minimus the cottage cat up a tree. Back on the lead, I'm afraid.
My gardening was non-creative but I achieved much. I cleared up the Pond Paddock, trimming ferns, raking leaves, and mildly weeding. The black Mondo grass has multiplied wonderfully well, and the Astelia looks better for the underneath leaves being removed. So simple, really.
Then I burnt the bonfire while big Escher, tied to the pergola post, gave out the tiniest, saddest squeaks. Dear dog!
Monday 31st August
Aha! After a rainy weekend with no gardening, I'm off to 'benignly bully' my country friend in her garden again. Is she looking forward to this? One wonders. But let me tell you how good I have already been.
Daphne
She's not sure she likes her rhododendrons or peonies. The greedy gardener in me would be hopping up and down with the spade ready, happy to remove them for her. But I have advised caution. She may grow to adore her rhododendrons. And picking peonies for the house can be a one-day wonder for the best of us. She needs more time to decide if they are worth it.
Nearly Spring!
And do you know that it's going to be spring tomorrow! Of course this is a bit arbitrary, but September as a month has a wonderful feel to it. The equinox in three weeks, the birds waking me up with noisy singing, blossom. And our small group of expectant merino ewes will have their lambs any day now. I guess I should have pruned all the roses by now. That can easily happen this week.
Much Later...
We did some good gardening, then took our dogs for a walk in a local forest - big Escher couldn't quite be trusted, so he went on lead. Then we had a very late lunch at a country cafe, during which I 'planned' the easiest of vegetable garden plots for my dear friend. All she could do was politely nod her approval.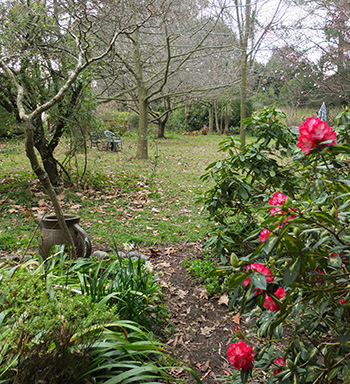 Wattle Woods Path
No Bugs
Nothing that will be bugged by bugs, nothing heirloom or oriental - just basic greens (lettuce and dwarf green beans), some grafted tomatoes, some early Jersey Benne potatoes, and some zuchini plants. Quite similar to the one I've planned for me, actually!
And then the dogs and I wandered around my garden with the camera, looking for early blossom. The basic Prunus trees have started flowering, some pink, some white, and the lime green Hellebores up the Driveway look splendid. Spring daffodils are starting later than usual (we've had excessive frosty mornings this last couple of months). I love how sneaky early spring is. I've even spied some Gunnera regrowth. Goodbye, August.