Things are happening...
Yellow Narcissi
Exciting things are happening this month. September is the start of spring down here in the southern hemisphere. Yippee! September is my birthday month. Another yippee! And five years ago on the 4th September we had our big 4am earthquake, when I thought it was all over for me. Well, it jolly well wasn't, my animals were OK, and my house stayed in one piece. A rather subdued 'yippee'.
Wednesday 2nd September
But I don't indulge in little gardening power trips any more. In the earth's scheme of things I am small and respectful. And I always give thanks that my knees still work, and my mind is still full of gardening plans and dreams.
It's time to sow the first spring seeds. Here, as usual, I am full of serious resolution. Of course I will label everything properly. Of course I won't drown the seeds with huge slurps of water - I will use my puffy bottle, even if it takes ages. But I won't be writing everything on a spread-sheet this year. Last year this gave me a false sense of orderliness. I still lost discipline, nothing grew any the better for it, and I didn't have enough Cosmos or Pansies. The seed spread-sheet is no more.
Much Later...
I did some tidying and pruning for a couple of hours, and then marched resolutely over to the glass-house with my seed raising mix and my seeds. Hmm... Before I could sow anything I had to sort out the mess in the glass-house. Unfortunately many of the pelargoniums hadn't survived the frosts (guess who brought them into shelter far too late in winter) so I repotted what I could save. Then I watered the Canna lilies (which may or may not have survived, either, same reason). Then I sorted out the containers for the seeds, and then it was time to get the evening meal.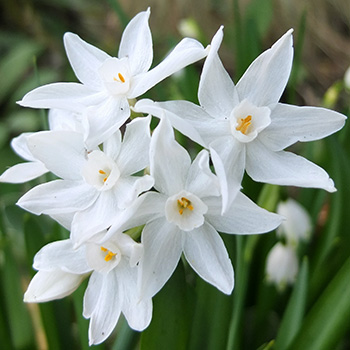 Paper Whites
A Squeaky Afternoon...
Escher spent a squeaky afternoon tied to the wheelbarrow, after he ran off, jumped the fence, and started munching Hazelnuts in the orchard. The pregnant ewes are grazing in there, and it is out of bounds during lambing.
I seem to have more seeds to sow than ever before. Please let them all germinate and let me not get bored looking after them. And please let me have enough pink Lavateras and white Orlaya, because these two are my wonderfully favourite flowers.
Thursday 3rd September
Right. We are off to the dog park, and then I've got a date in my glasshouse. I've also found some shredded envelopes of seeds collected last year in the garage. Looks like the mice have had quite a feast. But there are lots of pink Lavateras, which explains why I didn't have enough last year. I will still sow these year old seeds.
Later, Mid-Afternoon...
fter playing piano duets (that gorgeous Brahms bloke), my friend and I wandered around the garden. Nothing like a new pair of eyes to help mine pick out all the weeds. Eek! Funny how that happens. So I've been weeding for two hours, and now, after a short break, I'm off to do some seeds.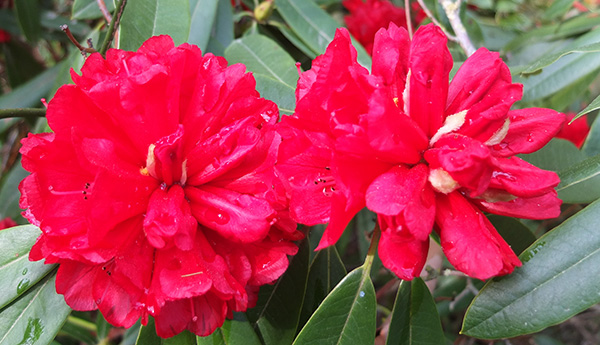 Rhododendron Kaponga
OK, so looking down I see the weeds. But looking up and around I see big brown Escher disappearing from sight - Escher! No, no, - what I meant to say is this. I see beautiful shrubs in bloom. The early red rhododendron Kaponga is flowering, as is the tall red Camellia behind the garage. So beautiful. Escher has been tied to the wheel-barrow. Every now and then he forgets, starts to go charging off, and is showered with weed rubbish. Serves him right!
Polydactyl Tiddles Cat
Thanks Tiddles...
I'm back. I've got about fifty containers sown with different seeds. I've also seen two weeding spots for tomorrow - the garden behind the glass-house, and the perennials garden next to the Herb Spiral. All is well. All is labelled. A lovely spring day has been enjoyed by my dogs and me. Tiddles the tabby, fearless feline, has been my gardening cat de jour. Thank you Tiddles. Good work!
Friday 4th September
I've found, alas, another huge patch of weeds (mainly 'Shepherd's Purse') to remove, and I also need to plant the pieces of Phormium pulled out from behind Pond Cottage. I'm going to do these tasks quickly before we go to the dog park - put the person first, for a change.
Much, Much Later...
All done. I've managed to weed around the huge patch of self-sown Nigella by the container. I've planted the Phormiums and some red hot pokers, too, out in the sun on the container's corner. I finish the day off in the glass-house with thirty more seed containers sown. Have even sown spinach, with which I have had limited success. Now it's gone all drizzly and cold outside, so I'm off to have a hot shower, wash my hair, and put on some clean lounging clothes. And then I'm going to look through my old photographs, smile and reflect on past summer glories.
That's what sowing flowering annuals is about, after all! Enjoy!