The Humble Hellebore
Hellebore and Gardening Finger
So many little flowery treasures, as my winter garden wakes up. But the 'Flower of the Week' award goes to the humble Hellebore. Lime green ones (oh so subtle) are flowering in the Driveway Garden. Around behind the glass-house is my main clump, where a variety of pinks, dull reds, whites, and all shades in-between live. They are beautiful at this time of the year, which I am optimistically calling 'pre-spring'.
Others have popped up, self-seeded, in other parts of the garden. I'm so grateful! All are low to the ground, and hang their flower-heads modestly, so taking photographs involves an arabesque-like lunge, and some slight digital intrusion.
Friday 19th August
A delightfully productive day. First the dogs and I went to Hororata to walk around the racecourse with our friends. Then we did six hours gardening. I actually finished weeding the level part of the Welcome Garden. I thought it would be annoying and take ages, but it was quite easy. I checked out plants which had self-seeded over the boundary, dug up anything I liked the look of, and replanted them on my side. Then I did a naughty swap, throwing bucketfuls of weeds over to their side. How rude!
Pink and Green Hellebore
I've planted some of my miniature roses in the Allotment Garden, alongside a little path, and I've shifted the four fattie terracotta pots into their proper positions. I filled one with pieces of a red Phormium, and filled the others by scooping up annual seedlings from the driveway. So sensible and thrifty!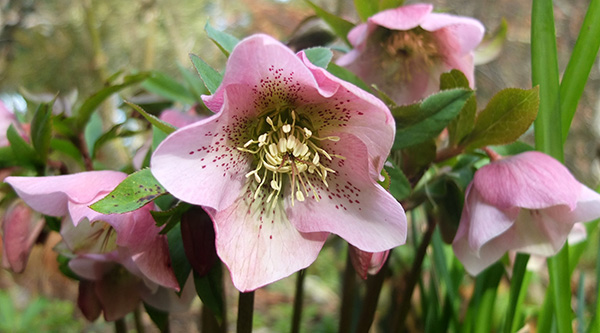 Pink Hellebores

+10 Golly, it's been quiet gardening without Escher. I think Winnie misses him the most. The collies are streamlined dogs, and just blend in with whatever we are doing. Escher has always demanded a lot of space and attention - he's a bulky, high-impact dog.
Saturday 20th August
All the miniature roses are now planted together in the Allotment Garden. If they like it, great, if not - too bad (I'm not the hugest of fans). I've also squashed the Salvia uligosa clumps closer together. This makes a nice amount of room in which to plant the rest of the roses - Opulence, Claude Monet, and others unknown, rescued from obscurity in the shade of the Stumpy (AKA Willow Tree) Garden.
Pots of Miniature Roses
I've also continued my Driveway Garden clean-up, raking up mess, weeding out weeds, and generally bossing everything around. Pseudopanax seedlings have been replanted in the Welcome Garden, middle of the driveway forget-me-nots are now planted on the edge of the driveway garden path. Nothing is being wasted! One feels so virtuous.
Freckly White Hellebore
Hellebore Seedlings...
Something I didn't know about Hellebores, the lime green ones, that is. Old flower stems die, still attached to the plant, and should be snipped off with the gardening scissors for a better, neater look. Oops. I've never done this before. But this year I'm onto it!
And - surprise, surprise - I've found squillions of Hellebore seedlings in the Birthday Rose Garden, all nestled underneath one sturdy pinkish parent, a hen with far too many chickens. I should ignore them? Pot them up? I know that sultry reds are all the rage, but I love the freshness of the pale green-cream-pink colours. I don't really want 'sultry' in my pre-spring garden.
Oops. I should admire the breeders who strive for a deep wine red Hellebore. As a gardener, I think I'd prefer a deep wine red wine...