A trickster...
Autumn is such a trickster. When I look around, my autumn trees have definitely changed colour, with an amazing progression of tones and shades. I'm sure they have - quick, take more photographs. The photographs? Hmm. No difference, day to day, just a few less leaves...
Saturday 28th April
Waking up, heavy rain on the cottage roof - where is my camera? Please, please, the prettiest please, let it not be dripping on a tree branch. Phew. It's inside. That was close.
Right. Take out plait, comb out my hair (two days in a row!), and get my things ready for swimming.
Sunday 29th April
It's still raining, but I've been around the orchard for a walk with Pebbles the dog. It's benign, steady autumn rain, windless enough to hold an umbrella up to, comfortable to be out and about in. Easy to think comfortable thoughts about the importance of shelter, remembering that I am just a paddock away from my warm house. How brave to be out in the weather! Of course, furry Border Collie dogs simply don't care about getting wet.
Leaves by the Cottage
I was snug in my cottage last night, bed-kayaking around the South Island of New Zealand in winter (another of my book adventures). My kayaking girl had just beached herself in dumping surf and was sheltering from a winter storm in her tent in the dripping bush.
+10Worry, worry, I went. Because Minimus my cottage cat hadn't turned up, and the rain was pelting down fortissimo on the roof. Then much relief - enter Minimus, her fur drenched to the skin. No comparison, really, with what my kayaking girl had to worry about.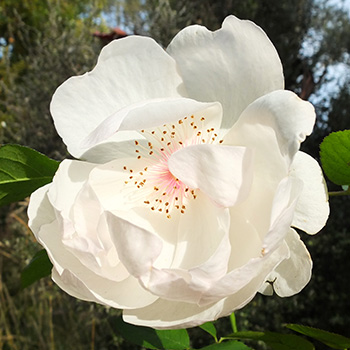 Jacqueline du Pre rose
Girls can...
Today, in the spirit of girls can do anything (in the rain, even old girls, specifically before lunch), I've been outside to bag up the fallen leaves on the Pond Paddock. Being rain-soaked, they've been easy to handle. Returning to my shelter the log-burner was blazing merrily, and Telemann was tootling away on my wee music machine. Not a problem!
Well done, me. I ran out of bags before I ran out of leaves. And really, I hardly got wet at all. Nothing challenging, and not all that interesting eiher. I've been a bit of a weather wimp, actually - spent the rest of the afternoon reading another book.
Monday 30th April
This non-adventurous life - daytime lolling on the dog couch in front of the log burner - well, it will just not do. It isn't even cold outside. Well, not wintry cold. I suspect that on lazy days it's merely a cosmetic, clothing issue. Can I be bothered to strip off my lounging clothes? Sometimes I blame my footwear. Life would be simpler with just a pair of gardening boots, and some soft indoor slippers. But this morning I'm taking the dogs for a walk around the orchard, then going to the library, and then to meet a friend for coffee. Which shoes would I wear? Hmm...