Gardening with interest?
Bamboo
A rule which I've always known about : never write up a gardening journal when drunk, grumpy, or really tired. But how about this rule : if you don't have anything very interesting to say, then don't say it? Hmm...
Today I worked hard. But all I did was fill the wheelbarrow with gum leaves etc, from the depths of the Hump, plod with it over to the trailer parked on the nearby lawn, and fling it gaily in. I did this more than ten times. And it took ages. The dogs thought it was a very uninteresting way to spend the afternoon.
My reward...
My reward was just as uninteresting. I made myself spend ages in the shower, hair drenched in conditioner, very carefully combing out week-long knots. And now here's another rule : I have two choices. There is absolutely no middle ground. Either I never, ever, ever brush (or comb) my hair again, or I regularly brush (or comb) my hair, every day, without fail.
But that's enough about my personal grooming (or lack thereof). To add some gardening balance, I'd like to praise the white Cosmos annuals still flowering in the Allotment Garden. They are a very tall variety, and I've only ever grown short knee-high plants before. I love them, and will definitely collect some seed.
And I've had an idea, to re-name of one of my garden borders. 'The Willow Tree Garden' sounds bland and uninteresting (that word again). And there is no Willow Tree anyway - it's just a huge stump, which chooses to send out sprouting shoots rather than rotting quietly and discretely. Obviously there for the long haul.
Welcome back to The Stumpy Garden...
So back to the original name goes this garden area : 'The Stumpy Garden'. This was its name before all the shrubs and trees were planted here.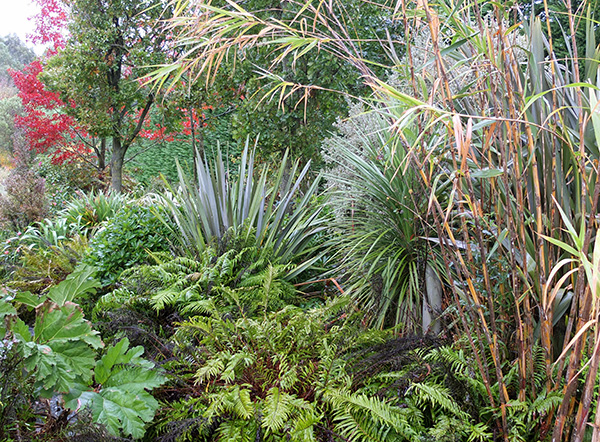 Looking into the Stumpy Garden - Autumn
Much more interesting! I will change the website text over the weekend when it's supposed to rain and rain and rain some more.
Friday 27th April
Aha! Firstly, I've brushed my hair and re-plaited it. Most important. Secondly, the trailer has just been moved to the bonfire. So I will burn it all before morning tea, hopefully.
White Cosmos
Later...
Yes! Done by morning tea. And I added more giant Gunnera leaves, and trimmings from a shrubby Hypericum which was busy blocking a path (and partially flowering again, dear shrub).
This afternoon I spread some heavy bags of horse manure onto the Allotment Garden and trimmed some scruffy trees. I was going really well, but - sob, sob - the side of my back (?) started to ache, so I've come inside to have a hot shower. It's been a very busy gardening week, after all.
Roses and other flowers...
The Allotment Garden continues to amaze me, though. Roses like Leonardo da Vinci and Whiskey Mac are reblooming, and the tall white Cosmos is such a treat. The Crambe, which I'd partially trimmed some weeks ago, has grown me some fresh new leaves, and there are Calendulas everywhere. Some seedlings, some starting to flower, some older plants finishing - lots of warm yellows and oranges. Love them.
Leonardo da Vinci Rose