Behind the pond...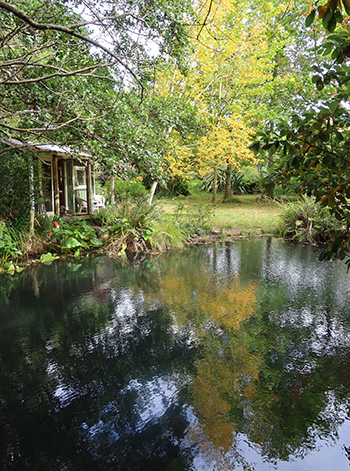 Looking Over the Pond
Stern words : I am to stop digging out new gardens in the Hump immediately. It's time to clean up the old gardens. I don't even need a list - choose any garden area, it will need help.
Behind the pond...
So, fortified with the first cup of coffee of the day, I'm about to sort out the garden behind the pond. And I mean business.
Now look here, gum trees. Stop littering. Resist the urge to shed branches, huge strips of bark, and leaves. Not a good look, draping all this mess over my struggling evergreen shrubs below. Just stop it.
Ten Minutes later...
Hopeless! Am slow-slurping my coffee, procrastinating. Aargh! Make a list for the garden behind the pond. or at least formulate a plan. Here it is : I need to clear the paths, remove weeds, trim stuff, and organise the garden gnomes. About sixty (oops) of them are scattered around my pond.
Regarding that last item. Gnomes, like people (and cats with respect to cat food), appreciate variety. A new location gives a new angle on life, and new friends to chat with. It's time for a change of scenery! As soon as that scenery has been cleared, weeded, trimmed, and so on.
Busy Gnomes
Luckily, gnomes don't need to practice social distancing, and they are still allowed to go fishing. And, of course, they can trundle their wheelbarrows and wield their shovels as they would do in normal times. Business as usual, chaps!
Mid-afternoon...
Going well. Have whipped up some muffins and am taking my coffee back into the garden behind the pond. Some of the more elderly gnomes have now arranged themselves around the white chair - which isn't as white as I remember, oops.
Gnomes Around the White Chair
I think they're actually feeling a bit isolated, so I have promised them some inspiring conversation. Aha! A gardening seminar? Book club?
Later...
I've had a great day. I've cleared the paths, picked up tons of gum tree bark from the gardens, and pulled out lots of old dry Lychnis plants. Not sure that the Shasta disy patch has even flowered this year - there's been little rainfall.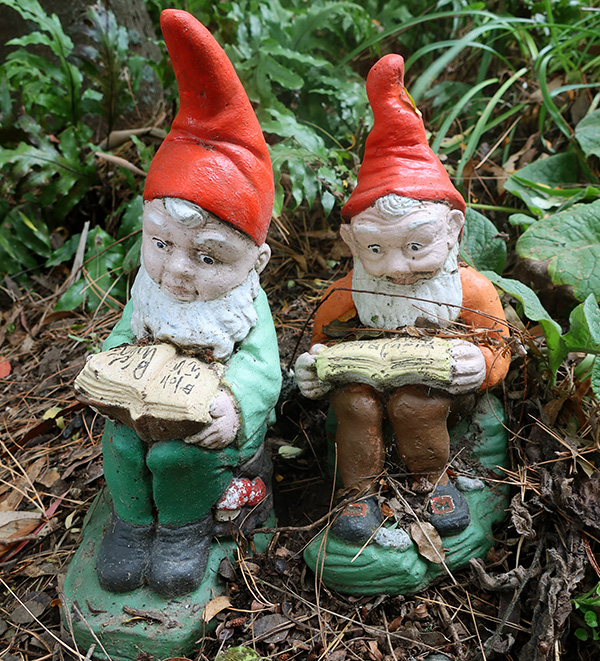 Gnomes at Book Club
Sat on the white chair with my afternoon coffee and muffin, surrounded by a circle of red hats. It was a very social occasion, as we swapped stories, talked about the garden, and told each other about the books we're reading (I'm on an Agatha Christie binge).
Look after your gnomes...
It's been a good reminder. When times are a little tough, don't neglect your gnomes. Look after them. They're good listeners, don't ask for much, and are loyal and reliable. An added bonus - gnomes usually agree with everything you say! Nice...