Goodbye, Forget-me nots,,,
It's high time I pulled out the old Forget-Me-Nots. This is serious stuff, and I have already made my first mistake - wearing my good woolly socks. Oops. Spent fifteen minutes last night slowly picking off the seeds.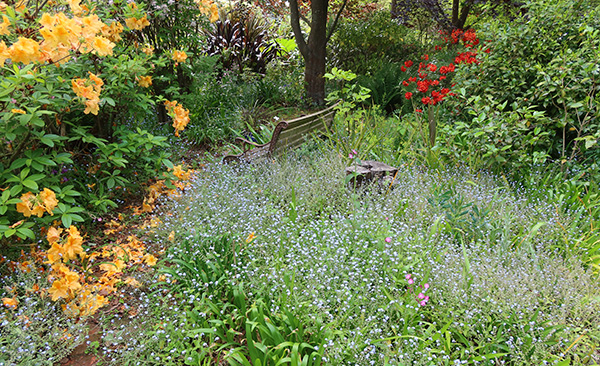 Forget-Me-Nots
So far I've spent about five hours on this task, working my way around the edges of the borders. I roughly chop up the forget-me-nots, add them to the horse manure, and spread the mixture back on the garden. The weeds etc. (and the pieces of lawn which the mower missed) go in separate piles. I carefully do this for a week or so. Then I get bored and lazy and the whole lots goes all in together and ends up under a hedge. Oops.
And it's rose time. The first roses are now blooming merrily, and of course they overlap the late flowering rhododendrons. It's all so beautiful.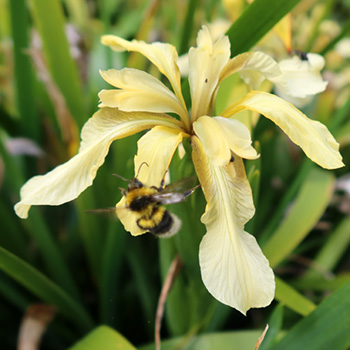 Bumble Bee
Tuesday 14th November
Today, after visiting the newish baby (who is very purposefully commando crawling), I came home and zoomed back onto the Driveway Lawn to do my equivalent (bottom-dragging). Two choices - clean up yesterday's mess, or ignore it, sit down with my secateurs, scissors, and hand digger and make some more mess. Hee hee. Guess what I chose?
More mess! Much more fun! I cleared the entrances to two of the Hump garden paths (they still don't go very far before being blocked by sprawling Alkanet and Campion). I finished off the edges. I made twice as much mess as yesterday, but it's all in piles on the lawn. And guess what? I left it all out there. What a rebel...
Pink Flowering Campion
And, being sensible, I wore my light weight trainers, shorts, and no socks. Those forget-me-not biddi-bids are so sticky.
And I'll be doing this for a wee while yet. I'm happy to leave them in the middle of the borders, but around the edges they are not a good look. They certainly live up to their name, hee hee.