Looking backwards...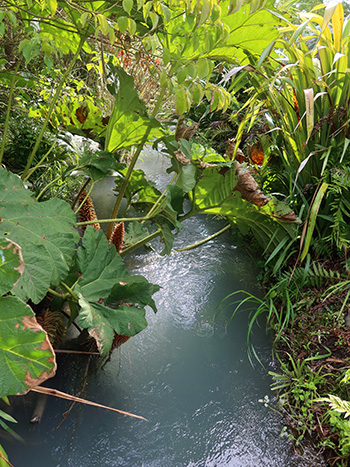 The Water Race
So the first thing I have to do today is clean up last week's mess. Aargh! Such a negative, backwards-looking thing to have to do. Should clean my mess up at the time I make it, yes? I know this. I know I should.
Three hours later...
Yes! All the mess I pulled out of the water race and dumped on Middle Bridge and Middle Path has been cleaned up. Sprouting Viburnums have been put to the sword (AKA the loppers), more flopped-over Gunnera leaves dismantled and stashed under the hedge to dry out. Weeds gone, old Lychnis pulled out, small overhanging tree branches pruned off.
Memos...
Memo to self : lining Middle Path with miniature Agapanthus would be really nice. Their foliage would be protected from the winter frosts, and they would get enough sun to flower properly. Could easily move some from the Hump Garden (which gets frosty). Another Memo to self : ask Non-Gardening Partner to remove dead branches of the big pink rhododendron. Hope the whole shrub isn't dying. Very suspicious. Eek!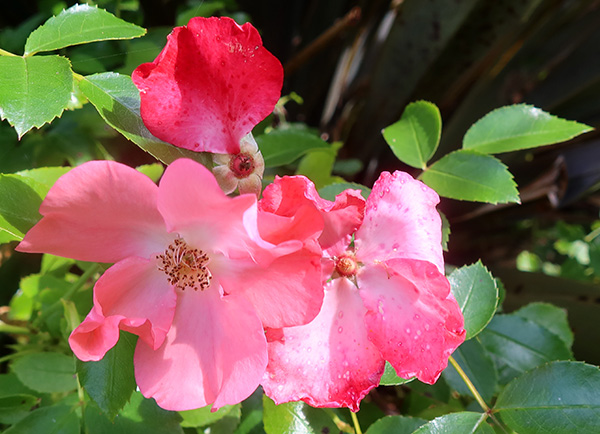 Growing by the water race.
Suddenly there was much movement of Quadbikes and assorted noises on next door's driveway, and my dogs started barking madly. Free-range country dogs can easily become nosy nuisances. So we came inside to make a cup of tea.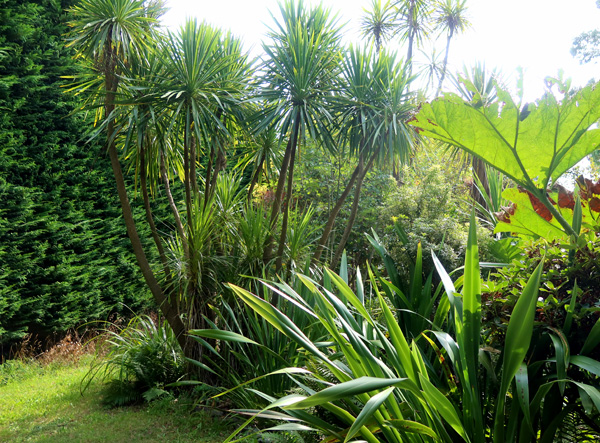 Looking into Middle Garden
One way to affirm a good gardening session is to sit and relax in it. So back we trotted with my cup of tea to sit on Duck Lawn's garden bench and admire the greenery. But silly me - I took my wee radio to listen to the cricket, New Zealand playing England in a test match.
Bad move!
Bad move. It threatened to spoil my positively good mood. We (AKA New Zealand) are hopeless. Can't bat. I turned it off.
My Crcketers having a Wee Rest
Monday 27th February
Have done some great gardening today, while listening to the cricket. First of all the house borders, lots of barrow-loads dumped on the fence-line. Lots of dahlias and roses dead-headed, and gum leaves raked up.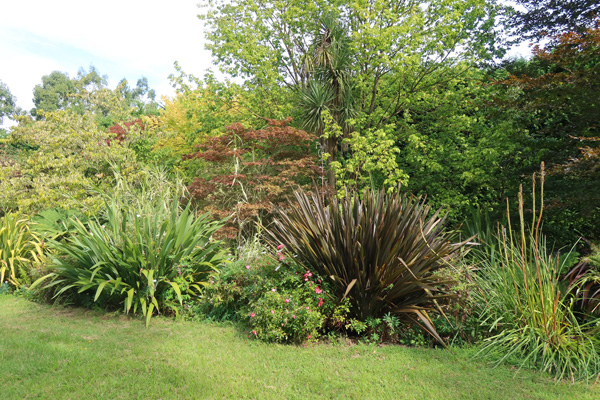 An Autumnal Look to the Garden Shrubs and Trees
My second session was spent clearing behind the cottage. Again a lot of gum bark, gum leaves, plus Campion which was past its use-by date. The backside of a huge Phormium was on a perilous lean - heavy flowering stems were pulling down all the fans from the base. Cut them down and trimmed off the leaning leaves. Problem fixed.
Thank you, dogs...
My dogs have been very barky. There's been lots of clunking from heavy machinery being used next-door, and they've been telling me all about it. Thank you so much, dogs, for keeping me safe.
Next Day : Cricket Update...
Today we won the test match - by one solitary run. We beat England! Such an exciting moment.