Town and Country Roses
Town Garden Cat
The Timaru Rose Festival is held annually at the end of November. This year I allowed myself time off from the Moosey garden to visit some rosy town and country gardens.
No Roses Like Own Roses?
There are, unfortunately, no roses like one's own roses. Mine seem to be hosting a million aphids, and a million and one black spots. One Crepuscule is seriously sulking, and a huge Mutabilis, usually covered in shimmering translucent butterfly-like flowers, has chosen instead to display a lovely collection of yellow leaves. Aargh!
So I leapt at the chance to visit some gardens in a nearby rose festival. I needed a change of rose air, and a good healthy dose of rose positivity! My gardening friend and I headed south to the Timaru Rose Festival.
Country Gardens
Our tour started with a bus-day, lunch box included, as we visited some country gardens. We were promised the grandest country joys - tranquil ponds, stunning woodlands dripping with azaleas and rhododendrons - and, of course, roses.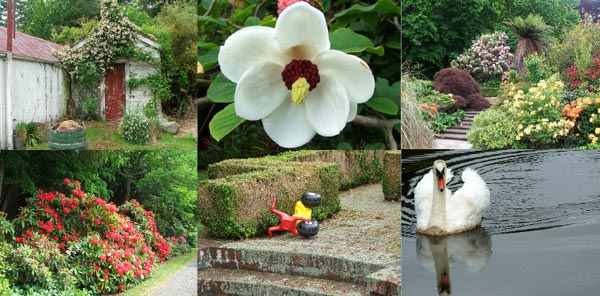 Images from the Country Gardens
We weren't disappointed! From classic 'little-old-lady' country gardens to stunning old homesteads with huge macracarpa hedges - there was something for everyone.
Town Gardens
The next day we chose an adventurous self-drive tour of the town gardens. Hee hee. We were a little naughty, missing out gardens we didn't instantly feel drawn to. We chose the twenty-year labour of love, the profusion of roses, and the true plant collector's garden.
Images from the Town Gardens
This last one was my favourite garden - a riot of roses, clematis, statues and ponds - and even a little walkway for the gardener's gnome collection. I notice this didn't get a mention in the festival brochure.
Garden Gnomes
I guess that normal visitors choose colourful palettes, obelisks, and luxuriant herbaceous borders over garden gnomes...
The Garden is Open!
Well, I've definitely recharged my rose batteries - what a grand trip! But I'm not sure whether my Crepuscule and Mutabilis will make it. I'm going to blame last winter's gales, rather the Head Gardener's rose care programme...