Fairy Rose and Pink Flax
The patio gardens are a source of pink warmth and wonderment in Autumn and early Winter when The Fairy Rose flowers alongside a pink leaved flax (Phormium). In mid-winter the warmth of the coloured leaves is most welcome.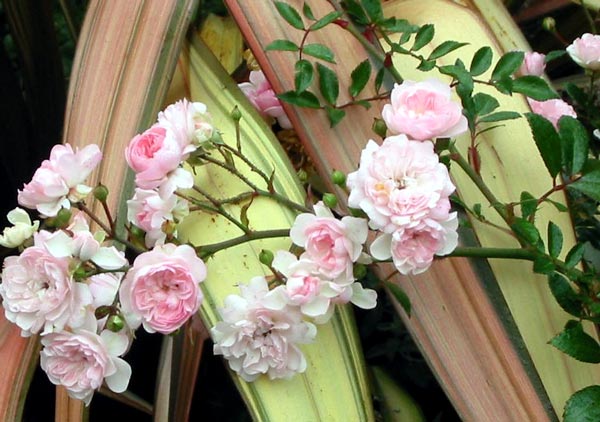 The Fairy Rose with Pink Flax
Garden Full of Fairy Roses
My Fairy Roses came from cuttings taken off one originally purchased plant. I grow this rose in many different places in the garden, and always enjoy its flowering times - it bridges the gap when most of my other roses are resting.
Kitten in the Roses
Kittens and Roses
It's the classic pretty pink rose - perfect for a kitten to have his photograph taken next to! This is big Fluff-Fluff - when he was tiny!
There was one standard Fairy Rose here in the garden when we arrived, next to a Hypericum shrub. Their flowering times coincide, and I can't quite decide whether I like the pink and yellow effect or not. Hmm...
This rose should properly be called 'The Fairy Rose', but it's difficult to write this full name into sentences without sounding foolish. try this - 'I grow a lot of The Fairy roses...'
Lucky Gardeners
As for the flax - well, it's merely one of my many small hybrid flaxes whose colours are absolutely stunning. New Zealand gardeners don't know how lucky they are to have such beautiful flax hybrids in all the nurseries.
They're never expensively priced, either! Every Moosey garden border has at least one small coloured flax, as well as the clean shiny green.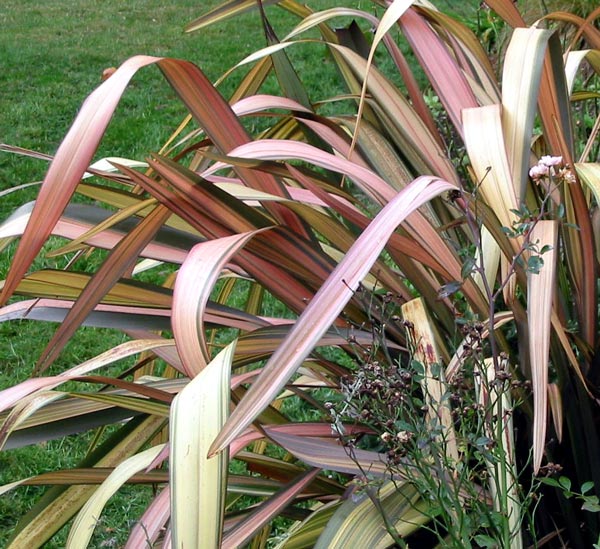 Pink Flax
In the busy summer months the coloured flaxes in my garden blend in with the surrounding roses and perennials. It's not until the depths of winter that they are truly appreciated for the subtle colour they bring to the garden.
Pink Flax in Mid-Winter
A Recurring Theme
They are a recurring thematic Moosey motif - there is a similar flax directly opposite the patio over the grass, and a third in the curved border by the driveway. In winter this flax trinity looks brilliantly and deliberately designed - hmm...
I have to remember to trim out any plain green leaves. Often one whole half side will revert to the species Phormium Tenax - this habit is very annoying, since the species is over two metres tall. I have enough problems with plants outgrowing their allocated positions without the nature of Phormiums conspiring against me!
In this photograph taken in the very middle of winter you'll just see the echoing flax by the gravel. With no flower colours to pull focus the flaxes are very much centre stage.
In the distance is the Frisbee Lawn - all its fence roses are waiting for their annual prune. Over the lawn is the Stables.