Middle Border starts to expand...
The great holiday clean-up starts. Mail order plants arrive and more daffodils are bought. Much more garden space is needed, so Middle Border starts to expand.

Lucky Sheep
Saturday 1st April
The Australians WERE 5 down for 29 in their first innings in the cricket. As expected, they recovered. Oh well... On the gardening front, I finished planting Middle Border, resorting to digging planting holes with the axe. In went the bargain bin cordylines, etc.
Sunday 2nd April
The White Flower Carpet rose is starting its second big bloom, and looks fresh and absolutely beautiful. The ram is here for six weeks. Lucky sheep.
The Rock Wall
Saturday 8th April
I AM ON HOLIDAY!!! I have worked really hard all day on maintenance, like cutting back and weeding and chopping out. I have attempted to stop the clematis from strangling the crab-apple tree. Now my first mail order plants have arrived and I am happy.
Sunday 9th April
I am still on holiday!!!! Cool. Today I went to the nursery sale and bought lots of $1 perennials. Also, I bought 5 Perovskia Blue Spires from the bargain bin and some thymes for the rock wall. Hmm... Thyme to plant the rock wall...
Monday 10th April
This is one of those defining moments - 7.50am, gardening clothes, cup of tea and cricket radio. First I make a list...
Do the rock wall.
Remove frost-possibles to glass-house.
Do cuttings of frost-possibles.
Plant mail order treasures.
Think think think... more garden is needed...
Then I pick up my cricket radio, find socks and gumboots, and GO OUTSIDE.
Later that day...
I did cuttings. I planted lots of new stuff. I mulched my secatuers. Another problem is that I need more garden and don't know where to put it. There were 3 Perovskia Blue Spires in my mail order box ...
Tuesday 11th April
I will write a list.
Today's Gardening Plan :
I know now why I never usually write much in my April holidays. Most of what I do is pretty boring. The little JAM Path is disastrous and will have to be re-routed. It doesn't fit any more, you can't even crawl through.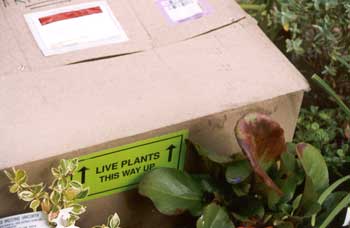 Mail Order Time
Wednesday 12th April
I have planted the mail order variegated Brunnera in a shady spot in the Island Bed. I have serious design problems. I need new garden beds. I need lawn. I need trees and I can't visualise them. I do not need 15 large stumps which will take 50 years to rot away.
Today Hansie Cronje was busted for selling cricket info to the bookies.
Thursday 13th April
I have seriously over-estimated my need for Perovskia Blue Spires, as 3 more of them were in the second mail order plants delivery which came today. This makes 11 Perovskias which I have purchased in the last week. Am I losing it? Memory loss?
I dug like a lunatic and straightened the edge of Middle Border. Now there's just room to drive through between the border edge and the shelter belt. And I have new garden, where the mail order daylilies and the (groan) Perovskias can be mass planted.
Saturday 15th April
Two lazy days - got stones, mooched around looking at the garden. This is OK - making every moment count doesn't mean always digging or weeding. I am a bit 'gardened out'.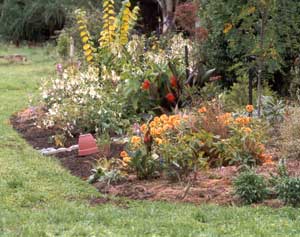 Middle Border Grows Ever Outward
Sunday 16th April
I am back from visiting my friend in Leeston. The car is full of hellebores, 2 chunky peony roots, a clump of something variegated, possibly Iris Foetida variegata (I am honestly trying to improve and be more responsible for naming plants), and (oops!) approx. 700 daffodil bulbs from a local daffodil farm. Oh joy... 700 daffodils to plant.
Monday 17th April
I have been sitting in early morning sun by stables thinking about planting 700 daffodils in stony ground. Ouch!!!
Later...
I didn't plant any.
Tuesday 18th April
I planted 30. Pathetic! Middle Border is slowly expanding, creeping towards the car-bridge. The new edge has being determined by where the mower can and cannot mow easily. I have planted broken up clumps of (possibly)Iris Foetida variegata in the new bit. I am trying to be a more intelligent gardener, naming plants properly, putting garden around the stumps and consulting with the mower of the lawns. Hmm...
Friday 21st April - Good Friday
A slightly bleak day after 3 days of rain. I planted about 400 daffodils - at the front gates along the beginning of the roadside paddock fence and in a wee daffodil welcome garden under the locust trees.
Scary Peppermint Geranium Leaf
Saturday 22nd April
I did real gardening first - edges and weeding by the washing line. Then I attacked the vege garden, got the last of the potatoes dug and pulled out the tomatoes. I've hung the plants on the fence to ripen the last ones. I will make sauce, and freeze tomatoey things.
Dead-Heading Dahlias Works!
I am impressed with two things today - Dahlia dead-heading works! Lots of the dahlias are still bloomy, with large new flower buds as well. Some of the ivy-leaved peppermint geraniums have got very very large, with huge scary veined leaves. Normally they are quite modest in pots. I must do lots of cuttings again and remember how spready they get in the ground.