Don't run out of energy!
I hope I don't run out of holiday energy too soon. There are so many big plans inside my gardening head.
Tuesday 23rd September - Day Four of my Holiday
I am not going to run out of energy today. I am going to garden gently all day. I suspect my problem is a mental one, so today I will apply a mental solution - namely blocks of activities will be no longer than an hour in length - starting with a stint in the glass-house. Also today I will make lists of things that I've done AFTER I've done them - that will be a confidence booster. Yesterday (unwisely) I weeded for more than one hour in the same place...
Red Wallflower
List Number One (written at 1.15pm) :
Weeded Middle Border and the Rugosa border.
Spread 3 barrow-fuls of ash and soil conditioner on Middle Border.
Brought 4 pots out of glass-house and placed artistically.
Pricked out Nigellas.
Watered seedlings, and set more outside to start hardening off.
Decided where to plant new hostas and have dug holes.
Clipped edges over water race and scooped up grass stuff.
List Number Two (written at 5.30pm)
Finished digging where the new roses go.
Picked up all tools.
Taken spring photos.
Spread 3 barrow-fuls of ash and soil conditioner on the Rugosa border.
Scraped one of the paths through the Hen House Garden clear of weeds.
OK - I have had a much more productive day today. The spring colours are fascinating - so much clear clean green, and the cheery yellow of the daffodils. The fireman red rhododendron is in full flower in the Wattle Woods Garden, and the large pink rhododendron is starting in Middle Border. My newly dug garden is ready for mass rose plantings tomorrow. A lot of the wallflowers are also in bloom, and the deep red one is really fragrant. I love my garden.
Wednesday 24th September - Day Five of my Holiday
Today I have the car! This is a first - I'm not sure what I'll do with it (there are bags of fresh horse-poos down the road waiting to be picked up). And now for the garden plans - the weather outside is beautiful again (calm and blue-skied). I'll probably start by trundling some more barrow-loads of stuff onto the garden. What a beautiful day!
Thursday 25th September - Day Six of my Holiday
I worked really hard clearing (and enlarging) the Frisbee Border - it's half finished, slightly wider (oops) and parts have been fortified with my mixture of ash, soil conditioner, and horse-poos. I moved a struggling Deutzia (hopefully it will still flower) - an Iceberg rose also needs moving, and possibly now that the border is (oops) wider there's space for some of the spare roses. Irises do well in this border too, and I have a few pottles of dwarf ones still to plant out - that's a thought.
Muscari :

Such a pretty blue flower - and oh so generous with new bulbs growing from seed!
Today it's raining gently outside, so after writing up my diary and drinking my second cup of tea I'm going to make serious progress in the glass-house. The rain also fell overnight - this is good for my mulching efforts. What amazing spring views there are from inside the house - cherry tree blossom, patches of blue grape hyacinths, soft palest pink Bergenia flowers, as well as the much documented daffodils in all shades of lemon, yellow, apricot, orange, peach... The new rose growth is HEALTHY (and long may it stay that way - hopefully no rust this year!). There are a few minimal patches of tulips, too, and the purple honesty in the Hump has started to flower - I can see it edging the lawn.
I seemed to want to finish the Frisbee Border. So this is what I did - all day! Quite a bit of it is a lot wider (oops) and ready for planting up with suitable plants. I had a short spell in the glass-house and used the hoses for the first time this season. Then I came back to the Frisbee Garden, and tried to pull out all remaining visible weeds. I raked off grass clippings and threw them on top of my soil improvements. I just hope that the dog doesn't find the horse-poos too exciting.
Friday 26th September - Day Seven of my Holiday
There are supposed to be gale force winds (norwesters) today - unbelievable, as at the moment it's totally still, blue sky, an absolutely beautiful spring morning. I have a bit of pot tidying and watering to do first on the decking, then I think I'll do some planting. Then I'll have a think about the weeping pear tree - where should it go? Perhaps I should write a planting list...
Planting List :
Plant hostas.
Move cerinthe seedlings to driveway.
Plant roses over the water race.
Plant asters and new lupins.
Plant penstemons.
And I need to organise some cuttings - check out the dahlia Bishop Llansdorf that I forgot to lift last autumn for basal shoots I can cut off and pot up, get some daisy cuttings (I found a brave specimen which managed to winter over near the hen house - of course I forgot to get the other daisies into the glass-house before the frosts struck).
It's now lunchtime - I haven't done any of the things on that list! Hopeless! Instead I've been pottering around the Pond Paddock Borders weeding and doing edges. I've pulled out nearly one hundred dandelion weeds I reckon. The wind is quite blustery, as was forecast, which makes gardening near the Wattle Woods very noisy. There is the occasional creak and crack which makes one wonder exactly what is coming down, too. I plan to have a decent break, may read my book for a bit. I'm just not in the mood for planting (weird). But I love my garden more than I can find words to express.
Daffodils
Saturday 27th September - Day Eight of my Holiday
I love my garden! Today I have been busy and happy all day - planted the new hostas (Thomas Hoggs) by the water race and then read the label (shade... oops). I'm now trying hard to remember what else I did - weeding? edges? I know I sliced more weeds off the Hen House Garden path, but this certainly didn't take me all day. I know I pricked out quite a lot of salvias, and moved some pots to the upstairs balcony... and I started to clear the gorse from the base of the large water race flax which is opposite the glass-house... Mind you I did watch a game of rugby on the TV while resting mid-afternoon, and went for a couple of rides in the car (Stephen is starting to install the irrigation pipes in the Hazelnut orchard, so he hired a trencher to dig the main channels).
House Flax :

I do love the colours of this flax, though, but it is going to get far too big. Oh dear....
It's weird, thinking I've done so much yet not really remembering the details. The house lawns are freshly mowed (looking beautiful), and I've trimmed their edges. I'm concerned that the big brown flax by the decking is just too big - but as yet I've lacked the courage to start digging it out. I'm looking at it now as I write my diary - it's definitely too big. Where have I put my plastic watering can (which I need for the house pots)? Tomorrow I might go down to the nursery and buy a new one.
Sleepy Dog
Sunday 28th September - Day Nine of my Holiday
... which so far has been a day of complete rest... It is raining, and outside is seriously cold (about ten degrees) - I've been sitting by the log burner being extra nice to Tajdog and to Mugsy the cat (who earlier this morning was growling and hissing at everything and everybody). I've read some old October garden magazines (none of the photos bear any resemblance to the real October though!), and am now ploughing my way through Beth Chatto's Gravel Garden book. It's impressive and distressing at the same time - how does she know all the details of all the plants? And always have reasons for what gets to grow next to what? - A scientific mind? Lots of full-time gardeners? I am seriously missing the lighter phrases of Bob Flowerdew, who is on loan to a convalescing friend. Perhaps today would be a good day for a spot of internet garden visiting. There's a real country gardens tour next weekend which might be a good reward if I continue to work really hard in my garden and get everything planted.
Spring Garden Border
Right - I have just watched a short TV programme about St. Erth gardens in Australia. I am going to go to the nursery, while I still have the car (my car, but that's another story). I would have liked the rain to stop about now - I am bored inside.
Monday 29th September - Day Ten of my Holiday
It's supposed to clear up by this afternoon, so I am off this morning to work (eek) then to visit my gardening friend. I never got to the nursery yesterday - they have some marguerite daisies on special. My plan is to buy a few - I feel like quietly nipping a few others to get little cuttings, but honesty will prevail. I also want to buy some dark blue petunias for the wooden planter on my decking. I have had some great words of encouragement from recently retired friends - I am so looking forward to this new adventure. My garden doesn't need money - it need me and my time...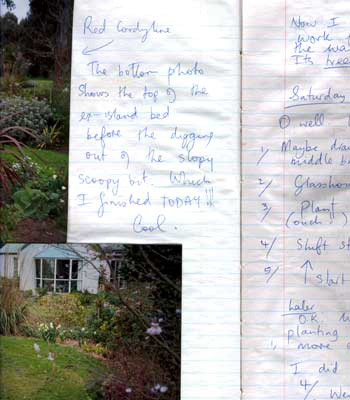 An Old Garden Journal
Retirement Journal
Actually this could turn into a retirement journal, as I grapple with daily new experiences of freedom and boredom - for example, to actually have time to blow dry the hair and put on the anti-aging cream - maybe I will crochet a bedspread in my spare time - certainly I could get the sewing machine going again. There will be no reason for lack of maintenance in the garden - and the tomatoes and dahlias will certainly have time to be well staked.
Enough of this wet-day rambling. I'm off to be extremely busy so I can come home this afternoon and garden. See you soon.
Later...
Well, I'm back complete with daisies (hee hee) and petunias - it's still raining, so I've dumped everything in the glass-house, rescued my favourite gardening jersey, lit a fire and retired for the day. Hopefully tomorrow will be better for gardening. I am going to play the piano and enjoy the peripheral views of blossom and spring colour.