April Anzac Weekend
The autumn Anzac weekend continues - with a surprise stormy kick in the weather. Out comes the full set of gardening (and/or tramping) thermals. Standing in the water race weeding does not appeal, but it should be on my list!
Sunday 24th April
Finally a short burst of nasty weather - the southerly storm (eagerly awaited all day yesterday) struck in the middle of the night. It hailed noisily. I watched the big gum tree in the house lawn flailing around in the wind (like the silly Willow tree in the Harry Potter story). Rooster started crowing - incredibly distant - I worried that he had been blown away. And puppy in his dog-motel with the corrugated iron roof might be scared of the noise. Did I leave my incredibly safe cosy bed to investigate anything - no way!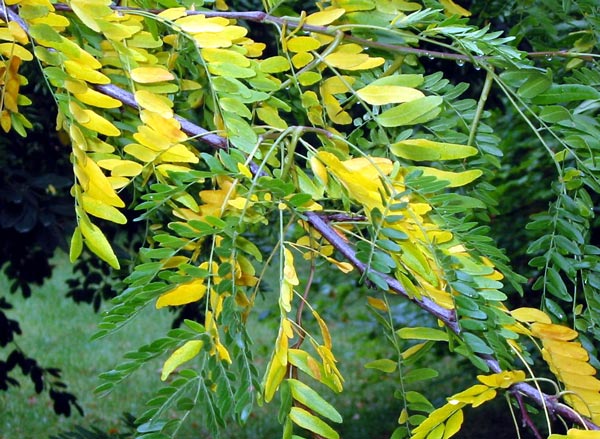 Golden Leaves
Autumn Reflections?
This morning I'm up as early as ever, but the wind is still biting cold. This would be the perfect early morning for reflective writing - perhaps I could interview myself? And how many years have you gardened at Mooseys? Your favourite plants? Best moments? Future plans? Hee hee...
Autumn is a reflective time, though. It's possibly the season where the best resolutions are made. Garden analysis comes easy in autumn - there's still enough vegetation to mask the biggest garden design mistakes, and there's still potentially enough warmth and light in the days to plan huge, positive changes.
I like the way the roses and the dahlias keep on flowering as if they don't give a hoot about winter frosts to come. And I start to notice the coloured flaxes - this is the season they shine. The autumn tree colours, too (particularly the golds) create a warm, settled mood. My cats sit on laps more in autumn, and the wood burner in the house becomes the evening animal muster station.
Rusty and Dudley the Next-Door Dog
The first winter for Rusty the puppy-dog approaches, and his furry coat has already thickened. He is almost fully grown now - funny to think that when he first arrived his stubby little legs couldn't touch the bottom of the water race! What a beautiful puppy-dog he is.
A Garden List is Needed
I could write a major list of garden tasks which must be finished by the end of my holiday. Whether this inspires or daunts me, it needs to be written down. A list need not confine my spontaneity or stunt my creative growth. Lists are insightful, logical, and tend to stop a writer-gardener from twittering on too much.
I often get hooked into one area of the garden and 'forget' others totally. For example, I haven't walked around behind the pond for weeks. There are probably log-jams, fallen gum tree branches and dying native plants in there! Aargh! I need to get going! Here goes...
Responsible Autumn Gardener's List
Clear glass-house (perfect job for cold day).
Clear native garden behind pond.
Clear JAM garden by glass-house.
Clear Wattle Woods.
What about the Hump?
Get daisies out of ground and into glass-house.
What about taking some cuttings?
What about dividing some favourite perennials?
Blast. I can see myself wheeling rubbish for a 24 hour burnathon (when the wind dies down) with enforced breaks in the glass-house. Humph to being responsible. These gardening tasks look horribly like housework.
One Hour Later...
Oops. It's rather colder than I imagined. I've almost finished clearing the glass-house - see item one on responsible gardener's list - but I haven't lasted all that long! I'm back inside for morning coffee (have swapped outdoor gardening vest for indoor all-wool sweater). The glass-house is not very ambient with the wind raging and the glass panes rattling. But I have piles of like-sized pots and pottles all stacked neatly - and I've moved in the dark Aeonium succulent for winter shelter. Good on me - one down, ninety nine to go!
Monday 25th April - Anzac Day
Yesterday I did return to the glass-house and worked another hour. I moved in a lot more plants, took cuttings, sowed some nasturtiums, gave thirsty pots water, and even sorted out a placement of plants system. Ha!
Red Anzac Poppy :

Anzac Day remembers the fallen in the big world wars - like a Remembrance Day.
And the reason I was a little short-lived as a gardener was that it was four degrees (Celsius) - later that afternoon there was hail, and sleet, and slushy mixtures of anything in between blowing down from an incredibly angry looking sky.
I re-potted the Bengal Tiger canna tubers, as a gesture of plant solidarity to overseas brothers (?) growing in the Moosey Team's London rooftop garden. The New Zealand Moosey Bengal Tigers deserve a break next year - their big pot has been impossible to water well enough, so they are going into the garden somewhere next spring. Let loose in the jungle!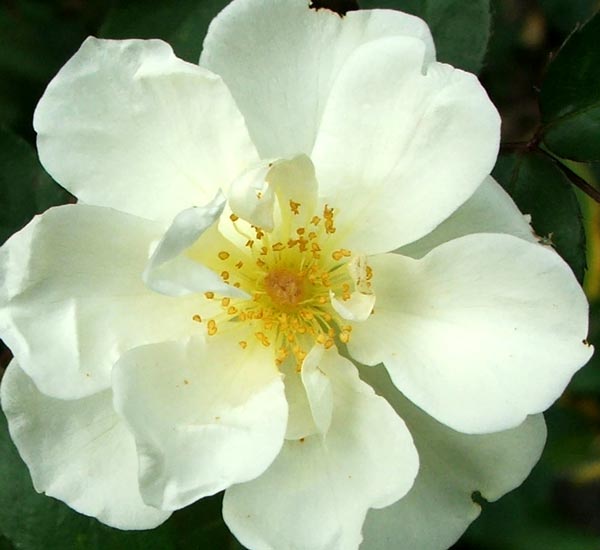 Moonlight Rose in Autumn
This morning is pretty cold, and wet. I heard my random rooster crowing faintly at dawn - he sounded several farms away. Bird feeding was equally random this morning - only dear old white hen, a couple of blackbirds, and some fluttery sparrows.
Stumpy the Cat :

Stumpy the grey is one of the three oldest Moosey cats.
Now I'm drinking my first cup of hot tea, pre-gardening as it were. Old lady cat Stumpy the grey is on my lap snuggling up. Hurray for a warmish morning house and thermal underwear! And hurray for a snuggly, friendly cat friend. Life is never too lonely with cats around. Puppy is up - we went for a cold walk with the umbrella right around the garden.
Two (oops - three, actually) observations:
Puppy keeps to the paths!

Obviously this is the supreme consumer test - a bouncing early morning puppy would cut any corner worth cutting.

The storm has affected a lot of autumn leaves.

The Cercis Forest Pansy is almost naked. The Oak trees by the Hen House are suddenly red (almost overnight). And most of the leaves have blown down off the golden Gleditzia in the driveway. Just as well I have autumn leaf photographs!

The gardens behind the pond are not in immediate danger!

This is one of my newest native New Zealand garden areas. Nothing seems to have died from neglect! And the gum tree debris is superficial - should only take a morning to clear.
It took us both twenty minutes to walk around in the rain. Unfortunately there was absolutely no sign of rooster and the two brown hens. Right - time to be staunch and go outside in this great gardening weather. Daisies and pelargoniums, be of good cheer! By lunchtime you should all be safe and sound with your friends in the shelter of the Moosey glass-house.
Aargh! Gum Tree Leaves!
A Legend by Lunchtime...
What a legend of post-southerly storm gardening! The glass-house is full with succulents, pelargoniuns and daisies. There are shards of sunlight striking the wet grass, between multi-directional gusts of cold wind and swirling rain. I've dumped three barrowfuls of gum tree leaves from behind the pond on the fire. No chance of combustion yet, though.
I've weeded by the Plank underneath the new Benjamin Britten roses (there's an awful lot of sorrel in here...) and potted up some funny 'bits' of the tall red daylily. They may make roots, they may not. I've cut up and replanted some Bergenias to curve around the new Hen House path.
I have planted a new rose (a bush version of Old Master) and a hebe. The list just goes on and on (OK - I know I should write a proper list). I have also managed to lose the spade and the second rake (the one with the bigger foot). Oops.
Early Evening...
I've done yet more things. In the small house border under the Liquid Amber tree. I've dug out the diseased Dublin Bay rose, weeded, and moved the small red corner flax out from underneath the Berberis, into the fresh air. I've burnt all the rubbish which wouldn't burn this morning (including Dublin Bay). I'm still puzzled by the poultry - I've just located rooster, high in a tree overhanging the pond - but he is absolutely henless! Hmm...