A sore-hand-sulk...
Hmm... Lovers of positive, optimistic garden journal writing should read no further. Ridiculous - surrounded by my summer garden and loving, faithful animals, I have got into a sore-hand-sulk. Are there such things as power secateurs?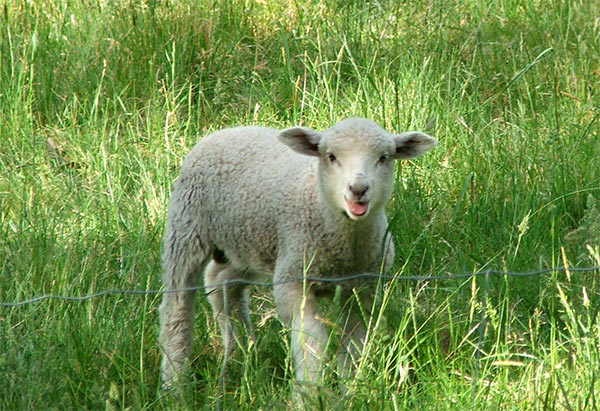 Fred the Lamb
An interesting start to my week. First I decided to do some serious piano practice before breakfast. After an emotional attempt to play with (in other words - at the same time, in the same bar, at the same speed) the violinist last night, I thought I'd solved the problem. I'd take my sore-fingers medication, and I'd wear my reading glasses! Then the stupid B-sharps and E-sharps would look like B-sharps and E-sharps, and I'd be able to play them properly. Humph. Ever felt seasick playing the piano?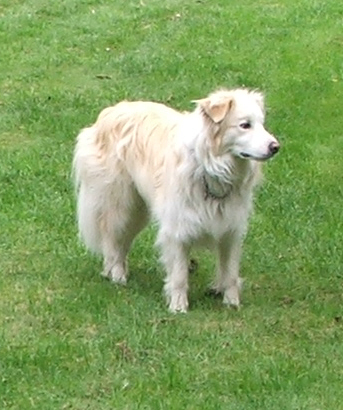 Rusty the Dog
C'mon Rusty...
Told myself I should be thankful that I have fingers, even if sore. I mean - if I was a mountaineer I could have easily had a frostbite accident. Didn't help. Stared at fatter-than-they-should-be knuckles on right hand. Thought of Cesar Franck's octaves and semiquavers. Another humph.
Decided to pull self together - a bicycle ride with Rusty the puppy-dog. Called the dog, got bike, and scooted dreamily down driveway, hotly pursued by bleating, charging pet lamb. Fred had jumped his fence, with milk on his mind. Bah! Or do I mean Baaaa?
Distracted Fred with bottle, and replaced him in front paddock, then continued on bicycle ride. Delightful country ambience. Started to feel better, so wanted to share this mood with woman's best dog-friend. Noticed large, thin, brown fur neck-warmer swinging wildly from Rusty's mouth - fresh road-kill rabbit. Aargh! Kept biking, passed by several cars who hooted their horns at gross dog. Probably have upset neighbourhood children.
And now I am seriously late for the work break-up, and I can't get my fingernails clean. Humph!
Red Rose Called Eyepaint?
I am back, fortified with food and coffee and Christmas cheer. My walking friend is coming in a few weeks to admire the roses and listen to our house performance of the Cesar Franck. It's drizzling outside, and so I am not gardening. I am sorry to be grumpy, though - this will not do.
Tuesday 13th December
Good morning to Stumpy, my lap-sitting and seriously smooching morning cat-companion. All house animals are fed, and Fred the pet lamb is so far silent. I think we have a small breakthrough in pastoral sheep relations - he now grazes right up close with his three companions. An easy if boring life - free from lice and footrot, perhaps the odd worm - pretty uncomplicated, really!
Certain Topics Banned from Journal
We (a tired piano and a scratchy, out of practice violin) tried the Franck late last night - it was so much better! A major (and I do mean A Major! Ha!) breakthrough - it will work! So, on this optimistic, melodious note, there will be no further moaning about B-sharps and E-sharps - after all, this is supposed to be a gardening journal.
Senecio and Hypericum
In fact, random topics which are not garden-related (or related to the Moosey animals) are off limits, until Christmas Day. This includes sore fingers and possibly the cricket (when we lose).
Alstroemerias :

These are such long-flowering perennials - well worth growing.
Today looks like more drizzle, but I'm going to rake and barrow some more rubbish around. The Alstroemerias are now flowering madly, while many of the foxgloves are finished - as something finishes, another takes its place. Go the white Iceberg roses, taking over beautifully on the house fences! And thanks to the yellow Hypericum and Senecio shrubs for bringing the colour of sunshine to this rather damp drizzly day.
Wednesday 14th December
It's still drizzling. Call me hopeless, but I just don't feel like getting garden-wet and muddy again. Rusty and I have been for a wimpy morning walk, rather than bicycling through the wetness. I still have Hostas, variegated Corokias and a red flax to plant. Upside to the continuing wet - no need to scurry around shifting the hoses! Downside - I peeped at the vegetable garden before. Eek! Vegetable gardens (with attendant weeds) love warmth and wet. I knew that!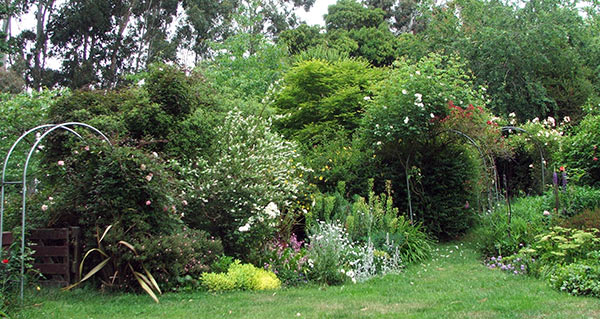 The House Gardens in Summer
Another upside to wet days - Stumpy the cat wants to permanently sit on anyone doing anything indoors! You try playing Cesar Franck's rippling triplets, left hand sweeping over the right to hit an impossibly high octave, with a grey cat attached to your upper thighs. No denim is quite thick enough...