Christmas Week
The Christmas week lurches onward and ever upward (a bit like the Golden Hop) - the Moosey Country Garden joins in, bravely. Minimal money is to be spent on non-gardening items. I've ordered a trailer-load of soil conditioner to be one of my presents.
Wednesday 21st December
I'm sorry to bring that dreadful Golden Hop up. I dread trying to walk through Middle Border's little meandering path - what will I find? This is the month when the Golden Hop decides to surprise me, and/or thank me for planting three of it, naively thinking the trio would be the perfect decorative cover for a man-sized gum tree stump. Possibly the most enduring Moosey gardening mistake...
Chelsea Mug Shot
Oops - Two Christmas Kittens
At last I have decorated the potted Christmas tree and tried to do some Christmas shopping - I bought four pairs of gardening shorts (non-gardening partner can never have too many, with all that lawn mowing to do). Much more serious - we have two new Christmas kittens. Blame Rusty the red border collie for being a two-toned dog, thus needing not one but two designer kittens to match him.
Welcome to Beige Puss who is the same colour as Rusty's tummy, and Fluff-Fluff Puss, who matches his pale orange ears. OK, OK, I know the names are silly. Isn't Christmas the silly season?
I've done no gardening today - yet. Fluff-Fluff the Fearless has been pottering around on the patio with Rusty the puppy-dog being super-gentle and non-threatening. What a nice natured dog he has matured into! Beige Puss is a very calm, 'purry' cat, with big goggle eyes and the sweetest temperament. Mugsy the Slack (hopeless) is now using the kittens' dirt box. Aargh! I am going to enjoy looking after these new kittens...
I have a small collection of things to plant, before they expire in their pots - like the peonies I ripped out of Middle Garden and some roses. I am off now to put the hoses on - perhaps I should take the wheelbarrow and shovel with me. Will my rudely uprooted peonies live? I reckon if I get them hidden quickly under the soil they might hardly notice the shift.
Later... Dog Problems
Done. I've dug holes and planted the roses and peonies in the new Birthday Garden (it took ages). I have also sadly buried a three-quarter sized duck. A duck trio had been lounging peacefully under the Golden Hop when Rusty and I arrived to inspect it. Two flew out and floated safely down the water race.
I will now sound like a pathetic, blinkered pet owner, but I'm sure Rusty the puppy-dog didn't mean to kill the duck. He caught it and brought it to me alive, within seconds, dropping it like retriever dogs I've seen on the TV. It just sort of expired at my feet. Not good, not good... and I'd just been praising him for his absolute kindness to kittens...
A Luckier Duck - with The Fairy Rose
Thursday 22nd December
Good morning to the freshly watered Moosey house gardens with their perimeter of completely soaked, blotched pink Iceberg roses. Good morning to the mature Moosey cats, the new kittens safe and snug in the laundry, Rusty the puppy-dog, and Fred the bleating lamb (who has the wrong shaped face for a Romney, according to the Moosey farmer-in-chief). Good morning to me, gardener of the year, animal feeder, tea drinker, and non-buyer of 'proper' Christmas presents.
What shall I do first today? Apart from feed the bleating lamb? The trouble with Fred is that whenever he sees Rusty the puppy-dog he makes the fatal connection - milk. His sheep friends (George and the ewes) get a little wound up by the noise, and join in - George's rumbling basso profundo making more of a 'Blurrrrgh' that a 'Baaa'.
Last night at dusk Rusty and I went walking in the Hazel Orchard, where I've deliberately left the new climbing roses alone to get established. My goodness! Although still quite small they are already looking so beautiful. Eastlea's Golden Rambler has large flowers, not at all like the rambler I'd imagined, and Gloire de Dijon and Etoile de Holland are really impressive. A row of roses-in-waiting - I wonder if I should take a few early photographs?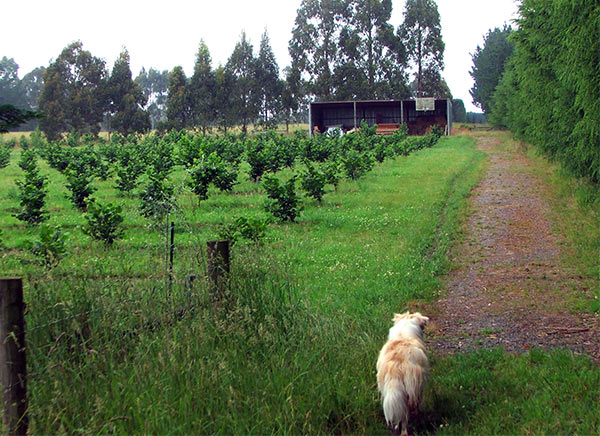 Rusty Surveys the Hazelnut Orchard
Lunchtime...
Mugsy the cat has turned totally into a third kitten - she's been playing with the others for the last half hour. As well as bossing in on their dirt box! I've had less than complimentary comments regarding their names, though. What's wrong with 'Beige Puss'? The New Zealand cricket team used to wear beige uniforms. Aargh! Say no more!
Lovely White Iceberg Roses
Raining...
It's raining, so the weeding and photographing of the rose archways will have to wait until later this afternoon. I love the Christmas summer holiday - barbecues, looking after the Moosey animals, reading books, taking it easy - how easy it is to be content! Peace on earth can be such a simple thing. I'm always puzzled why it should be so hard to achieve.
Much Later...
I am back from an interesting bicycle ride with Rusty - Fred the lamb jumped his fence and decided to follow us up the road. I have also photographed the archway roses. Will I remember which is which? No is the simple (and peaceful) answer to that! Right. Cesar Franck needs a bit of work. Then I am taking the new kittens to the vet, just for a check up. I need some reassurance, particularly about Beige Puss with his unusually big goggle eyes.
Friday 23rd December - Animal Health Report
Good vet visit! I have bought some extra-good designer kitten food. Beige Puss has a dose of ringworm, so he is now organised with pills. Fluff-Fluff the Fearless continues to show huge character and socialisation skills. Rusty the dog is gentle and nosy, Tiger is sulking, and the grey sister-cats are behaving - well - like two 'bitchy' old grey ladies. Oops. Fred the lamb continues to bleat whenever he sights the dog. He is fattening up nicely - nothing to do with Christmas dinner, you understand! Gosh lambs are easy, though - their relationships with their humans are pretty basic.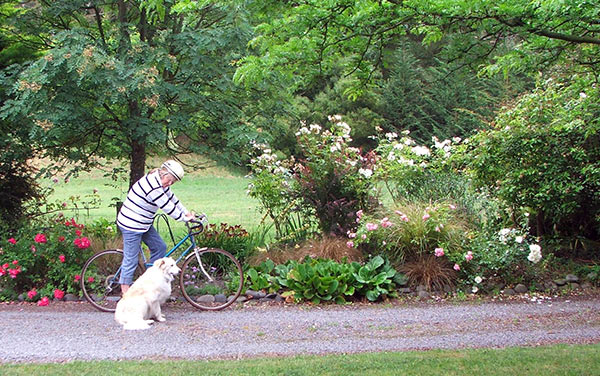 Off We Go
Right. It's raining, and has been for much of last night. This is good for the garden, and bad for the gardener, if you know what I mean. My plan for weeding around the rose arches has to go on hold, as does the morning dog-bicycle ride. Poor Rusty - sitting forlornly in the garage by the bicycle. If dogs could only talk - what do you mean it's too wet? What's too wet?
The Colours of Christmas
Therefore this seems like the perfect morning for Christmas Shopping. Aargh! Eek! Oh no! - and assorted exclamations of retail disgust.
Saturday 24th December
Eek! It's already Christmas Eve! I don't need to be doing Christmas shopping, I need to be doing Christmas gardening. The back house lawn is huge and long again, and I need to dead-head more roses. Perhaps today will be the big day! I need to go bravely into the depths of Middle Garden, clear the little path and check the Golden Hop. Aargh! I may never come out again! Moosey the Misguided, last seen struggling with a golden leaved monster...
Kittens and Names
Today I will also concentrate on taking photographs of the new kittens - Beige Puss (who already gets his name shortened to B-Puss - easier to say) and Fluff-Fluff. There have to be two 'Fluffs' in this kitten's name - some years ago the Moosey family had a black cat called one 'Fluff' whose memory we still cherish. I believe that cats name themselves, anyway. So, to all the scoffers who think my names are a joke (hello, members of my family in the Maldives) - it's too late to change! I will not allow an on-line re-naming competition, no matter how much fun it is to click little boxes and vote.
Most Valuable Pet Competition :

And speaking of voting - now some kind person is voting madly in the MVP for the old, dearly departed Ginger Puss. Ginger, you had the loudest, thundering purr of any cat I've ever met!
At least Ginger's memorial rose (a deep pink hybrid tea) is undisturbed and still flowering beautifully, unlike that of the most unlucky Lucky Puss... And speaking of roses - just wait for the photographs of my new climbing roses in the Hazelnut Orchard! What beauties - and they're only youngsters!