Christmas Day
Merry Christmas! New Zealanders get Christmas morning first, before anyone else has had the chance. Good wishes from the Moosey Animal Farm and the Beautiful but Sadly-Neglected-and-Thus-Too-Weedy-For-Christmas Country Garden.
Merry Christmas from Mooseys Country Garden
Sunday 25th December - Christmas Day
Fred the lamb is fed Christmas milk? Sheep are so boring! The cats, kittens and dog too - it's time for a Christmas bicycle ride. Later Rusty the dog and the Moosey cats have some real presents to open, hand delivered from a lovely ex-student who now works as a vet nurse. How exciting! Gourmet veal with diced giblets? Catnip mouse toys? Hmm...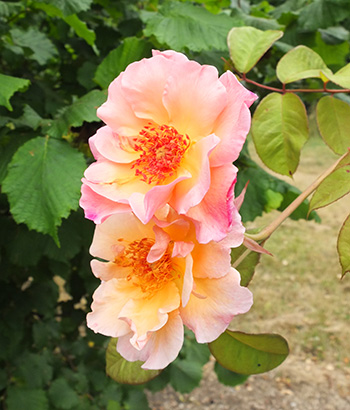 Meg Rose in the Orchard
Roses
Then the Moosey garden urgently needs some Christmas day magic. Yesterday I weeded underneath four of the rose arches in the Hazelnut Orchard. Clover, more clover, a bit of dodgy grass, and then still more clover. But my strong pianist's hands were successful - combined with my sharp digger. I took more rose photographs, this time accompanied by pen and notebook for name details. These new roses which I have only just 'met' are going to be stunning when they grow taller!
Merry Christmas, Stumpy!
Good morning and Merry Christmas to Stumpy the cat. Calm is returning to the Moosey feline world - the grey sisters have started to get nosy rather than nasty with the new kittens. Beige Puss's face is starting to clear up (a dose of ringworm), and Fluff-Fluff the fearless scoots and bounces up, under, and around all the chairs. Both kittens are playing out on the house patio now, and Rusty the dog continues to be gentle, kind and considerate.
Right. Bicycle ride. Then we cook. Then we eat. Then we practice our Christmas music - lovers of Cesar Franck's violin and piano sonata in A major shouldn't listen, not yet. Then we watch a Christmas DVD - probably Morse (reflecting the sad, old fashioned taste of the head gardener). Then the rest of the old fashioned roses will be weeded. The back house lawn will be mowed. Edges will be trimmed, roses deadheaded, flowers cut for the house. The Moosey bathrooms and toilets will be rosy and beautiful!
One of my Favourite Daylilies
Far too much detail! Back to the basics. Merry Christmas to my family, my friends, and all lovely fellow gardeners!
Blue Denim Pansy
Monday 26th December
Merry Boxing day. After a day of drizzle on the Christmas barbecue, the sun is shining. Today my seaside gardening friend is arriving at 1 pm for a private garden tour - what should I do first? Paths? Clean up the daylilies?
A Gardening Christmas Present
Or perhaps just some gentle cosmetic gardening with my new collapsible and seemingly inflatable gardening-weeds bag (a Christmas present). Sproing, up it goes! Zoom - the clover weeds fly through the air and into the bag. Pouff! The load is dumped by the fence line under the gum trees. The rose avenue with its juvenile old fashioned climbers doesn't stand a chance - expertly hand-weeded by those same hands that have 'mastered' the chromatic mysteries of Cesar Franck, those bitter-sweet, lingering diminished chords which thrill rather than 'melodramaticise'...
Blimey. Back to the basics again! Sun-screen, cup of tea, good morning animals, feed the bleating lamb, dog-bicycle ride, trim edges, weed, water pots, sweep patio. Much easier!
Much Later...
Heat! Sun! A beautiful warm summer's day - I've just shown my friend around the garden. The new path routes in the Hen House Garden are brilliant. I think I've finally got them in the right place, and my seaside gardening friend agrees. The new roses at the back of the Willow Tree garden look great. My friend liked the standard olives in the new Birthday Rose Garden. For a garden which has been semi-neglected for a week it looked quite OK, really! The sparkling burbling water in the water race is the best summer feature, and the waterside flaxes which I take totally for granted were much admired.
The New Birthday Rose Garden - From the Rear!
Tuesday 27th December
Now I remember the real days of summer gardening - when one has to zoom outside at the chirp of dawn, and weed like a lunatic until approximately 10:30 (that's a.m.) - then retire inside with iced water and a good book! So why am I twittering on, when it's gone eight o'clock? Aargh!
Fred Lamb and George
Animal Update
Fred the lamb is desperately bleating - again - although he spends his day munching grass. He loves to eat tree leaves, too, specially plucked from a nearby Locust tree and offered by hand. Does this lamb still need milk? Hmm...
The new kittens are fun - Mugsy likes to supervise them playing on the house patio, like some nosy, ineffectual old aunty-nanny cat. The kitten names got a cynical raised eyebrow from my gardening friend. She thinks that Beige-Puss might have some Siamese in him - so his big blue eyes might stay blue! We are trying to feed up little Fluff-Fluff, so very small - he has just enjoyed a breakfast of delicately chopped cooked roast pork, while Rusty the puppy-dog got the bone (that makes two chewy Christmas bones, plus one fresh roast pork, all buried somewhere in MY GARDEN!!!!) Shush, Fred lamb!
Now if I write five more twittering paragraphs, have another cup of tea with a slice of Christmas cake, then take Rusty puppy-dog for his morning bicycle ride - it will be 10:30 am, and nicely too hot to do any gardening! Good scheme!
Dusk...
I did end up doing some nice gardening, eventually! The rose archways are a little less weedy. I also had the hoses on in the wattle Woods where I scraped up a lot of dry rubbish - this area is now ready to accept some Christmas soil conditioner. There is still no fire ban - perhaps I could have a burning session tomorrow. Then I cooled off in the water race scooping stones off the bottom to (hopefully) cover newly weeded parts of the Dogpath. Rusty the puppy-dog lurks downstream, concentrating hard - just in case any floating debris comes his way. If I did this for half an hour each day the Dogpath would look good again - and I would have extremely clean gardening feet!