Weeding and trimming madly...
I am still weeding and trimming madly so that the Moosey garden can be as beautiful as possible for Christmas day. Oops - only one Christmas present has been purchased so far, a frisbee for the dog. The Frisbee Lawn can come alive.
Sunday 18th December.
Good morning to the Moosey animals - all fed. Good morning to Jerome the cat who purred in my ear all night. And a special good morning to the Moosey Lawns. You all look really lovely, freshly mowed - how well you complement the beautiful Moosey Garden borders, full of daylilies, pretty pink Fairy roses, catmint being oh so subtle in blue, and humble Pyrethrum daisies ready to burst into flower. Consider the status of flowering plants - contrast the noble opulence of the rhododendrons with the littlest, insignificant dianthus flowers. Flowers of all shapes and sizes, beautifully filling the Moosey Garden...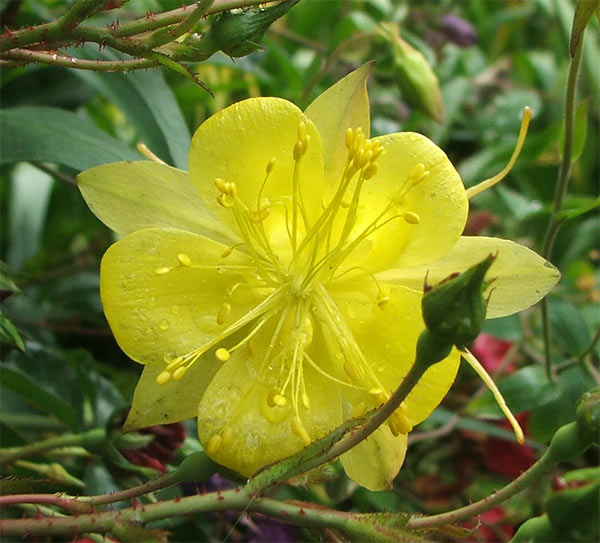 Yellow Aquilegia
Blimey! Anyway, so much depends on the gaze of the gardener - some mornings dreamy, distant, staring out at nothing (trying to avoid the eye of Fred the semi-weaned pet lamb). Other days it is bespectacled, sharp, close of focus, alert to the beauty of the tiniest petal (or aphid). Ha!
Yesterday I kicked gardening butt. Even though I have 'lost' my best, sharpest, most well-aligned edge trimmers, I worked really hard to improve the state of the Moosey edges, including the weed status of the immediate gardens. Such a simple thing, a well-mown lawn. My random garden borders with their layered op-shop clothing style need a flat, plain green - apron? - to make them look OK.
Old Roses, New Roses
I've done all the garden edges over the water race, plus the new Birthday Rose Garden. I begin to see why the roses in this were bargains. Fisherman's Friend has little specks of rust (most inappropriate), and Jacqueline du Pres has absolutely no staying power - in the flower of youth one day, disgracefully aged the next (no disrespect intended to the mature). Still, it's exiting to see the new colours, and at least I have located The Prince, memorial rose of Lucky Puss (rudely ripped out of the driveway border last autumn - the rose, I mean).
Catmint and Mexican Daisies
Today - I will make a list. Time for a new list, since I have done everything on my last list. A list indicates a tidy, organised mind. Lists are not merely for show, though - no point in writing them if there is to be no accountability. As the night follows the day, after the day is done, so one list follows another. Here goes.
Rusty the puppy-dog's bicycle ride - round the big country block.
The pond paddock and glass-house gardens - edges, evict old foxgloves, trim aquilegias.
House roses - dead-head Compassion and Westerland.
Hen House Garden - a little light weeding?
Piano practice - Cesar Franck.
Investigate the crocheting of a small tea cosy for the new Moosey teapot.
Cricket (Australia v. South Africa) or new Harry Potter movie? Hmm...
BBQ for late tea - sausages and lamb chops (oops - sorry, possible half-brother or half-sister of Fred).
There! A real country-gardener-on-summer-holiday list, full of endearing little details. Hee hee...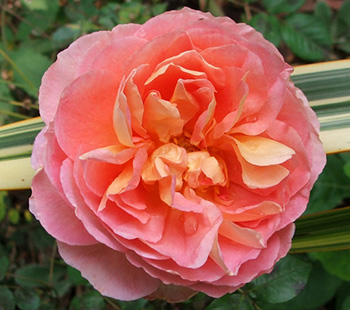 Abraham Darby Rose
Late Lunchtime...
Does it matter that I've only done items one and two? I have done them very well - exceptionally thoroughly, in fact. Spot the stray foxglove which has finished flowering. You can't! There aren't any left standing! I am heartened by the fact that my garden can look very beautiful very quickly. It's this lawn thing, isn't it! A revelation, as is the fact that a well weeded garden creates a feeling of optimistic pride.
Ha! I dealt to some surviving lilac phloxes. I found a deep rich velvet red daylily. The rose Abraham Darby growing in front of the glass-house looks very healthy - it was grown from a cutting, and often David Austin roses on their own roots sulk and have very pale leaves. The purple common sage is flowering (blue flowers, very stylish).
These gardens are Jerome the cat's patch - I don't know how she knows I'm there, but within minutes she appears. Some (for example, the ex-Moosey House Guest) have considered Jerome unsociable. They are wrong!
I love, love, love, love, love my garden.
Monday 19th December
I need more hours in the day. Correction. I need more hours of energy and drive. Hours where the zoom and achieve of power gardening can be accomplished, leaving spare oomph for the practising of the Christmas piano piece.
Fred the Pet Lamb :

I also need Fred the pet lamb to stop bleating and accept his fate. No, no! I don't mean Christmas roast lamb.
We have the ridiculous 'running of the pet lamb gauntlet' whenever I go down the driveway, and I have to dodge and hide behind the Viburnums when gardening in the Pond Paddock. He sees me, he bleats, he runs, and jumps the fence. Aargh! Such popularity! I need him to trim down to one bottle a day.
Amazing Daylilies
Today I am going to continue my Christmas garden tidy-up. The red daylilies in the recently well-weeded (in other words, yesterday) Septic Tank Garden look amazing, next to the white rose Prosperity. So do the daylilies down the drive. All my daylily clumps which get the sun look amazing. Hint.
I can't find my sharp edgers, anywhere - I have vague memories of leaning them up against something strange - this is not helpful. I have discovered two of the loveliest striped roses in the back of the Willow Tree Garden - both named after painters, if I remember rightly. I even think I have filed the rose labels in a kitchen drawer. Nice work, Moosey - and striped roses could make a rather nice themed collection. Hee hee - an excuse to buy yet more roses!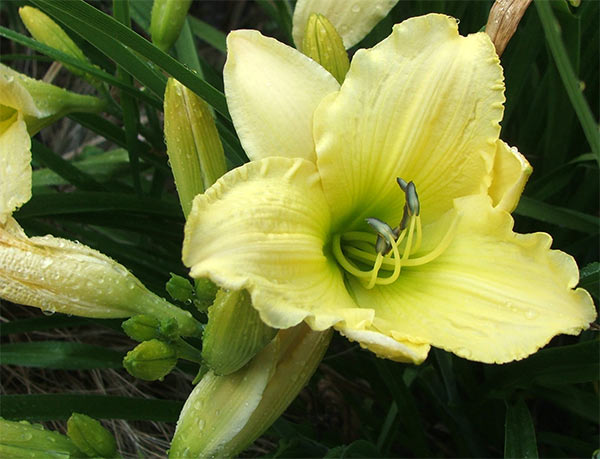 Lemon Daylily
In all this dedicated weeding and trimming, it seems the slower I go the more I see that needs doing. Walking (trudging?) back to the house with the empty wheelbarrow at the end of the day is the worst time. I see so many weeds! If I floated around randomly for, say, six hours, and lunged every twenty seconds to deftly dig out an offender - hmm...
Enough twittering. Time for action. Off you get, Stumpy the lap-sitting cat. Farewell, lovely Brahms (I love Brahms), booming out on my little stereo. Where are the next edges I need to trim? Where have I stashed my superior, best, lost pair of edgers? Oops...
Four Extremely Busy Hours Later...
The joy of overcast but warm summer days when one has a load of weeding to do! I have been a legend - I've even remembered to finish yesterday's list. And we went to the Harry Potter movie last night, so that can also be ticked off. We enjoyed it. Just King Kong and Narnia to go (the Moosey movies of choice have to be blockbuster and juvenile).
All is relatively quiet and mellow. The bellbird is back, singing his tweeting arpeggio. Fred the lamb is bleating at Rusty the dog, busy outside doing zooming circuits on the house lawn. There is a continuous squeaking band of happy bird noise, and a cricket commentator is droning away in the distance on the summer cricket radio. Yippee! Summer holidays! I will have to go shopping for Christmas. Perhaps the Moosey Back Lawn would like an outdoor table and chairs set? Shush, Fred!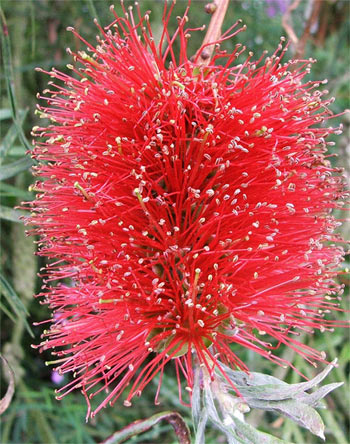 Red Bottlebrush Flower
Tuesday 20th December
Delightful overnight rain - just what my newly weeded garden borders need. Hmm... Last night I left my second, inferior pair of edge trimmers out on Duck Lawn. I'm sure they appreciated the rain. Today I am going to get the Christmas kitten. Eek! He will look so small compared to the giant Moosey cats. I have gentle gardening plans - a Roydon rose to plant in the garden, and a pair of miniature roses to put in a pot (or bucket). Then I might rake out the Pittosporum garden by the Hen House. Thank you, Pittosporums, for not needing to be specially watered. And for agreeing to live underneath Australian gum trees - the ultimate sacrifice.
Christmas Things
I am trying to sort out this Christmas thing. But all I can think of are brilliant present ideas (for ME) and tired, cute things, like sending everyone photographs of Rusty the puppy-dog wearing a Santa hat. Late yesterday I did pick some flax flowers for an artistic Christmas house decoration - interesting, weird, shiny lime green beans hanging from thick stalks. I thought I could half-dip the pods in golden glitter, like chocolate fondue strawberries...
Good morning, Stumpy the old grey cat. What are you going to make of the new kitten? And you, Mugsy, my not-so-very-brainy orange and black cat - will you even notice? No hissing allowed.