Let the summer days begin!
Let the summer days begin! Barbecues on the patio, sitting in the garden shade reading, gently raking fallen leaves off the paths, gliding through the gardens at dusk, watching the sparkling water...
Tuesday 11th January - Summer Garden Activities!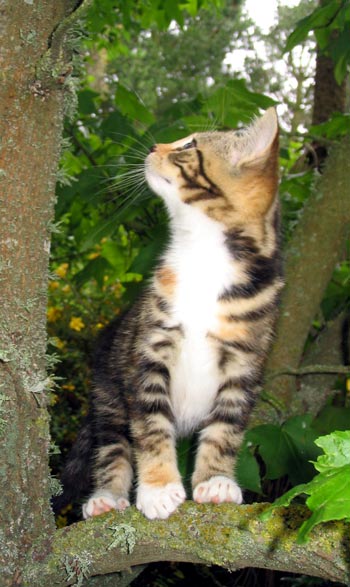 How High the Tree?
Yesterday afternoon I sloshed up and down in the water race in my gardening shorts hand-weeding the edges - a very summery activity (first day for the shorts this year). The bellbird whistled, the water burbled, the cricket radio crackled, and rooster crowed his head off. My feet got very clean (and cold).
Today I am going to be much more ruthless. I am going to cover large areas with weed-suppressant (i.e. newspaper, which I will cover with my left-over potting mix). Any little plant seedlings already growing there (pansies, for example) will either be shifted out or smothered. The water-side weeds need more than a few mid-summer pokings and proddings.
MVC - Cat Competition
My Most Valuable Cat Competition continues. There is heated debate in the Moosey house concerning the rules of the MVC competition for 2005. One of my (highly intelligent) adult relatives is thinking of starting her own rival competition. She is incensed by my allowing the chooks to enter, and awarding them points for laying eggs. I think she's just peeved that she doesn't get to allocate any of the points herself!
The Moosey animals have been less than co-operative in the compulsory photography sessions, too. Jerome (my grey-power tabby) refuses to come downstairs, and Mugsy the disabled cat is being more vague than ever...
Tree Climbing Kittens
The kittens Tiger and Smoocher just won't stay still. They are becoming more adventurous in the garden, tree climbing even higher over by the Berberis shrub, and grass-crawling on their bellies stalking the rooster (which looks ridiculous).
Roses in the House Side Garden
Right. It's time to make the first hot cup of coffee and wander slowly outside. perhaps I might dead-head some roses first...
Mid-Day...
Does it matter that I've been working (very hard) in a totally different area of the garden? No way - I promise I will sort out more water race weeds later today. Instead of getting wet I have been pruning the old Climbing Iceberg roses at the start of the Driveway Lawn. I know this is not strictly the correct time to do this, but I don't care. Old wood has finally been properly removed, and I've used the hedge clippers to do a massive dead-head.
New Zealand Natives
Then I stopped in the shade of the new native garden to weed and plant more edge plants. I am resisting the call of the Native Nursery, though. I hope my native garden doesn't mind a mass planting of Strawberry Merton foxgloves and pansies.
New Zealand Native Flax and Grasses
Now I'm having a short break, watching those cute kittens chasing feathers on the decking. Oops - hope they (the feathers) are not seriously ex-rooster. There was a frenetic shrieking flight to safety earlier today (rooster put to the chase by the beige fur-ball - i.e. Rusty the puppy). Animals, behave! Cats, dogs, kittens, puppies, chooks, ducks... they put so much laughter into country life.
Wednesday 12th January
My goodness - Great excitement - my rooster has been identified as a silver barred birchen! He is looking even more beautiful than ever thought possible! So I am the proud 'owner' of one such cockerel.
Today I think there will be sunshine. I know this because the birds are squeaking and twittering much more noisily than usual. I would like to blink twice and see some or all of the following:
The roses have suddenly been sprayed for rust.
The newly-planted NZ Natives are suddenly twice as large.
A gardening legacy has suddenly arrived (to be spent on new plants).
A truck-load of compost has suddenly appeared.
Six happy helpers with wheelbarrows are standing by.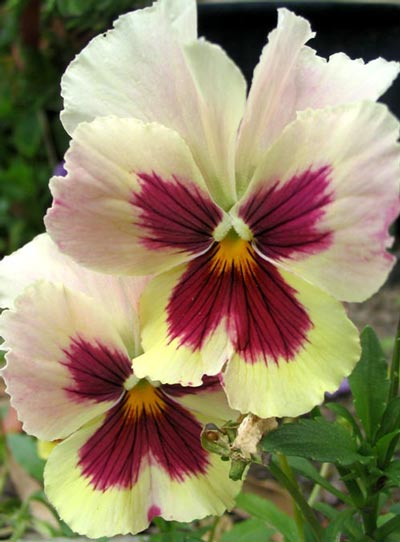 Banana and Cherry Pansy
I am so excited that at least one person out there (Hi, Krystina!) finds my rooster interesting. Hmm... Good morning, you beautiful silver barred birchen bird! Thank you so much for waking me up at 5:50am. Much appreciated. And thanks for the chook-poop on the decking - that will go down a treat when I have my garden barbecue tomorrow evening!
Thursday 13th January
We have a swarm of - native bees? - noisily zooming around the backdoor. Rusty the puppy is snoozing underneath them, on the old dog's blankets. There are ducks on the pond. The kittens are playing outside, zooming in and out of the decking pots.
Smoocher the ginger kitten is still leading the Most Valuable Cat Competition. How much longer should I run it? It's been brilliant this summer (except for Mugsy the cat with no points, but she isn't even trying).
Gardeners' Barbecue
Ha! My oldest gardening friend is coming out for an early evening barbecue. Not only is she a stylish gardener, she is also a gourmet cook. Aargh! Luckily she is also a good friend...
Patio Pots :

It's an ongoing job to keep the patio pots properly watered throughout summer.
My intention today is to do a cosmetic sweep of the whole garden - picking up old plastic pots, deadheading obvious roses, clearing blocked paths quickly, and of course checking all lawns and all edges. I will also water and tidy the patio pots, in order to make a good, caring impression. Then I can be a proud yet casual (and relatively weed-free) barbecue hostess.
This morning it is warm (yes!) and sunny (yes!). My gardening spirits are recharged.
Later...
My garden is way too big to be able to zoom around it all superficially tidying things up! help! But I have done what I can - for the last four hours - and now I must get ready for the first Moosey social event of the New Gardening Year. Many of the roses have completely finished their first flush of flowering, and I've been able to dead-head them all at once. The little pink Fairy rose is almost flowering, and the bright pink flower carpet is in full bloom. I am noticing a definite rose-flowering wave (like the blossom wave in spring).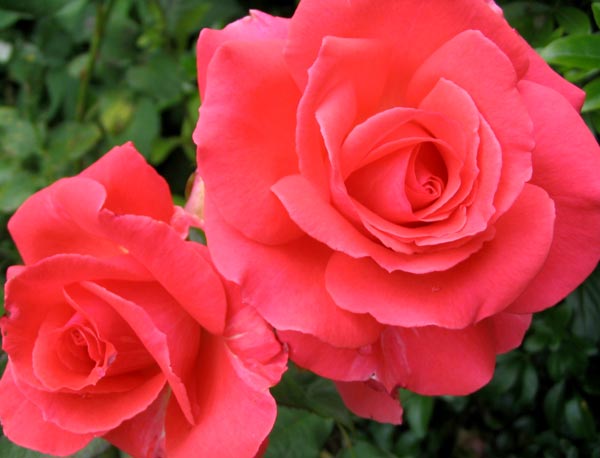 Unknown Flowering Roses
My hands are sore, and I am very garden-tired. Time to go apres-gardening - perhaps my blue and white striped shirt would be nice - sit in a chair on the patio and anticipate the meal (which my resident gourmet cook is preparing as I write). Yippee, finally, for summer in the garden!
Friday 14th January
Today we are going tramping in the mountains. I will see the real rock gardens of the Southern Alps, and the real New Zealand Native gardens in the bush. Back tomorrow. Goodbye to the Moosey garden.