My first May weekend...
My first May weekend - I have huge plans, a garden task list longer than an allotment gardener's hoe - and the promise of good weather. How many days until my holiday? Eek!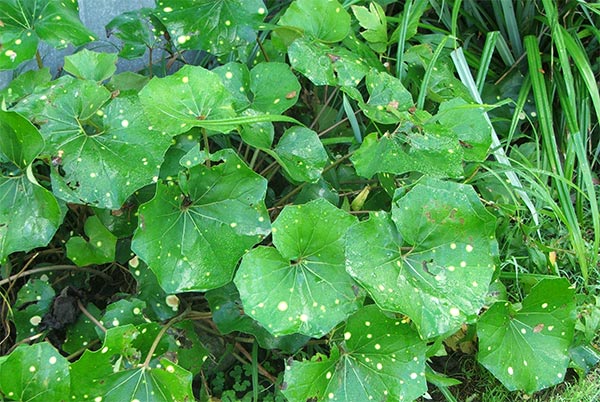 Leopard Plant
Saturday 6th May
Today has three distinct areas of hopeful achievement. One is the picking up of the (repaired) bicycle, followed by a long test-ride. Two - the practising of the Ravel, Tombeau de Couperin, on the piano. Last, but not least - the gardening!
Gardening List
Apply some pea-straw.
Stack some firewood.
Spread some mulch.
Weed one new garden area.
There! Nice and factual, no attempt to philosophise, no dribbling. A mellow, autumnal list. There are now EIGHT DAYS left for me to organise the garden before my little trip.
May Animal News - Silly and Sad
There are several score updates in the Most Valuable Pet Competition, in which I notice Tiger the Cat holding second place. Go, you little Tiger!
Most Valuable Pet :

Tiger is the only non-canine contestant in the MVP who has any chance of winning.
It's high time that Sifter the Itinerant Tabby was dishonourably discharged from the MVP. He's not been sighted around the fields for over three years now.
Ditto the Visiting Poultry, who I suspect were 'potted' by a distant neighbour some time ago. There's been no sound for months. Both are thus awarded their posthumous points in the MVC...
Sorry about that, lovers of sifting semi-feral tabbies and uncatchable visiting roosters... Well, that was the 'silly' news. The 'sad' is that little Mugsy the orange and black cat has still not been found. I've looked everywhere. I've crawled under shrubs and peered into all the Olearia hedges. Dear little cat - I miss her. I'll just keep looking.
Mid Afternoon Coffee...
I have weeded one new garden area, though I chose the vege garden and the pergola garden instead. My little curved brick paths are relaid, the pink summer phloxes have been moved over a bit, and I've put some sticks up for - wait for it - some sweet peas. Will they grow? Have I done this far too late? Probably. I've ripped out most of the tomatoes, too.
Weeping Maple
Then I went to dig out some seedling foxgloves from the middle of Middle Path. Hmm... with one end of this path now completely blocked by flax and cordyline spikes, and the silliness of pruning them just so the owner-gardener can glide past unimpeded... Well, I've decided to totally move the path instead. As one does - thus working with nature (more specifically, ones planting excesses), rather than fighting against it.
As soon as I've had my coffee break I'm back outside to shift all the stone edges. The new path will then slither past the Magnolia Floribunda and the loveliest pink rhododendron in the (Moosey) world, and emerge near to the Hazelnut Orchard gate. Hee hee - this is the third major route change this wee path has had.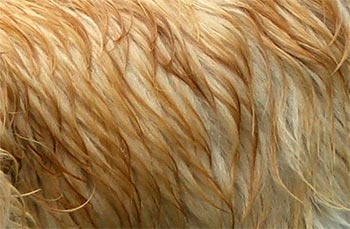 Rusty - Wet Dog Fur
Promises, Promises...
Then I promise I will do the mulch, the pea-straw and the firewood. And take Rusty the barking-at-the-wind dog for a bicycle ride. And tackle perhaps the Prelude from Ravel's Tombeau de Couperin. All this before the cricket starts (aargh!) or it gets too dark to see. Legend!
Sunday 7th May
More legendary than yesterday - if this is possible! First, a twenty-five km bike ride. How many miles is that? 15.53 miles, to be precise. Second - a visit to my old walking friend who is shifting house. One of her roses (called Opulence) plus a pale pink rhododendron are going to be retired here to the country. A few small gardening threads in this rich tapestry of life...
Gorse :

Gorse is a shrubby pest, introduced by the early settlers to New Zealand.
Then - the garden. I mulched. I weeded. I planted all the Alchemilla Mollis and blue Scabious pots. I chopped out some rogue gorse (ouch - extremely prickly, nasty stuff to handle) and pruned a Buddleia. More mulching. More weeding. What a brilliant day! But will I get all the gardens mulched before my wee holiday? Hmm...
+5

+5 I had noisy dog and cautious cat company (Fluff-Fluff and B-Puss) for three hours. Rusty (very smelly, very diggy and very barky) has been into the pond for a dog-bath, and I've come inside to - boast? Crow? Ramble and dribble? Well - I'm not going to start barking. Maybe I'll purr...