I'm still busy...
I'm still busy trying to finish my serious mid-December list of gardening things to do. But there's a summer holiday feeling starting to creep in. Ooops!
Monday 18th December
That list, which I am determined to take seriously, involved four things - planting seedlings, mulching, clearing, and dead-heading. I promise to keep on doing things on the list, and write no other until I've finished everything.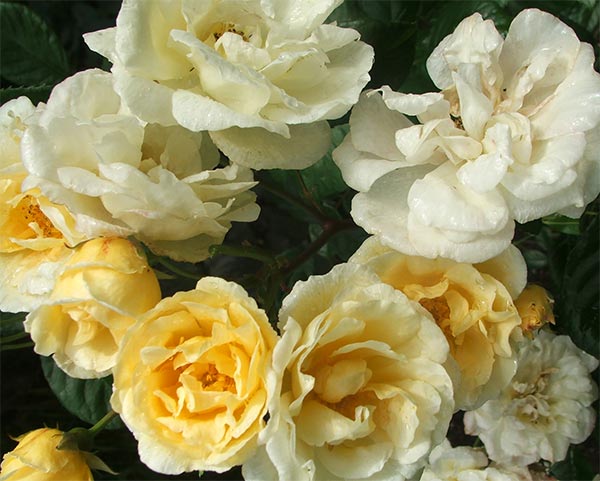 Danae Rose
Today I regret that two Tess D'Urbervilles David Austin roses were dug out and thrown on the fire - the dear girls were badly rusted, surrounded by healthy roses in the Birthday Rose Garden. I tried to prune off the bad leaves, but then decided that brutal tough love was a better option.
The lead up to Christmas is just lovely. There's a summer holiday feeling in the air, and I like hearing all the Christmas songs. What will my big present be? I wonder, just wonder, if it could be a shredder...
Mugsy in the Grass
Animal Report
Three hens have now gone broody - they are quite a nuisance, and I am sick of retrieving hot eggs. I wonder about throwing them (the hens, that is) out into the chicken run and then blocking the door. Would they suffer any emotional damage? Can one damage a hen, psychologically speaking? Hmm...
Hello Mugsy the Cat
I know I don't talk much about little Mugsy. That's because she's - well - generally very vague. She's quite uncomplicated - some might rudely suggest she's not the brainiest of the Moosey cats. Mugsy is forever faithful, and always sits properly on laps. Nice.
The latest rude joke about my beautiful white cat B-Puss is that the B in his name must stand for 'Barmy'. He continues to creep around the house on his belly, cat-commando style, checking each room for strangers. While Tiger the cat has started sneaking into cars - any car, if there's a door or window left open. Visitors - please check the back seat when you leave!
And Haru the pet lamb and her best friend Fred the pet sheep are inseparable. The country air is often filled with the oddest bleating duet - soprano yodel from the lamb and baritone boom from the wether. What a pair! Sometimes I think that my dog is the only sane living thing in my house and garden. No offence intended to non-gardening partner.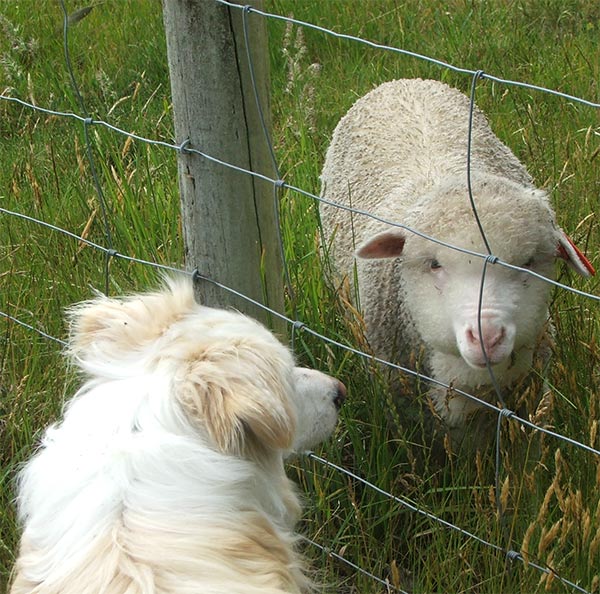 Haru the Lamb with Rusty the Dog
Tuesday 19th December
Today is easy. Finish the list. Then paint the new garden seats turquoise blue and spray some selected roses for nasty diseases. I am particularly disappointed in some of the orchard archway roses. Madame Caroline Testout has a wonderfully colourful collection of leaf spots - small orange (rust), small black (sooty rust?), and larger black (black spot) - plus her very own aphids. Aargh! Such a tragedy for a beautiful rose - remember the fate of Tess of the D'Urbervilles...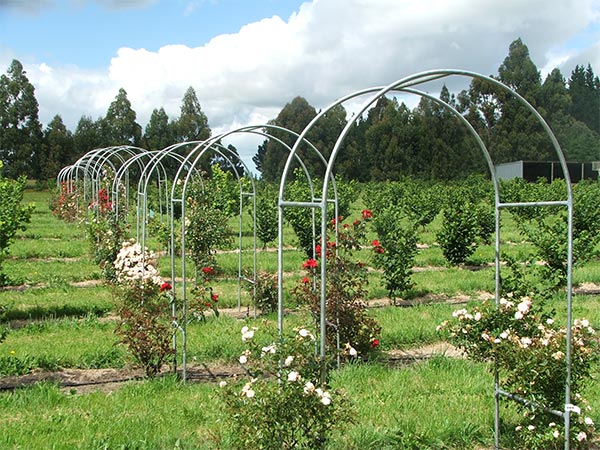 The Roses in the Orchard
Then bike with the dog and go for a walk and play the piano and buy Christmas food. Yippee! I love summer. And before I forget, congratulations to the Moosey rose (well, actually the David Austin rose) The Pilgrim, published in a fancy, glossy South African calendar. Your leaves are green and healthy and spotless - I checked last night!
The Pilgrim Roses
Wednesday 20th December
Ha! I have finished my list - the first ever Moosey list to be completed. Yippee! Now I can write a nice new one. Steady on - it's a bit drizzly out there, and it's really warm and cosy in here. An early Merry Christmas to my weeds!
Thursday 21st December
It's still raining, and it's really unseasonably cold. So this will be my second day in a row with absolutely no gardening done - I will get withdrawal symptoms! And poor Rusty Dog - an older lady triathlete in training tends not to go for long bicycle rides in cold rain.
Yesterday I spent ages playing the piano (the Bach Partita seems to go much faster) and 'building' a Moosey 2007 calendar. All my friends and family are getting hand-made (relatively speaking) calendars for Christmas. Then, hunting in the garage, I came across six more bags of old newspapers - they should have been on my Welcome Garden, as they form a major part of my weed suppressing strategy.
Now today also looks like a bit of a washout. Too wet and cold to garden - some level of comfort is expected in mid-summer. Far too wet and cold to lay more mulch, or paint my new garden chairs, or go for a 10 km bike ride and a 3 km jog. Think I'll stay home and wash my hair (hee hee).