In my September spring garden...
I love, love, love being in my September spring garden. Plant growth low to the ground is fresh and green, and the spring shrubs and blossom trees fill the air above with beautiful colour. Yippee!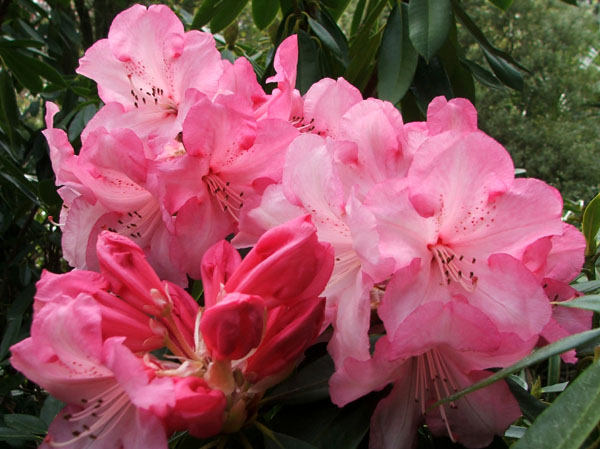 Big Pink Rhododendron
Monday 24th September
More rhododendrons are in flower - the lemon coloured Chrysomanicum, and the second President Roosevelt. And the big pink unknown by Middle Path is bigger, and pinker, and more beautiful than I ever though possible. 'Tis the season of hyperbole! Start counting the number of times the word 'beautiful' pops up in journal sentences...
Today I should buy new Pittosporums and find some flaxes to plant in the back of the pond. I will space them so that the ground between can be raked clean. This is almost the last garden area that needs serious planting work. Wow! I have been so very busy! And I love working by the water.
Running Water
But first - a non-gardening morning, as I swim, go to a choir practice, and do some piano practice of my own. Then a friend is coming after lunch - she can consumer test my new improved path surfaces. Such is the busy life of a gay (?) retiree!
Afternoon...
Ha! I'm back, I'm alone, and it's still rather wet outside. My singing friend has given me a late birthday present - a blue flowering Himalayan poppy, or Meconopsis, darling of all Scottish Botanical Gardens.
Blue Meconospis :

This is my first attempt to grow Meconopsis, THE in-vogue perennial, and darling of the British Open Garden. Wish me luck!
There is gentle debate as to the conditions it likes - to be (in the sun) or not be (in the sun). I remember seeing all the Scottish ones planted in fairy ordinary places. Their summer sun wouldn't be nearly as hot and fiercely beautiful as ours here in New Zealand, though.
Our combined gardening instincts say half sun, not too bright, not too dry. Promise I'll check before I plant.
Gardening in the Rain
Now I am going to go outside gardening. I really am - I will dress rough, and lay a dry change of clothes inside the back door. There's an old broken-down car container in behind the pond, covered in a woody old clematis - much of which isn't going anywhere anymore. My task will be to dismantle it with hammer and axe. Many years ago it was a children's rustic playhouse. The trees will give me some shelter from raindrops. Off I go. Outside in the rain. Right now. No more procrastinating.
Tuesday 25th September
I have had a good idea for the Moosey pond area, regarding the plantings therein. The back-side of the pond is dark and gloomy, but unfortunately not mysterious. It forms the background to the Pond Paddock, and is only viewed close-up when one is sitting on the pond decking. Large, drab, olive-green species flaxes on the pond-edge have fallen apart over the years and lost their 'clumping' factor, and the trees (self-sown) are misplaced and uninspiring. Scruffy grasses edge the pond nearer the rustic Pump House. The 'natural look' doesn't work - it just looks a mess.
Tricolor Flax :

Here is the hybrid flax called Phormium Tricolor. It's beautifully striped with a touch of red.
Solution - firstly plant some large upright flaxes, choosing newer hybrids with lighter, cleaner green colours to brighten up the back-side. Saw down any unnecessary trees. And near the Pump House plant more ornamental edge plants - perhaps smaller fountain shaped flaxes (like Yellow Wave), evergreen shrubs, carexes and the like. Lighten the look, but keep it clean, green New Zealand - that's the plan.
All the messy stuff can get chopped out. I must remember that as soon as the Gunnera gets going on the other side it pulls focus - in the way that only pond-side Gunnera can!
Lunchtime...
Success! I have purchased three large flaxes called 'Waitara Gold' - they're upright, stiff-growing Phormium tenax hybrids, and will be brilliant. They're a mid-green with gold edge stripes, and should give the Gunnera some stiff (hee hee) competition. As soon as I've finished my coffee I'll go outside to plant and admire.
And more success - I've finally found a beautiful memorial sculpture for the little Rhapsody in Blue Garden. It's a strong, simple shape with a koru pattern (the unfolding fern frond). I'll pick it up - well, actually NGP (Non-Gardening Partner) will sack-barrow it into place - this weekend. Dear Rachael - this is for you.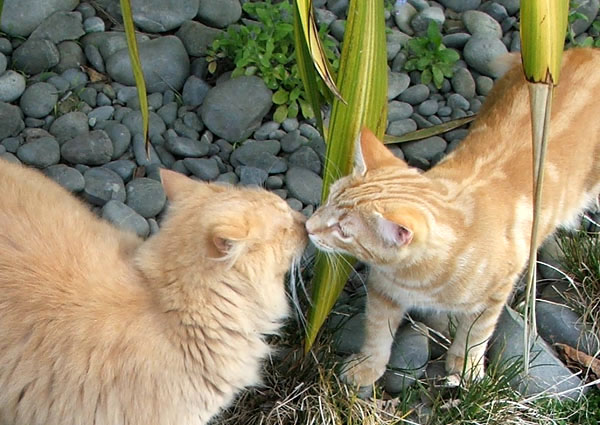 Ginger Gardening Cats
Mid-Afternoon...
Blast. Clearing my pond edge is jolly hard work, though Rusty dog 'helps' me to tug out the grasses that my shovel has loosened from the water's edge. Between us we've dragged three or four huge water-logged root clumps clear out of the water. Aargh! My lovely new flaxes look small and insignificant - I need at least a dozen more. I need a larger planting vision, and unfortunately a lot more serious muscle work. I've had brilliant ginger cat company (Thanks, Fluff-Fluff and Percy).

+5
Good Dog, Bad Maths
Rusty has been amazing - what an intelligent dog-friend! He dunks his head right into the water to get a teeth-grip on the vegetation, seeming to know what I'm trying to do! Now the big question is - how patient can I be?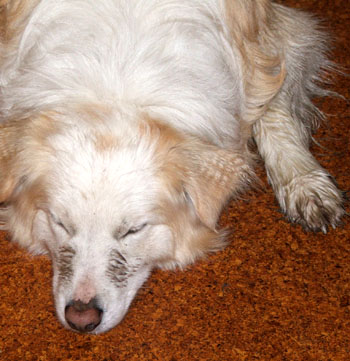 Tired Dog
I didn't realise that the pond circumference was so big - which implies, by the laws of mathematics, that I have been unaware of its diameter. Oops.
Tomorrow I'll make a trip to the cheap natives nursery for evergreens which suit water, will survive on neglect, and will make big, bold statements in the process - and that cost five dollars or less each. That's not asking too much, is it?
Much Later, Patient and Content...
I've planted the three new pond flaxes in a triangle. Boring, maybe, but their labels claim a height of only one meter (I don't believe that). I've raked and tidied the other species flaxes and sawed down small bits of trees - I'm saving the larger branches for the chain-saw this weekend.
I'm back to feeling patient and content again, too. One is running a large country garden almost single-handedly, after all.